China as Peacemaker in the Ukraine War? The and Europe Are Skeptical. by @ewong and @StevenErlanger.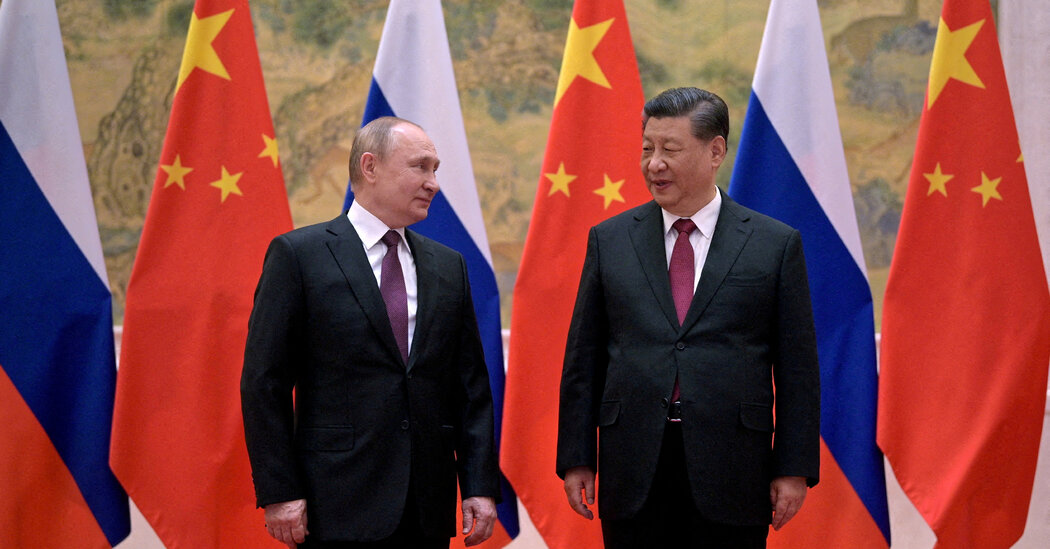 Chinese officials say Xi Jinping's upcoming trip to Moscow is a peace mission. But U.S. and European officials say he aims to bolster Vladimir V. Putin.
WASHINGTON — As Xi Jinping, China's leader, prepares to meet with President Vladimir V. Putin in Moscow this week, Chinese officials have been framing his trip as a mission of peace, one where he will seek to "play a constructive role in promoting talks" between Russia and Ukraine, as a government spokesman in Beijing put it.
But American and European officials are watching for something else altogether — whether Mr. Xi will add fuel to the full-scale war that Mr. Putin began more than a year ago.
U.S. officials say China is still considering giving weapons — mainly artillery shells — to Russia for use in Ukraine. And even a call by Mr. Xi for a cease-fire would amount to an effort to strengthen Mr. Putin's battlefield position, they say, by leaving Russia in control of more territory than when the invasion began.
A cease-fire now would be "effectively the ratification of Russian conquest," John Kirby, a White House spokesman, said on Friday. "It would in effect recognize Russia's gains and its attempt to conquer its neighbor's territory by force, allowing Russian troops to continue to occupy sovereign Ukrainian territory."
"It would be a classic part of the China playbook," he added, for Chinese officials to come out of the meeting claiming "we're the ones calling for an end to the fighting and nobody else is."
That skepticism of one of Mr. Xi's stated goals pervades thinking in Washington and some European capitals. American intelligence agencies have concluded that relations between China and Russia have deepened during the war, even as Russia has become isolated from many other nations.
The two countries continue to do joint military exercises, and Beijing has joined Moscow in regularly denouncing the North Atlantic Treaty Organization. China remains one of the biggest buyers of Russian oil, which has helped Moscow finance its invasion.
Chinese officials have at no point condemned the invasion. Instead, they have said ambiguously that all nations must respect each other's sovereignty and territorial integrity. They have worked with Russian diplomats to block international statements condemning the war, including at gatherings of the Group of 20 countries in India in February and March.