Ohio State will play Northeastern in the Frozen Four semifinals at 3:30 Friday after today's 5-2 win over Quinnipiac in the NCAA quarterfinals:.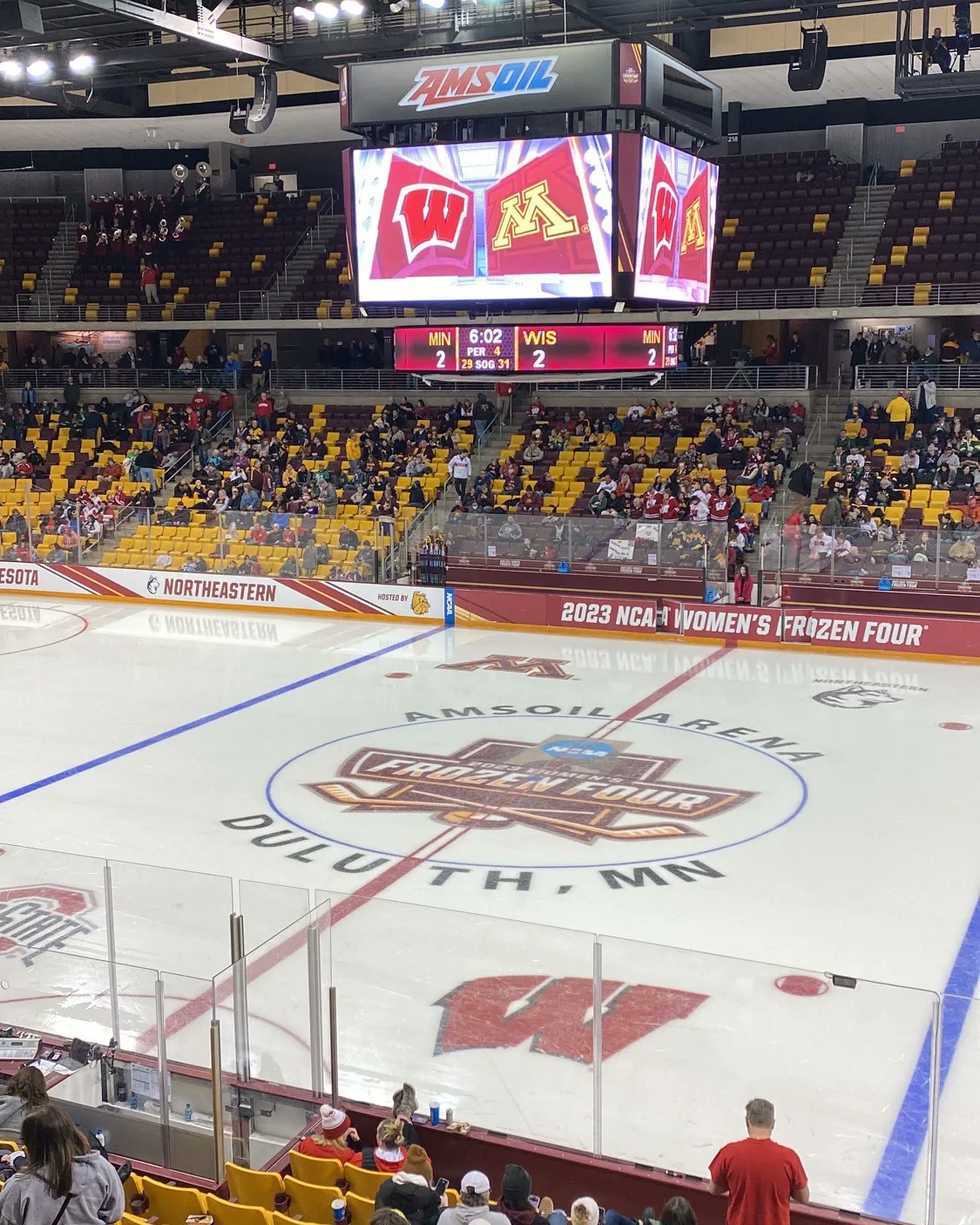 For the second year in a row, the Buckeyes clinched a Frozen Four berth by winning a quarterfinal game against Quinnipiac at the OSU Ice Rink, where they hosted the Bobcats on Saturday as the No. 1 seed in the NCAA Tournament, just as Ohio State was last year when it went on to win the national championship.
While the Buckeyes needed two overtimes to beat Quinnipiac in 2022, victory came more decisively this year as Ohio State outscored the Bobcats 5-2 in front of a sellout crowd in Columbus.
Just like in their 2022 quarterfinal matchup, Quinnipiac scored the first goal of the game. That goal came with just 1:02 left to play in the first period when Kendall Cooper scored a power-play goal following a tripping penalty against Ohio State's Lauren Bernard.
Ohio State goalie Amanda Thiele made 11 saves in the first period of play, but Quinnipiac's Logan Angers stopped all 10 of Ohio State's first-period shots on goal, including a pair of breakaway shots by Emma Maltais and Paetyn Levis that looked like prime opportunities for the Buckeyes to get on the board.
Quinnipiac threatened to extend its lead just over halfway through the second period on a breakaway by Sadie Peart, but Ohio State's star defenseman Sophie Jaques caught Peart from behind to knock the puck away from Peart before she could get a shot off. Less than two minutes later, Ohio State evened the score as Gabby Rosenthal scored the Buckeyes' first goal of the game on a power play following a high-sticking penalty against Quinnipiac's Madison Chantler.
Less than four minutes after that, Ohio State took its first lead of the game when Bernard fired a shot into the upper left corner of the goal to put the Buckeyes ahead 2-1 with four minutes left to play in the second period.
"There was a little bit of nerves in the first period and we got to get away from that and feel confident right away, because we might not be able to come back next time," Muzerall said. "So we just got to take a little more pride in our (defensive) zone, but otherwise, I was very impressed with how they rallied the last two periods. I mean, especially that second period, outshooting a really good opponent 24-3 in the national quarterfinals, I think says a lot about our team."
Emma Peschel added to the Buckeyes' lead just over eight minutes into the third period when she fired a shot past Angers into the left side of the net to give Ohio State a two-goal advantage with less than 12 minutes to play. Maltais and Levis were both credited with assists on the goal.
Jaques cemented the victory for Ohio State with 5:15 to play when the Patty Kazmaier Award finalist scored her ninth power-play goal of the year off of assists by Makenna Webster and Jennifer Gardiner following a tripping penalty against Quinnipiac's Kate Reilly.
Quinnipiac's Maddy Samoskevich added a second goal for the Bobcats with 3:36 to play after Quinnipiac pulled its goalie, but the Buckeyes would extend their advantage back to three goals with 28.8 seconds left to play when Jaques fired into an empty net for her 24th goal of the season, which made her the all-time leading scorer among defensemen in WCHA history – prompting Muzerall to say after the game that she believes Jaques should win the Patty Kazmaier Award, the equivalent of the Heisman Trophy in women's college hockey.