Germany to seek closer ties with Japan amid supply chain tension.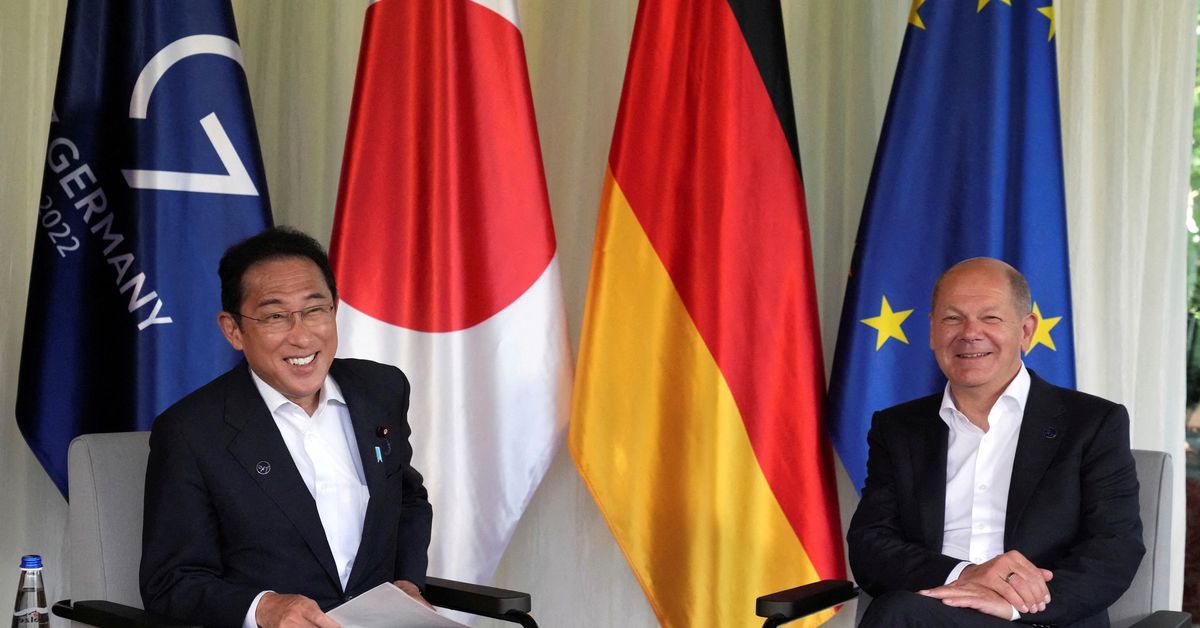 [1/2] German Chancellor Olaf Scholz, right, and Japans Prime Minister Fumio Kishida pose for photographers during a bilateral meeting on the sidelines of the G7 summit at Castle Elmau in Kruen, near Garmisch-Partenkirchen, Germany, on Sunday, June 26, 2022. Matthias Schrader/Pool via REUTERS/File Photo
TOKYO, March 17 (Reuters) - German Chancellor Olaf Scholz will touch down in Japan on Saturday with six of his ministers seeking closer economic ties, as he considers reducing German dependence on Chinese raw materials amid global supply chain tensions.
Scholz and Japanese Prime Minister Fumio Kishida are planning a "government consultation" involving multiple cabinet members from both countries to discuss ways to secure economic security.
"As democracies and as highly industrialized, export-oriented economies, Japan and Germany face similar challenges in shaping the digital and ecological transformation and strengthening the resilience of their economy in difficult geopolitical times," Franziska Brantner, state secretary in Germanys economy ministry, told Reuters.
Given Japans passing of a bill on economic security, Berlin hopes to learn its raw material strategy and take Tokyos cue on how to cut dependency on imports, a German government official said of the visit.
In a move primarily focused at China, Japans parliament passed an economic security bill last year aimed at guarding technology and reinforcing critical supply chains.
Trade between Germany and China rose to a record level last year, making the Asian country Germanys most important trading partner for the seventh year in a row despite political warnings in Berlin about excessive dependence.
Goods worth around 298 billion euros were traded between the two countries in 2022, up around 21% from a year before, according to data from the German statistics office.
Worried about Germanys dependence, the centre-left government is now taking a tougher line towards Beijing than its centre-right predecessor and is exploring ways to wean itself off Chinas economy.