How Germany is prosecuting its final Nazis —now in their 90s or older.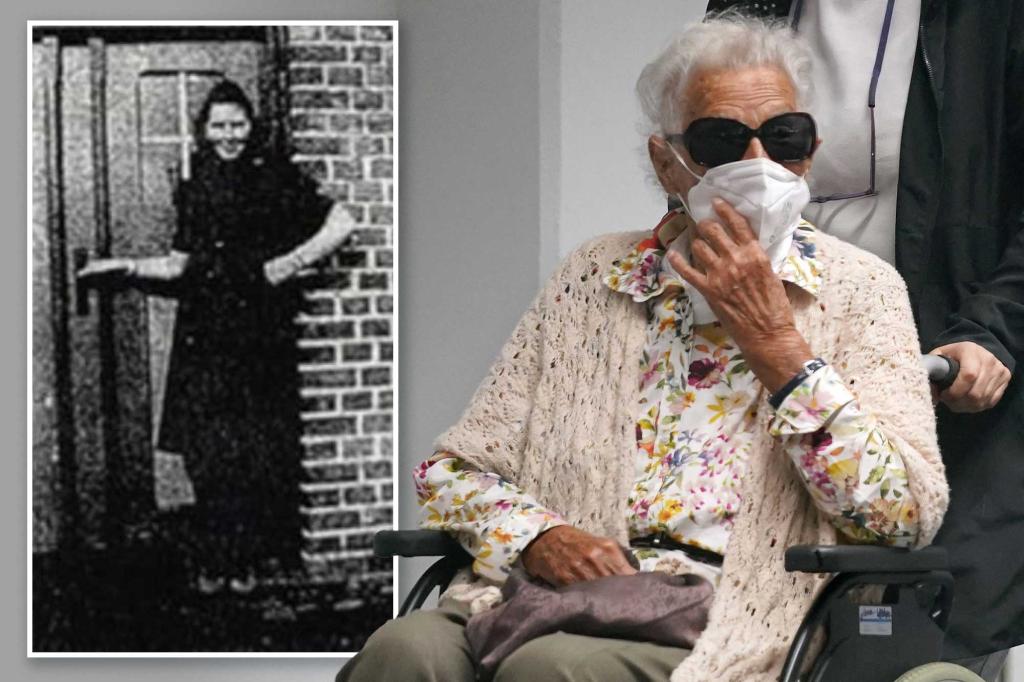 When she appeared in a German court last month, Irmgard Furchner sat in a wheelchair clutching her handbag. Her mask and kerchief made it difficult to see the face of the 97-year-old — who has been charged with more than 11,000 counts of "aiding and abetting" murder during the Holocaust.
The nursing-home resident was a secretary in the commandant's office of the Stutthof concentration camp near Danzig, and is now among the latest former Nazis to be prosecuted in Germany.
The defendants are in their late 90s or even centenarians, but German prosecutors and a Nazi hunter are determined that they face justice for the murder of six million Jews.
Last month, 101-year-old Josef Schuetz became the oldest former Nazi to be prosecuted. He was convicted for the murder of more than 3,500 Jews, minorities and political prisoners while he served as a concentration camp guard at the Sachsenhausen death camp between 1942 and 1945. A regional German court sentenced him to five years in prison although he is not expected to serve time due to poor health, according to reports. Schuetz, who is known in Germany as Josef S. due to privacy laws in the country, has repeatedly denied the charges. His lawyer told AFP that he would appeal a guilty verdict.
Schuetz's prosecution was made possible after the German government changed its policy on Nazi war criminals more than a decade ago. Previously, prosecutors had to prove a specific crime against a specific victim. But in the last several years, Germany has allowed for prosecutions of Nazis who served in death camps or mobile killing units, "based on their service alone," said Nazi hunter Efraim Zuroff.
"In the past, Germany has failed miserably in terms of Nazi prosecutions," said Zuroff, who heads up the Simon Wiesenthal Center in Jerusalem and is the director of its Eastern European Affairs division. Zuroff, 73, has been hunting Nazis for more than 40 years.
Between 1949 and 1985, there were 200,000 investigations and 120,000 indictments of former Nazis in Germany, but less than 7,000 convictions, Zuroff told The Post. "And the punishments were ludicrous," Zuroff continued. "People who served in Treblinka [death camp] got three years."
There are now six prosecutions going on in Germany against those who worked in death camps during the war, although that number can change as prosecutors continue to track down and build cases against others, according to chief public prosecutor Thomas Will, who heads up the Central office of the State Justice Administrations for the Investigation of National Socialist Crimes in Ludwigsburg.
"According to German law, there is no statute of limitations for murder and also for aiding and abetting it," Will told The Post, adding that his agency investigates suspected Nazis and then turns over the cases to local prosecutors in the areas where the crimes took place or where the suspects currently live.
Since the 2011 conviction of John Demjanjuk, an Ohio autoworker who was convicted in Munich of being a low-level guard at the Sobibor extermination camp in Nazi-occupied Poland, prosecutors in Germany have focused on "systematic mass killings in concentration camps and now also in prisoner of war camps," Will said.
"It is not possible by law to refrain from prosecution in individual cases — for example because of the age of the accused — since the necessary enforcement of criminal law in the case of murder does not allow any discretion," he told The Post. "However, an indispensable prerequisite for any criminal conviction is the ability of the accused to stand trial. This must be checked carefully over and over again, especially in the case of very old people. If there is a lack of this ability to negotiate, no criminal proceedings can take place."