कानपुर टेस्ट: पहले दिन छाए अय्यर और जडेजा, भारत ने बनाया न्यूजीलैंड पर जबरदस्त दबाव @ShreyasIyer15 75* @imjadeja 50* #IND 258/4 #ShreyasIyer #RavindraJadeja #INDvNZ #INDvsNZ #NZvIND #NZvsIND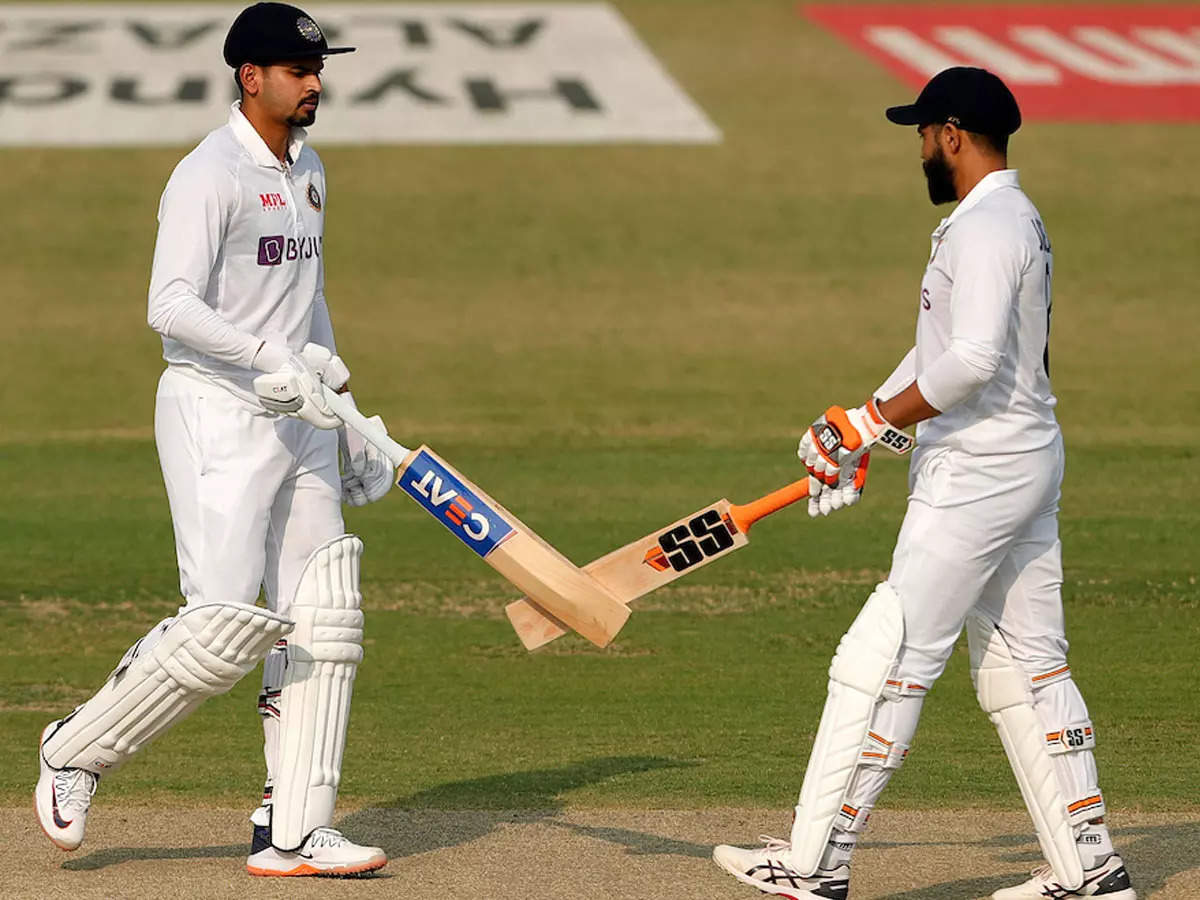 Indias Shreyas Iyer (right) and Ravindra Jadeja take a single during day one of their first Test match with New Zealand in Kanpur, India, Thursday, Nov. 25, 2021. 
Hello and welcome to India TVs Live Cricket Coverage of India vs New Zealand, 1st Test, Day 1 at the Green Park Stadium in Kanpur. I am Aditya K Halder and will take you through the days proceedings.  Related Stories Live Streaming India vs New Zealand 1st Test Day 1: How to watch IND vs NZ Live Online, TV IND vs NZ 1st Test Toss Live Updates: India win toss; opt to bat first IND vs NZ Test series: Head to Head, other Test stats
India 258/4 after 86 overs Match is halted due to bad light; four overs before the regulation 90 overs. Indian camp should be happy how the day turned out to be; especially after the middle-order collapse in the second session. Shreyas Iyer (75*) and Jadeja (50*) have put India in a very good position at the end of days plays as the wicket is throwing every glimpses of a rank turner.
India 250/4 after 82 overs The duo brings up a 100-run stand as the new ball has hardly blocked the runs. Jadeja is a run away from his half century. Iyer, on the other hand, is about to enter the 70s.
India 235/4 after 77 overs Williamson returned to spin attacks from both ends but yielded no result as Jadeja and Iyer inch closer to a century stand. The new ball is due in just 3 overs.
India 215/4 after 72 overs (Drinks break) Southee and Patel are unable to find a way through the Jadeja-Iyer partnership, which is only growing bigger by the minute. Ajaz Patel is finding enough help from the surface but Indian batters look at comfort. 
India 202/4 after 68 overs Iyer brought up his half-century early in the over with a single placed towards mid-on. Jadeja soon brought up the teams 200 runs with a quickly taken three runs off the last ball of the over. Debutant Iyer brought up his maiden 50 in just 94 deliveries and under pressure after Pujara and Rahane departed after getting good starts.
India 195/4 after 66 overs Shreyas Iyer has put Raichin Ravindra under pressure as he breaks away from the shackles with two consecutive boundaries. A brave late cut, exposing his stumps, Iyer made his intent clear by cutting the spinner to the backward point boundary and then stepped out to carve Raichin to the extra cover boundary. Pressure on the young spinner but this has been smart and audacious batting from Iyer.  
India 177/4 after 62 overs: The partnership between Iyer and Jadeja is 32 off 76 balls but India are moving at a snails pace with the run-rate at 2.85 RPO. That shouldnt be a concern as anything over 300 will be tricky on a surface that is assisting spin from Day one. Ravindra and Somerville are bowling in tandem and are making the batsmen play. Interesting passage of play. 
India 162/4 after 58 overs: Spin from both ends as William Somerville and Rachin Ravindra are looking to push India on the backfoot. Iyer is batting on 24 and Jadeja on 7 and the left-right combination are looking in no hurry and are banking on singles. Both Iyer and Jadeja are goo players of spin although the alarm bells are not yet off, as far as the pitch is concerned. 
Final Session: We are back for the final session of play and Ravindra Jadeja along with Shreyas Iyer will look to drive India on a pitch that is showing a lot of encouraging signs for the spinners. Remember, its just Day one!
India 154/4 at Tea Iyer and Ravindra Jadeja see out initial pressure to ensure India suffer no further damage after Rahanes departure. The second session clearly belongs to the visitors, who picked three wickets in the session with Jamieson starring with the ball again with three wickets in total. Rahane (35) was the only positive from the session for India but couldnt consolidate on a good start. Pujara (26) and Gill (52) met same fate and were the early wickets to fall in the session.