One of most powerful moments of my recent stay in Israel, meeting these guys fired up to expose prejudice and change Israel: A Rap Song Lays Bare Israel's Jewish-Arab Fracture — and Goes Viral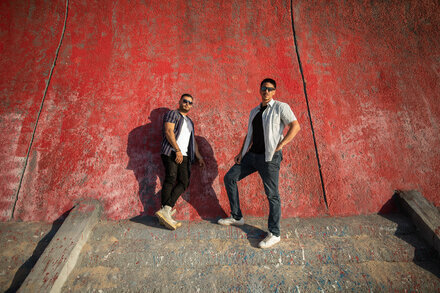 BEIT YEHOSHUA, Israel — Uriya Rosenman grew up on Israeli military bases and served as an officer in an elite unit of the army. His father was a combat pilot. His grandfather led the paratroopers who captured the Western Wall from Jordan in 1967.
Sameh Zakout, a Palestinian citizen of Israel, grew up in the mixed Arab-Jewish town of Ramla. His family was driven out of its home in the 1948 war of Israeli independence, known to Palestinians as the "Nakba," or catastrophe. Many of his relatives fled to Gaza.
Facing each other in a garage over a small plastic table, the two hurl ethnic insults and clichés at each other, tearing away the veneer of civility overlaying the seething resentments between the Jewish state and its Palestinian minority in a rap video that has gone viral in Israel.
The video, "Let's Talk Straight," which has garnered more than four million views on social media since May, couldn't have landed at a more apt time, after the eruption two months ago of Jewish-Arab violence that turned many mixed Israeli cities like Lod and Ramla into Jewish-Arab battlegrounds.
By shouting each side's prejudices at each other, at times seemingly on the verge of violence, Mr. Rosenman and Mr. Zakout have produced a work that dares listeners to move past stereotypes and discover their shared humanity.
Mr. Rosenman, 31, says he wants to change Israel from within by challenging its most basic reflexes. "I think that we are scared and are controlled by fear," he says.
Mr. Zakout, 37, wants to change Israel by overcoming their forebears' traumas. "I am not emphasizing my Palestinian identity," he says. "I am a human being. Period. We are human beings first."
"Don't cry racism. Stop the whining. You live in clans, fire rifles at weddings," he taunts, his body tensed. "Abuse your animals, steal cars, beat your own women. All you care about is Allah and the Nakba and jihad and the honor that controls your urges."
Top Tweets About The Story