'A great honor': Bahrain's first-ever envoy to Israel presents credentials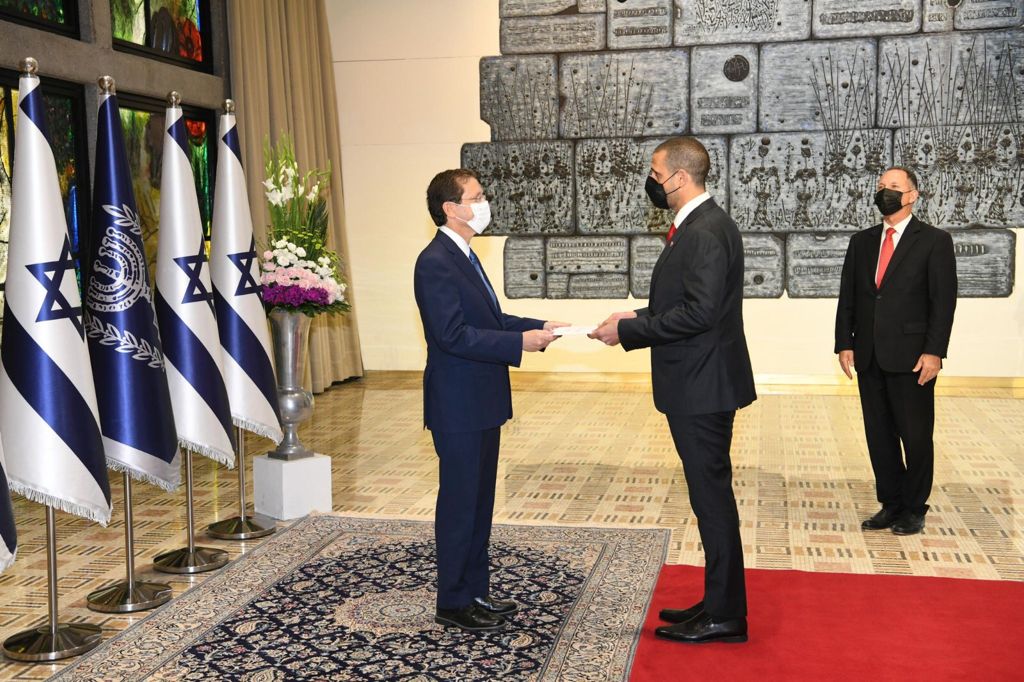 Bahrain's first-ever ambassador to Israel Khaled Yousif Al-Jalahma presented his credentials to President Isaac Herzog on Tuesday at the President's Residence in Jerusalem.
Jalahma gave his letter of credence to Herzog in a formal ceremony, a day before the one-year anniversary of the signing of the Abraham Accords at the White House, which normalized ties between Jerusalem and Manama.
Jalahma held a diplomatic meeting with Herzog after the presentation ceremony, which was followed by joint statements to the press in Hebrew and Arabic.
"At this point in time," he said, "as new, credible reports are coming in of Iran's progress toward nuclear weapons capacity, it is more important than ever to be united in our struggle against extremist forces working to undermine stability and peace in our region."
Calling it "a great honor" to be Bahrain's first ambassador to Israel, Jalahma said that "peace is the strategic choice of the Kingdom of Bahrain… His Majesty the King believes that dialogue, understanding, and confidence-building are lofty principles and main foundations for achieving cooperation between nations and peoples… I am confident that this historic step will lay a solid foundation for relations between our two countries, based on the values of tolerance and coexistence between peoples, beliefs, and religions."
Jalahma wished Israel's citizens "health, well-being, security, stability, and prosperity," and said he would work to make relations beneficial for both nations.
"These are not only brave and historic steps," Jalahma concluded in English, "these are giant steps into a future of peace, security, and prosperity for us all. I am confident that the Abraham Accords will forge a path and inspire all nations to strive for a better, more prosperous and secure world."
On September 15, 2020, the UAE and Bahrain became the first Gulf nations to establish formal relations with the Jewish state. Later, Sudan and Morocco also normalized ties with Israel.
Mexican envoy Mauricio Escanero Figueroa invited Herzog to visit Mexico in 2022 to mark the 70th anniversary of Israel-Mexico ties. Herzog reciprocated by extending an invitation to Mexican President AndrĂŠs Manuel LĂłpez Obrador.
Top Tweets About The Story