People in Israel and Bahrain are losing their vaccination status for refusing boosters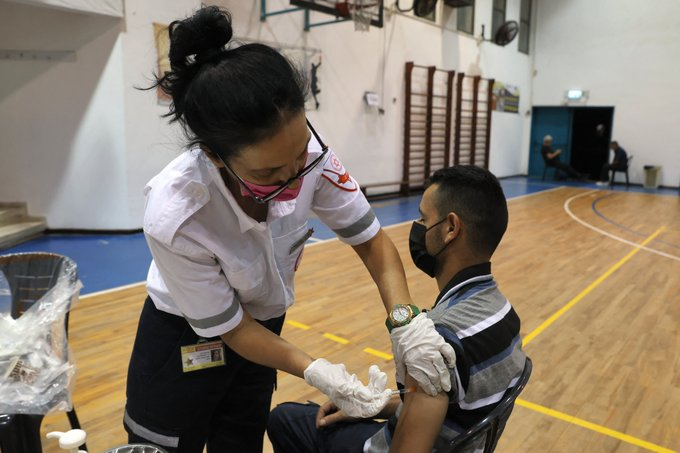 Israel and Bahrain want eligible residents to take their Covid booster shots — and those who dont do so risk losing their fully-vaccinated status, and the privileges that come with it.
As of Oct. 3, Israel shortened the validity of the green pass. According to a government advisory, the pass will expire six months after a person receives their second dose.
A third shot will have to be administered before a new green pass can be issued, at least one week after the booster. That pass will also expire six months after the third dose. It is unclear whether more boosters may be needed in future to be considered fully vaccinated.
People who are eligible for their booster shots will see their vaccination status lowered on the kingdoms digital vaccine passport, the BeAware mobile application. A lower status restricts a persons public movements and activities.
Previously, those with a green shield were considered fully vaccinated two weeks after the second dose. However, under new regulations, the vaccination status of individuals eligible for a booster will be changed on the app "from the Green Shield to the Yellow Shield until they opt to receive a booster shot."
Based on current restrictions in Bahrain, only those who have recovered from Covid, are under 12 years old or have green shields can go to the movie theaters, organize indoor events and conferences, or attend indoor sporting events.
Health experts are broadly divided on the need for booster programs. Most agree that the efficacy of vaccines will wane over time, but experts disagree over whether booster shots are needed for everyone.
"Current evidence does not, therefore, appear to show a need for boosting in the general population, in which efficacy against severe disease remains high," a group of leading scientists said in September. The wide distribution of boosters is "not appropriate at this stage in the pandemic," they added.
The WHO also objects to third shots, describing it as "not right" when people in other countries have yet to receive their first and second doses. The UN health agency this week recommended booster shots for people who are moderately or severely immunocompromised.