Japan's MHI Launches 5th Mogami-Class Multirole Frigate for JMSDF @Diplomat_APAC.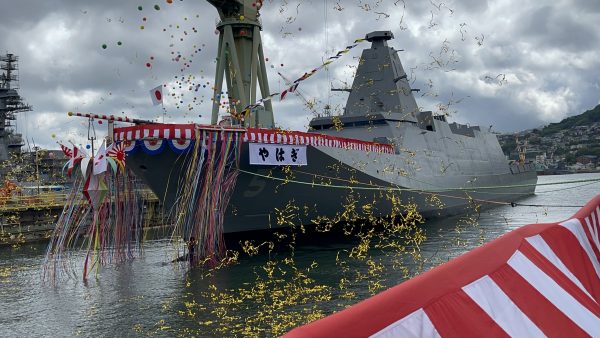 MHI launched Yahagi, the fifth Mogami-class frigate on order for the Japan Maritime Self-Defense Force (JMSDF), in a ceremony held at its facilities in Nagasaki City, June 23, 2022.
As China and Russia continue to send ships and aircraft to the seas surrounding the Japanese archipelago, Japan is betting on compact, missile-laden vessels to deter its neighbors effectively in the East China Sea and the Indo-Pacific region.
A planned fleet of 22 Mogami-class multirole frigates for the Japan Maritime Self-Defense Force (JMSDF) is part of that effort. Japan's largest defense contractor Mitsubishi Heavy Industries (MHI) just launched the fifth frigate of the class.
Named Yahagi, the 133-meter-long vessel (pennant number FFM-5) entered the water in a ceremony held on June 23 at the company's Nagasaki Shipyard and Machinery Works in Nagasaki Prefecture. The Yahagi is expected to enter service with the JMSDF in December 2023.
Equipped with compact hulls, JS Yahagi is being built for about 47 billion yen ($346 million) under a contract awarded in February 2021, according to an MHI press release. As with the other ships of the class, the 3,900-tonne vessel will have a crew complement of about 90 (out of whom 10 are female), a beam of 16.3 m, and a hull draught of 9 m.
As China expands the size and capabilities of its naval forces, Japan plans to defend the southwestern Nansei Islands, including the disputed Senkaku/Diaoyu Islands in the East China Sea, by boosting its patrol activities. The Senkaku/Diaoyu Islands are controlled by Japan but also claimed by China and Taiwan.
A JMSDF spokesman said Tokyo plans to build 10 ships of the Mogami class under its Mid-Term Defense Program (MTDP) for fiscal years 2019-23, which was approved in December 2018. With the MHI building two per year, the JMSDF has plans to eventually field a total of 22 such frigates. The first ship of the class was formally commissioned in March 2022.
The JMSDF spokesman told The Diplomat the new Mogami class will require fewer crewmembers and that, compared with other frigate classes, construction costs will be lower due to its compact size. This new concept of the frigate was forged amid the country's rapidly aging population and shrinking pool of available citizens who are eligible to serve in the Japan Self-Defense Forces.
Powered by a combined diesel and gas (CODAG) propulsion system featuring two MAN 12V28/33D STC diesel engines and one Rolls-Royce MT30 gas turbine, the ships are expected to be capable of attaining a top speed of at least 30 kt. The Mogami class marks the first installment of a CODAG system on any JMSDF ship.
Armaments on the frigates include a BAE Systems 5-inch (127 mm)/62-caliber naval gun in the foredeck of the ship, two missile canisters for a total of eight MHI Type 17 anti-ship missiles, also known as the SSM-2, and a Raytheon 11-cell SeaRAM close-in weapon system (CIWS) that can deploy RIM-116C Block 2 Rolling Airframe Missiles (RAMs).
The frigates will also be equipped with variable depth sonar and towed array sonar systems for anti-submarine warfare (ASW) operations. They feature six 324 mm torpedo tubes and the NEC OQQ-25 variable depth sonar.