The opposite of eating seasonally. The Secret Behind Japan's Delicious Strawberries: Kerosene.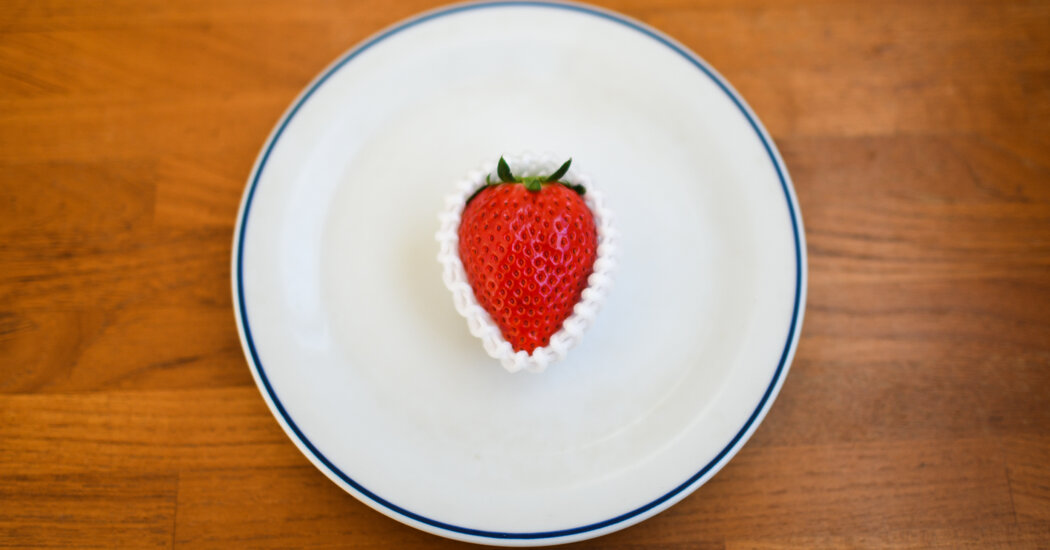 These may sound like summertime delights. But in Japan, the strawberry crop peaks in wintertime — a chilly season of picture-perfect berries, the most immaculate ones selling for hundreds of dollars apiece to be given as special gifts.
Japan's strawberries come with an environmental toll. To recreate an artificial spring in the winter months, farmers grow their out-of-season delicacies in huge greenhouses heated with giant, gas-guzzling heaters.
"We've come to a point where many people think it's natural to have strawberries in winter," said Satoko Yoshimura, a strawberry farmer in Minoh, Japan, just outside Osaka, who until last season burned kerosene to heat her greenhouse all winter long, when temperatures can dip well bellow freezing.
Fruits and veggies are grown in greenhouses all over the world, of course. The Japan strawberry industry has carried it to such an extreme, however, that most farmers have stopped growing strawberries during the far less lucrative warmer months, the actual growing season. Instead, in summertime Japan imports much of its strawberry supply.
It's an example of how modern expectations of fresh produce year round can require surprising amounts of energy, contributing to a warming climate in return for having strawberries (or tomatoes or cucumbers) even when temperatures are plunging.
Up until several decades ago, Japan's strawberry season started in the spring and ran into early summer. But the Japanese market has traditionally placed a high value on first-of-the-season or "hatsumono" produce, from tuna to rice and tea. A crop claiming the hatsumono mantle can bring many times normal prices, and even snags fevered media coverage.