World Cup 2022: Anthony Hudson – USA's English coach who spent time as prison visitor.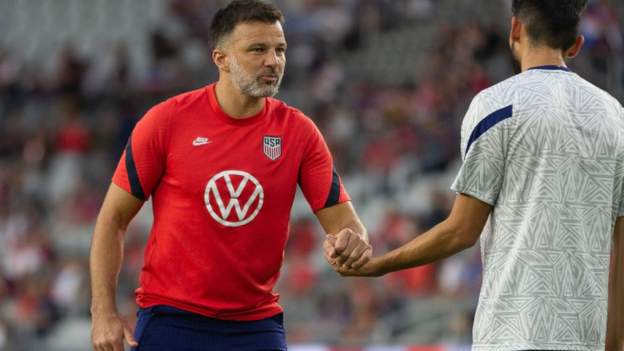 Anthony Hudson's dad, Alan, won two caps for England in 1975Host nation: Qatar Dates: 20 November-18 December Coverage: Live on BBC TV, BBC iPlayer, BBC Radio 5 Live, BBC Radio Wales, BBC Radio Cymru, BBC Sounds and the BBC Sport website and app. Day-by-day TV listings – Full coverage details
Hudson, the USA assistant coach, is reflective about knowing there is another world, far removed from the fit, healthy and, in some cases, mega-rich footballers he is working with at the World Cup in Qatar.
It means he appreciates all the more his role at the tournament – where he is attempting to help the States beat England at the Al-Bayt Stadium on Friday.
Hudson began going into prisons, having decided to "give something back" during his personal journey away from the destructive path an addiction to alcohol was leading him down.
"Every single time you walk in there and hear the steel doors and recognise the strictness and formalities of the doors slamming and the register being taken, it is a reminder of what a very tough environment you are in," he said. "It is scary.
"There was one specific incident at a medium security prison just outside Maryland, where it got a little bit sketchy. There was a big guy in there who was making fun of my accent the whole time but not in a good way.
"I was chatting to this young kid next to me and it nearly kicked off. The wardens jumped on the big guy and it was chaos. As it was happening, this kid, he was only small and must have been 20 or 21, he had fear in his eyes. He was like 'please come back'.
A former youth player at West Ham and Luton, the 41-year-old was initially asked if he would be willing to go on prison visits 15 years ago, when he was coming to the end of his playing career with the…