89 picks in 6,587 passes?! Aaron Rodgers recalls (and hates) almost every one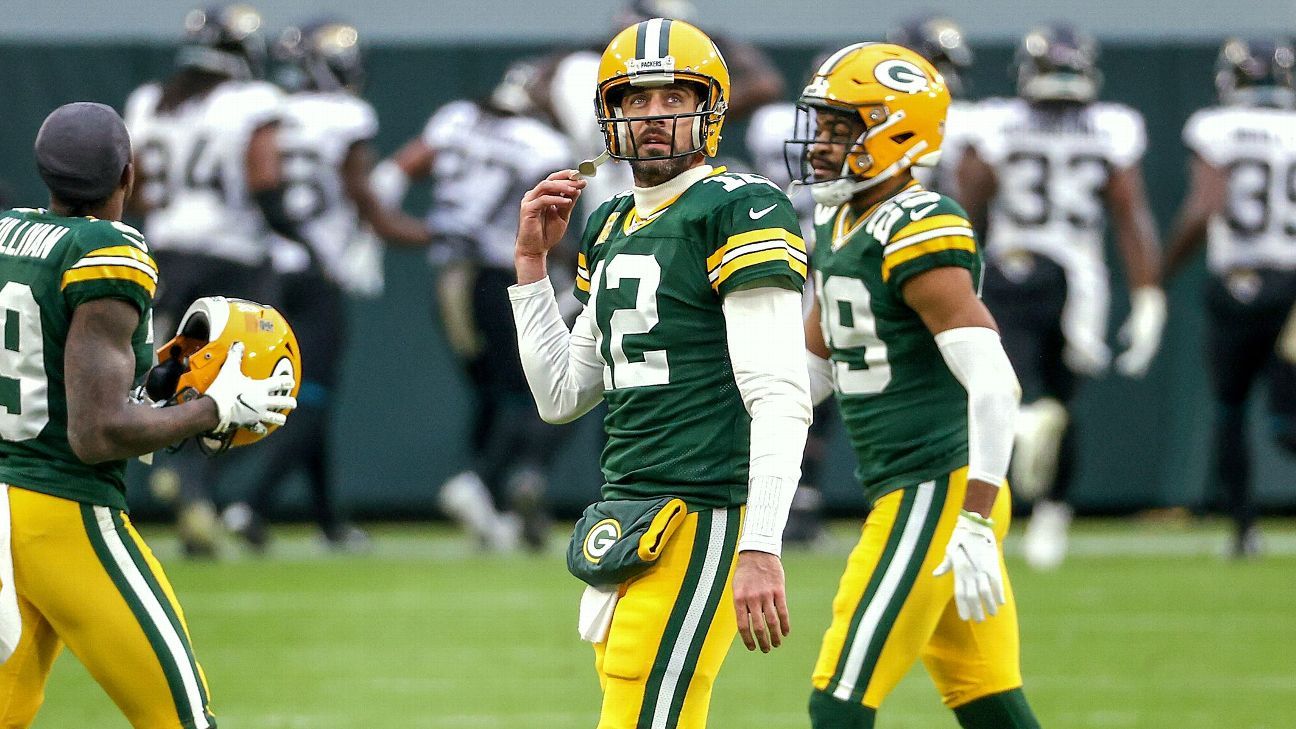 GREEN BAY, Wis. -- Its not an arduous task to watch all of Green Bay Packers quarterback Aaron Rodgers career interceptions. There are only 89 of them over 16 NFL regular seasons, and the technology is readily available.
Theres one, however, that seems to have escaped the permanence of NFL Game Pass (whose archives only go back to 2009), ESPN.coms own video database and even the infinitude of YouTube.
"He duped me," Rodgers recalled for ESPN on New Years Eve as he drove home from Lambeau Field. "He kind of no-looked me. He looked like he was going to come down, and then he wheeled up and made a nice play on the ball down the seam. It wasnt a great throw by any means, but he was messing with me on that one."
Rodgers might not be able to recount all 89 of them in such detail, but his recall, even while driving home -- with a stop to pick up a bottle of Dom Perignon along the way -- says two things: how much interceptions stick in his craw and how few he has thrown.
When he reached 400 career touchdown passes in Week 13 of this season, Rodgers had thrown just 88 interceptions. Not only was he the fastest to 400, beating Drew Brees by 12 games, he was the only one who had fewer than 100 interceptions at the time he reached the touchdown milestone.
Rodgers heads into an NFC divisional playoff game against the Los Angeles Rams (4:35 p.m. ET Saturday, Fox) coming off a 48-touchdown, five-interception season. His 412 touchdown passes and 89 interceptions have come in 6,587 regular-season pass attempts.
"Both numbers are equally impressive," said ESPN analyst Matt Hasselbeck, who threw 212 touchdowns and 153 interceptions during his 17-year NFL career. "To have longevity in the NFL at the quarterback position for a decade-plus, a phrase I believe in is this: Ball security is job security. That is one of the many reasons that Aaron is consistently viewed as one of the best in the game."
For most of his career, Rodgers held the NFL record for touchdown-to-interception ratio. Hes at 4.63-to-1 but now trails the Chiefs Patrick Mahomes (4.75).
Aaron Rodgers was the fastest to join the 400 touchdown pass club, beating Drew Brees by 12 games earlier this season. But its his interception number that really stands out among the members of the club.
Rodgers still owns the NFL record for consecutive passes without an interception at 402 -- a streak that ended with career interception No. 80 by Chicagos Eddie Jackson on a ball that went off the hands of tight end Jimmy Graham in the end zone in Week 15 of 2019.
Top Tweets About The Story