#AmericanIdol Recap: Top 12 Revealed! Plus, Who Dropped Out? And *What* Did Paula Abdul Say About Simon Cowell? via @AndySwift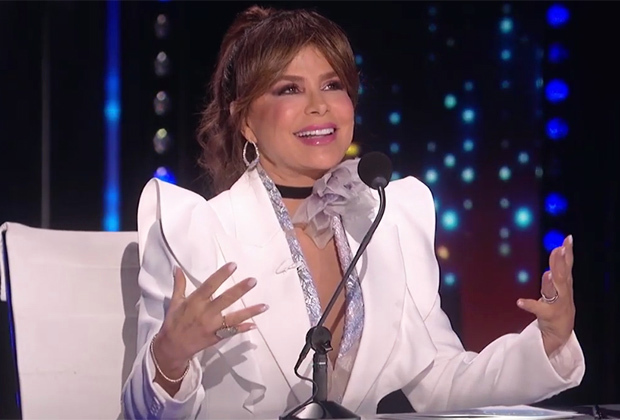 The living legend, who served as a judge during Idol's first nine seasons (2002–2010), returned to the panel to fill in for Luke Bryan, who announced that he has tested positive for COVID-19. This reunited her with host Ryan Seacrest, who led her on a gloriously uncomfortable walk down memory lane.
"It's kind of nostalgic," she said of being back at Idol. "I feel like I'm visiting my little brother on the show that we started with our other brother Randy… and, of course, our grandfather Simon [Cowell]." Added Seacrest, "He'll love that," before clarifying, "He doesn't watch." (Let's hope he doesn't watch, as Abdul later referred to him as "the STD.")
Seacrest and Abdul then looked back at a photo of themselves from the show's first season, a moment which went downhill… instantly. "Why am I looking like I'm not happy?" he asked. And when Abdul noted that she also wasn't smiling, he asked, "Why were we so miserable?" Yikes.
Then came the biggest surprise of the night: After intro-ing Abdul, Seacrest announced that Wyatt Pike "will not be competing in the competition. He had to drop out, but we wish him the very best." Uh, OK? I wish we'd gotten a little more information, but at least that explains why Idol is bringing back Season 18 contestants to compete for his spot.
Getting to the results, the following 10 singers were sent through to safety: Casey Bishop, Deshawn Gongalves, Cassandra Coleman, Caleb Kennedy, Ava August, Chayce Beckham, Alyssa Wray, Willie Spence, Grace Kinstler and Hunter Metts.
Sadly, the following finalists did not receive enough votes, and were therefore sent to the Danger Zone: Colin Jamieson, Madison Watkins, Beane, Alanis Sophia and Graham DeFranco. The judges were given the chance to save just two, and they ultimately decided to keep Watkins and Beane in the game.
CASEY BISHOP, 16 | The first to be put through this week, Bishop gave me chills from the moment she began singing "House of the Rising Sun." Not only was it yet another perfect choice for her timeless voice — which has more tricks up its sleeve than freaking Mary Poppins — but it really set the tone for the rest of the night. Watch:
COLIN JAMIESON, 22 | First of all, I have to give kudos to Jamieson for performing Dean Lewis' "Waves" as well as he did, considering he had just been told that he was the first contestant going to the Danger Zone. Something about the delivery of that news felt… off. That said, it was exactly what we've come to expect from Jamieson — the energy and the notes were there. (What more do you want, America?!) Click here to watch.
DESHAWN GONCALVES, 20 | This Ohio native found himself in a much better position, receiving good news from Seacrest before launching into a feel-good performance of Stevie Wonder's "Higher Ground." It was cute, and Goncalves was clearly having a good time up there, but I was hoping for something a little more impressive. To Goncalves' credit, this was his first up-tempo song in the competition. That's growth. Click here to watch.
Top Tweets About The Story