As Locusts Swarmed East Africa, This Tech Helped Squash Them #BigData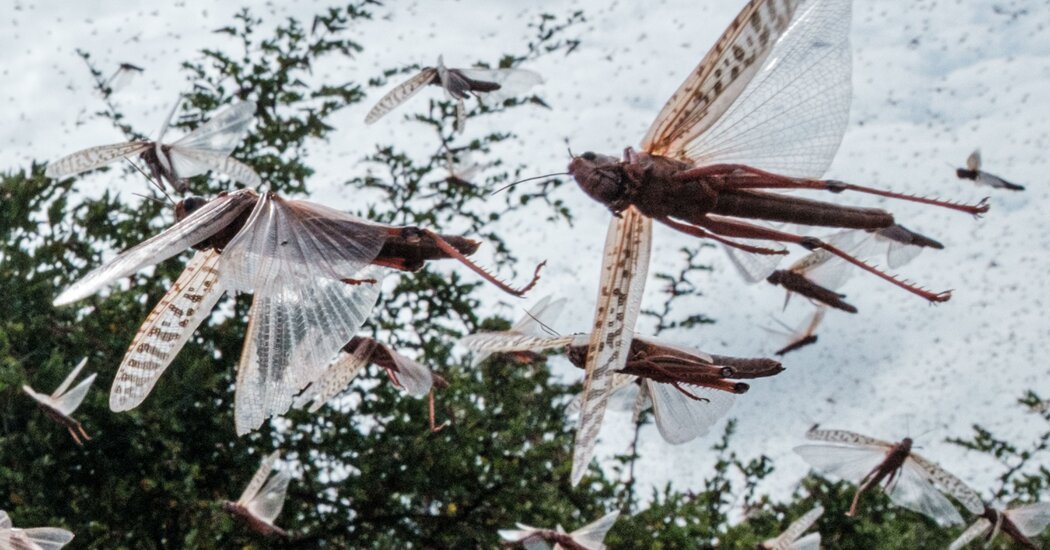 Melodine Jeptoo will never forget the first time she saw a locust swarm. Moving like a dark cloud, the insects blotted out the sky and pelted her like hail.
"When they're flying, they really hit you hard," said Ms. Jeptoo, who lives in Kenya and works with PlantVillage, a nonprofit group that uses technology to help farmers adapt to climate change.
In 2020, billions of the insects descended on East African countries that had not seen locusts in decades, fueled by unusual weather connected to climate change. Kenya had last dealt with a plague of this scale more than 70 years ago; Ethiopia and Somalia, more than 30 years ago. Nineteen million farmers and herders across these three countries, which bore the brunt of the damage, saw their livelihoods severely affected.
"People were operating in the dark, running around with their heads cut off in a panic," said Keith Cressman, a senior locust forecasting officer at the United Nations Food and Agriculture Organization. "They hadn't faced something of this magnitude since the early 1950s."
But as bad as 2020's swarms were, they and their offspring could have caused much worse damage. While the weather has helped slow the insects' reproduction, the success, Mr. Cressman said, has primarily resulted from a technology-driven anti-locust operation that hastily formed in the chaotic months following the insects' arrival to East Africa. This groundbreaking approach proved so effective at clamping down on the winged invaders in some places that some experts say it could transform management of other natural disasters around the world.
"We'd better not let this crisis go to waste," said David Hughes, an entomologist at Penn State University. "We should use this lesson as a way not just to be adapted to the next locust crisis, but to climate change, generally."
Desert locusts are the Dr. Jekylls and Mr. Hydes of the insect world. Normally, the grasshopper-like plant eaters spend their time living solitarily across the deserts of North Africa, Southwest Asia and the Middle East. But when rains arrive, they change from a muted brown into a fiery yellow and become gregarious, forming groups of more than 15 million insects per square mile. Such a swarm can consume the equivalent amount of food in a single day as more than 13,000 people.
The locust plague that hit East Africa in 2020 was two years in the making. In 2018, two major cyclones dumped rain in a remote area of Saudi Arabia, leading to an 8,000-fold increase in desert locust numbers. By mid-2019, winds had pushed the insects into the Horn of Africa, where a wet autumn further boosted their population. An unusual cyclone in Somalia in early December finally tipped the situation into a true emergency.
"Ten years ago, there would have been between zero and one cyclones coming off the Indian Ocean," Dr. Hughes said. "Now there's eight to 12 per year — a consequence of climate change."
Countries like Sudan and Eritrea that regularly deal with small, seasonal swarms have teams of locust trackers who are trained to find the insects and recognize which life cycle stage they are in. They use a tablet-based program to transmit locust data by satellite to national and international authorities so experts can design appropriate control strategies.
But people outside of those frontline locust nations who may want to start using this system today would encounter a typical technology problem: The version of the tablets that the locust-tracking program was written for are no longer manufactured, and newer tablets are not compatible with the software. And even if the hardware was available, in 2020, East Africa lacked experts who could identify locusts.
Top Tweets About The Story