Wow. Family of a British man who died from rare blood clot after taking AstraZeneca vaccine urges people to keep getting the jab.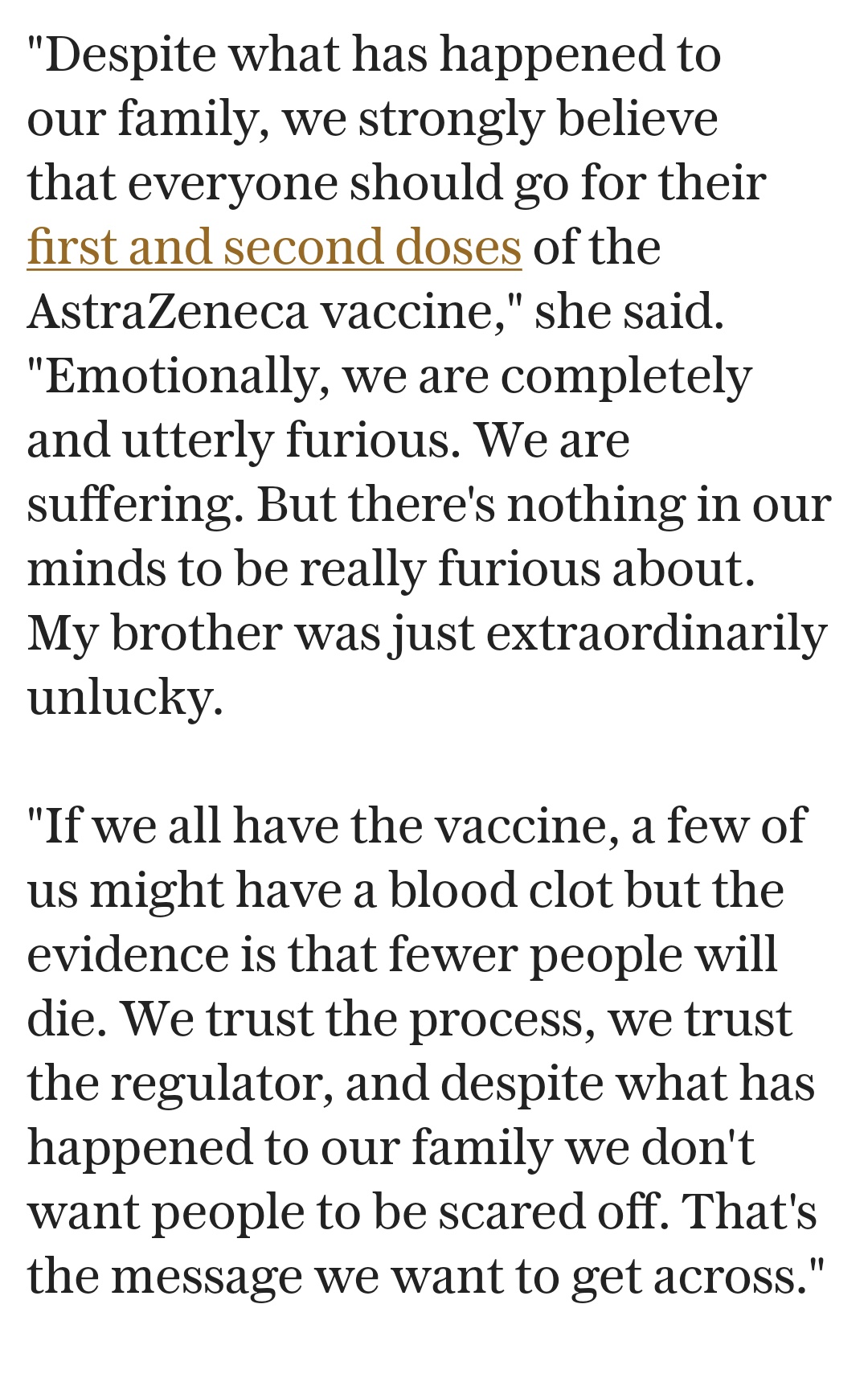 The family of a solicitor who died from a blood clot on the brain after taking the AstraZeneca vaccine has urged the public to "keep saving lives" by continuing to take the jab.
Neil Astles, 59, was given his first dose on March 17 but died in hospital on Easter Sunday after suffering from 10 days of worsening headaches and loss of vision. Mr Astles, a married solicitor at Warrington Borough Council, is the first named person in the UK suspected to have died from side-effects linked to the Oxford jab.
On Wednesday night, his sister told The Telegraph that his family were "furious" but wanted the public to continue taking the AstraZeneca vaccine because "fewer people will die".
Dr Alison Astles said her brother had been "extraordinarily unlucky", and urged people who had received the vaccine to seek medical help if they experienced lasting headaches or sickness.
The family spoke as it was announced that healthy under-30s will now receive the Pfizer or Moderna vaccines instead of the AstraZeneca jab after regulators said there was a "strong possibility" that it had caused deadly blood clots.
The Medicines and Healthcare products Regulatory Agency (MHRA) said side-effects were "very rare" and were being detected "in an extremely small number of people". The European Medicines Agency said the benefits of the AstraZenca vaccine outweighed the risks.
Following the announcement, Boris Johnson said it was "very important for everybody to continue to get their top-up jab when youre asked to come forward for your turn".
The joint committee on vaccination and immunisation (JCVI) recommended that 18 to 29-year-olds should be offered an alternative vaccine where available.
It emerged on Wednesday that, up to March 31, the MHRA had received 79 reports of blood clots accompanied by low blood platelet count, all in people who had their first dose of the vaccine, out of around 20 million doses given. Of the 79, a total of 19 have died, although it has not been established what the cause was in every case.
Mr Astles, from Warrington, died at Royal Liverpool University Hospital on April 4, almost three weeks after his first dose of the vaccine. His sister, the subject lead for pharmacy at the University of Huddersfield, said on Wednesday night it was important that people continued to receive the jab.
"Despite what has happened to our family, we strongly believe that everyone should go for their first and second doses of the AstraZeneca vaccine," she said. "Emotionally, we are completely and utterly furious. We are suffering. But theres nothing in our minds to be really furious about. My brother was just extraordinarily unlucky.
"If we all have the vaccine, a few of us might have a blood clot but the evidence is that fewer people will die. We trust the process, we trust the regulator, and despite what has happened to our family we dont want people to be scared off. Thats the message we want to get across."
Dr Astles said her brother began to feel ill about a week after receiving his first dose of the AstraZeneca vaccine. He had been fit and healthy, ran regularly and had no history of blood clotting issues, but began to suffer from worsening headaches and loss of vision in his right eye.
Top Tweets About The Story