UPDATE: At least 27 people are dead and more than 60 injured after a Mexico City subway train overpass collapsed onto a busy road below on Monday night, authorities say.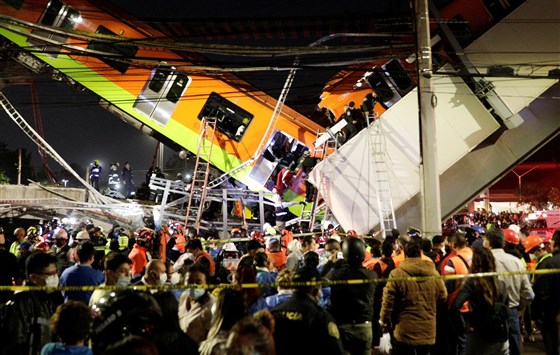 A Mexico City subway train overpass collapsed onto a busy road below on Monday night, killing at least 27 people, including children, authorities said. More than 60 people were injured.
Photos and video from the scene showed mangled train cars hanging from the crumbled overpass and rescue personnel searching and transporting the injured on stretchers.
"A support beam gave way," Mexico City Mayor Claudia Sheinbaum said at the scene. She said the beam collapsed just as the train passed over it. The accident occurred on Line 12 near the Olivos station in the southeast of the city around 10:30 p.m. (11:30 p.m. ET).
The mayor, wearing a hard hat and face mask, told reporters at the site that 65 people had been taken to hospitals, and seven were in serious condition.
Mexicos civil protection agency later published an updated list of victims on Tuesday morning, showing that at least 79 people had been taken to area hospitals, including two 15-year-old females and a 17-year-old male.
Sheinbaum earlier said that one of the victims was in a car under the collapsed overpass and was alive at a hospital. Rescue crews also recovered at least four bodies from the railway carriage, she said.
A crane was being used to hold up the train so rescue workers could continue to work, she said. Of the dead, some are children, Sheinbaum said without specifying a number.
Alfonso, a local resident, told NBCs sister network Telemundo that he had heard a screeching noise on Monday night. "I even thought that it was a car that had collided around here, but no, I came out and saw the scene," he said.
As Mexicos civil protection agency started sharing lists of the injured, friends and relatives of the missing waited for more news of their loved ones, but many feared the worst.
Top Tweets About The Story