Widespread Russian attacks continued in Ukraine following the International Criminal Court's decision to issue an arrest warrant for Vladimir Putin and Russia's commissioner for children's rights..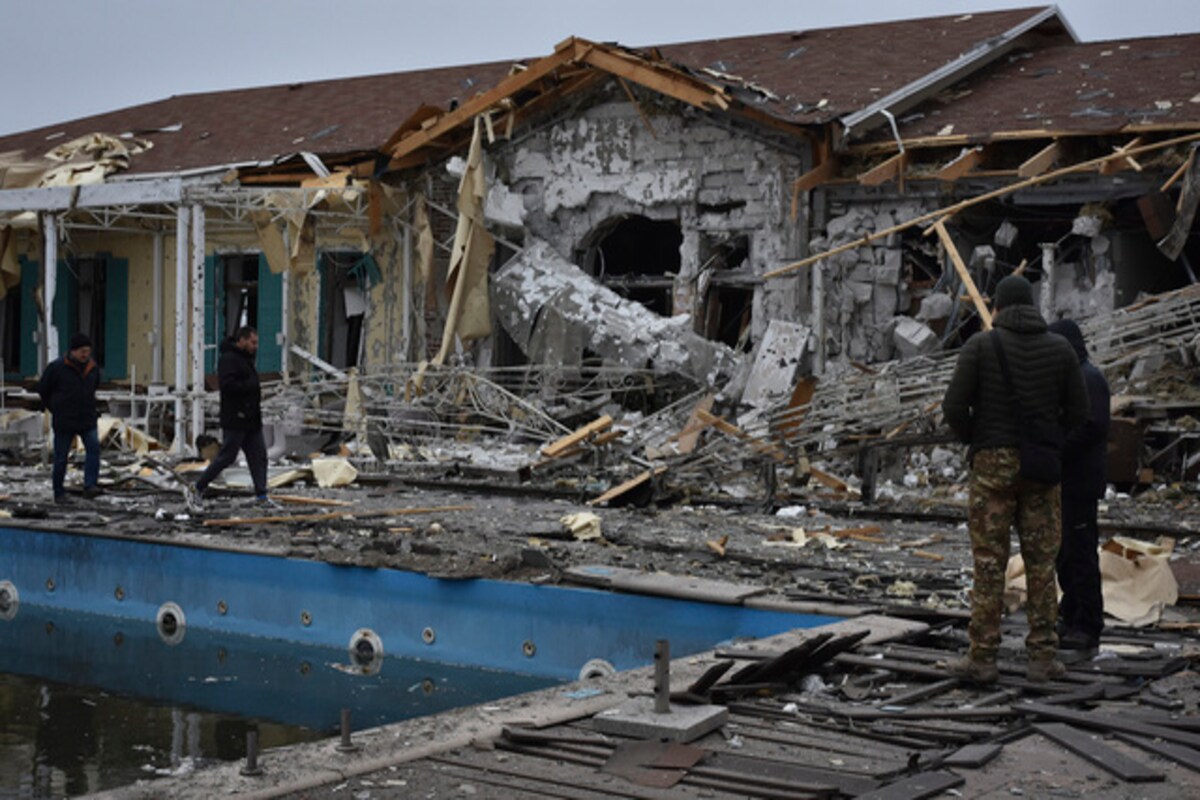 KYIV, Ukraine -- Russian President Vladimir Putin traveled to Crimea to mark the ninth anniversary of the Black Sea peninsula's annexation from Ukraine on Saturday, the day after the International Criminal Court issued an arrest warrant for the Russian leader accusing him of war crimes.
Putin visited an art school and a children's center that are part of a project to develop a historical park on the site of an ancient Greek colony, Russian state news agencies said.
The ICC accused him Friday of bearing personal responsibility for the abductions of children from Ukraine during Russias full-scale invasion of the neighboring country that started almost 13 months ago.
Russia annexed Crimea from Ukraine in 2014, a move that most of the world denounced as illegal. Ukrainian President Volodymyr Zelenskyy has demanded that Russia withdraw from the peninsula as well as the areas it has occupied since last year.
"Obviously, security issues take top priority for Crimea and Sevastopol now," he said, referring to Crimea's largest city. "We will do everything needed to fend off any threats."
Putin took a plane to travel the 1,821 kilometers (1,132 miles) from Moscow to Sevastopol, where he took the wheel of the car that transported him around the city, according to Moscow-installed governor Mikhail Razvozhaev.
The ICCs arrest warrant was the first issued against a leader of one of the five permanent members of the U.N. Security Council. The court, which is based in The Hague, Netherlands, also issued a warrant for the arrest of Maria Lvova-Belova, the commissioner for Children's Rights in the Office of the President of the Russian Federation.
The move was immediately dismissed by Moscow — and welcomed by Ukraine as a major breakthrough. However, the chances of Putin facing trial at the ICC are highly unlikely because Moscow does not recognize the court's jurisdiction or extradite its nationals.
Despite the courts action and its implications for Putin, the United Nations and Turkish President Recep Tayyip Erdogan announced Saturday that a wartime deal that allowed grain to flow from Ukraine to countries in Africa, the Middle East and Asia was extended, although neither said for how long.
Ukrainian Deputy Prime Minister Oleksandr Kubrakov tweeted that the deal had been renewed for 120 days, the period that Ukraine, Turkey and the U.N. wanted. But Russian Foreign Ministry spokeswoman Maria Zakharova told Russian news agency Tass that Moscow agreed to a 60-day extension.
Russia and Ukraine are both major global suppliers of wheat, barley, sunflower oil and other affordable food products that developing nations depend on. They signed separate agreements with the U.N. and Turkey last year to allow food to leave Ukraines blockaded ports.
Russia has complained that shipments of its fertilizers — which its deal was supposed to facilitate — are not getting to global markets. The country briefly pulled out of the agreement in November before rejoining and agreeing to a 120-day renewal.
Putin signed a law Saturday that imposes stiff fines for discrediting or spreading misleading information about volunteers or mercenaries fighting in Ukraine. The law calls for a fining individuals 50,000 rubles ($660) for a first offense and up to 15 years in prison for repeated offenses.