Britain bets all on historic tax cuts and borrowing, investors take fright - by @BruceReuters and me.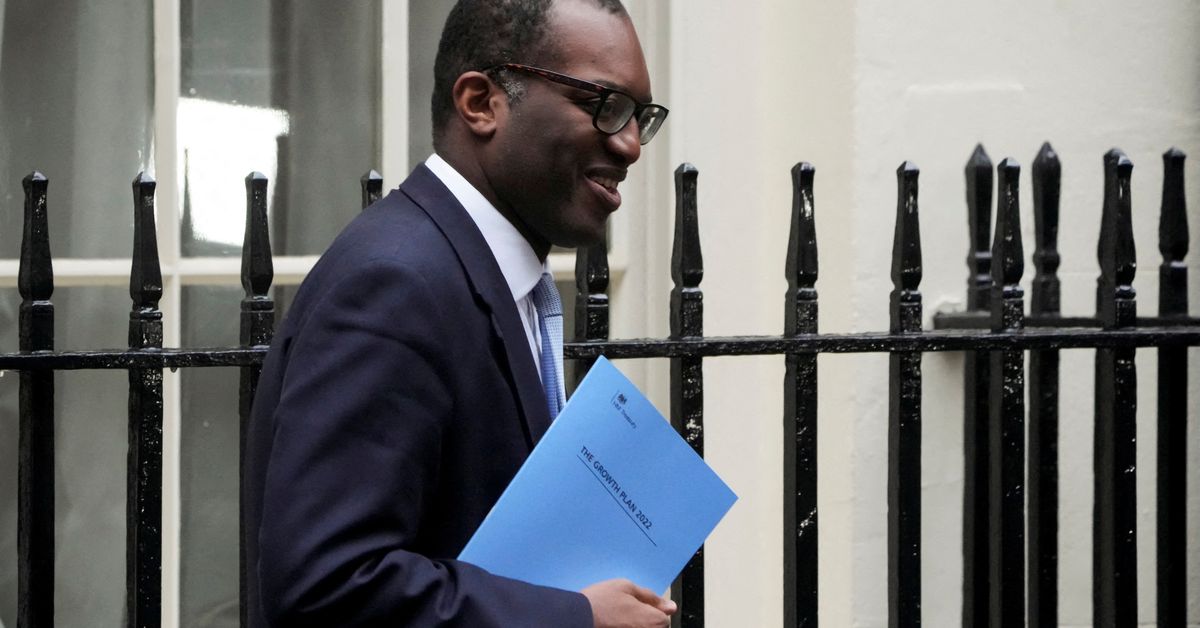 LONDON, Sept 23 (Reuters) - Britains new finance minister Kwasi Kwarteng unleashed historic tax cuts and huge increases in borrowing on Friday in an economic agenda that floored financial markets, with sterling and British government bonds in freefall.
Kwarteng scrapped the countrys top rate of income tax, cancelled a planned rise in corporate taxes and for the first time put a price tag on the spending plans of Prime Minister Liz Truss, who wants to double Britains rate of economic growth.
Investors unloaded short-dated British government bonds as fast as they could, with the cost of borrowing over 5 years seeing its biggest one-day rise since 1991, as Britain raised its debt issuance plans for the current financial year by 72.4 billion pounds ($81 billion). The pound slid below $1.11 for the first time in 37 years.
Kwartengs announcement marked a step change in British economic policy, harking back to the Thatcherite and Reaganomics doctrines of the 1980s that critics have derided as a return to "trickle down" economics.
"That is how we will compete successfully with dynamic economies around the world. That is how we will turn the vicious cycle of stagnation into a virtuous cycle of growth."
A plan to subsidise energy bills will cost 60 billion pounds just for the next six months, Kwarteng said. The government has promised households support for two years as Europe wrestles with an energy crisis.
Tax cuts - including an immediate reduction in the Stamp Duty property purchase tax plus a reversal of a planned rise in corporation tax - would cost a further 45 billion pounds by 2026/27, he said.
The government said raising Britains annual economic growth rate by 1 percentage point over five years - a feat most economists think unlikely - would increase tax receipts by around the same amount.
Britain also will accelerate moves to bolster the City of Londons competitiveness as a global financial centre by scrapping the cap on banker bonuses ahead of an "ambitious deregulatory" package later in the year, Kwarteng said. read more
"Never has a government borrowed so much and explained so little... this is no way to build confidence, this is no way to build economic growth," said Labours finance spokeswoman Rachel Reeves. read more
The Institute for Fiscal Studies said the tax cuts were the largest since the budget of 1972 - which is widely remembered as ending in disaster because of its inflationary effect.
The market backdrop could barely be more hostile for Kwarteng, with the pound performing worse against the dollar than almost any other major currency.