Britain pursues 'trickle-down economics' despite scorn from Biden. And the stakes are sky-high.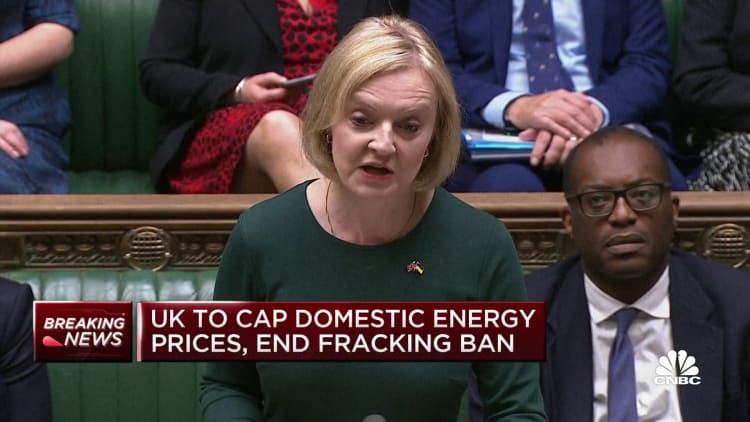 British Prime Minister Liz Truss and U.S. President Joe Biden formally met for the first time at the United Nations General Assembly in New York City, following clashes in economic policy between the two leaders.
LONDON — The British government is set to announce sweeping tax cuts for businesses and the wealthy Friday, in a controversial mini-budget showcasing the lengths to which new Prime Minister Liz Truss is willing to go to overhaul U.K. economic policy even as it draws political ire.
Truss — whose "Trussonomics" policy stance has been likened to that of her political idols Ronald Reagan and Margaret Thatcher — has said she is willing to slash taxes at the top end of the economic spectrum in a bid to boost U.K. growth, in a strategy typically dubbed "trickle-down" economics.
But the approach, which comes as Britain faces its worst cost-of-living crisis in decades, has attracted criticism from both U.K. political opponents and Downing Street's hereto closest international ally — the U.S. president.
Downing Street said it was "ludicrous" to suggest the comment was aimed at Truss, according to the FT. The White House did not immediately respond to CNBC's request for comment.
It came a day before the pair formally met for the first time in New York Wednesday, after which Truss tweeted that "the U.K. and U.S. are steadfast allies."
The U.K.'s growth-focused, mini-budget, which will be announced Friday by the U.K.'s new Finance Minister Kwasi Kwarteng, is expected to include plans to scrap planned corporation tax hikes, an end to the cap on bankers bonuses and a potential cut to stamp duty, the tax paid on house purchases.
Kwarteng also confirmed ahead of time Thursday that the government will reverse a recent hike in the taxes employees pay on earnings, known as National Insurance.