After 3 years of marriage, Cardi B has filed for divorce from husband, Offset.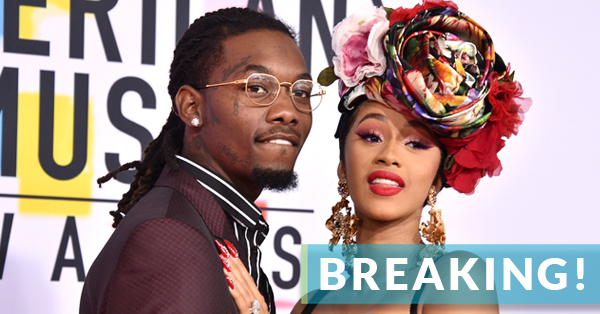 The "WAP" rapper, 27, filed for divorce at an Atlanta courthouse on Tuesday, saying the marriage is "irretrievably broken" and "there are no prospects for a reconciliation," reportedly after finding out the Migos rapper, 28, had been unfaithful yet again, PEOPLE confirms. The pair, who share 2-year-old daughter Kulture Kiari, is due in court Nov. 4.
Cardi and Offsets split follows previous accusations of Offsets infidelity. In January 2018, Cardi (née Belcalis Marlenis Almanzar) outwardly confirmed Offset (né Kiari Kendrell Cephus) was at the center of a sex tape cheating scandal after rumors of a video and alleged liaison with another woman surfaced in December 2017, three months after the couple had secretly tied the knot.
"No, its not right for a [n—] to cheat…But what you want me to do?" Cardi wrote in a tweet at the time. "Go f— me another n—? Start all over again and get cheated on again? This s— happens to everyone and I be too, you too…People handle they relationship different soo."
"I know I look good, I know Im rich, I know Im talented. I know I could get any man I want — any basketball player, football player," she said. "But I want to work out my s— with my man, and I dont got to explain why."
"Im not your property. This is my life … Im going to take my time, and Im going to decide on my decision," she added. "Its not right, what he f—ing did — but people dont know what I did, cause I aint no angel."
The pair stayed together in the following months, and Cardi revealed during her April 2018 Saturday Night Live debut that she and Offset were expecting. Their daugher Kul July 10, 2018, Cardi gave birth to their daughter Kulture. (Along with Kulture, Offset also has three children from previous relationships.)
The familial bliss was short-lived, though. That August, Cardi was involved in an incident with two bartenders at Angels Strip Club in Queens, New York. The bartenders claimed the rapper ordered an attack on them because she believed Offset had had an affair with one of them. After being indicted by a grand jury on multiple charges, including two counts of reckless endangerment and one count of assault, Cardi pleaded not guilty. (A verdict has not been reached in the case.)
Top Tweets About The Story