China to tighten grip on edtech industry and online learning #intled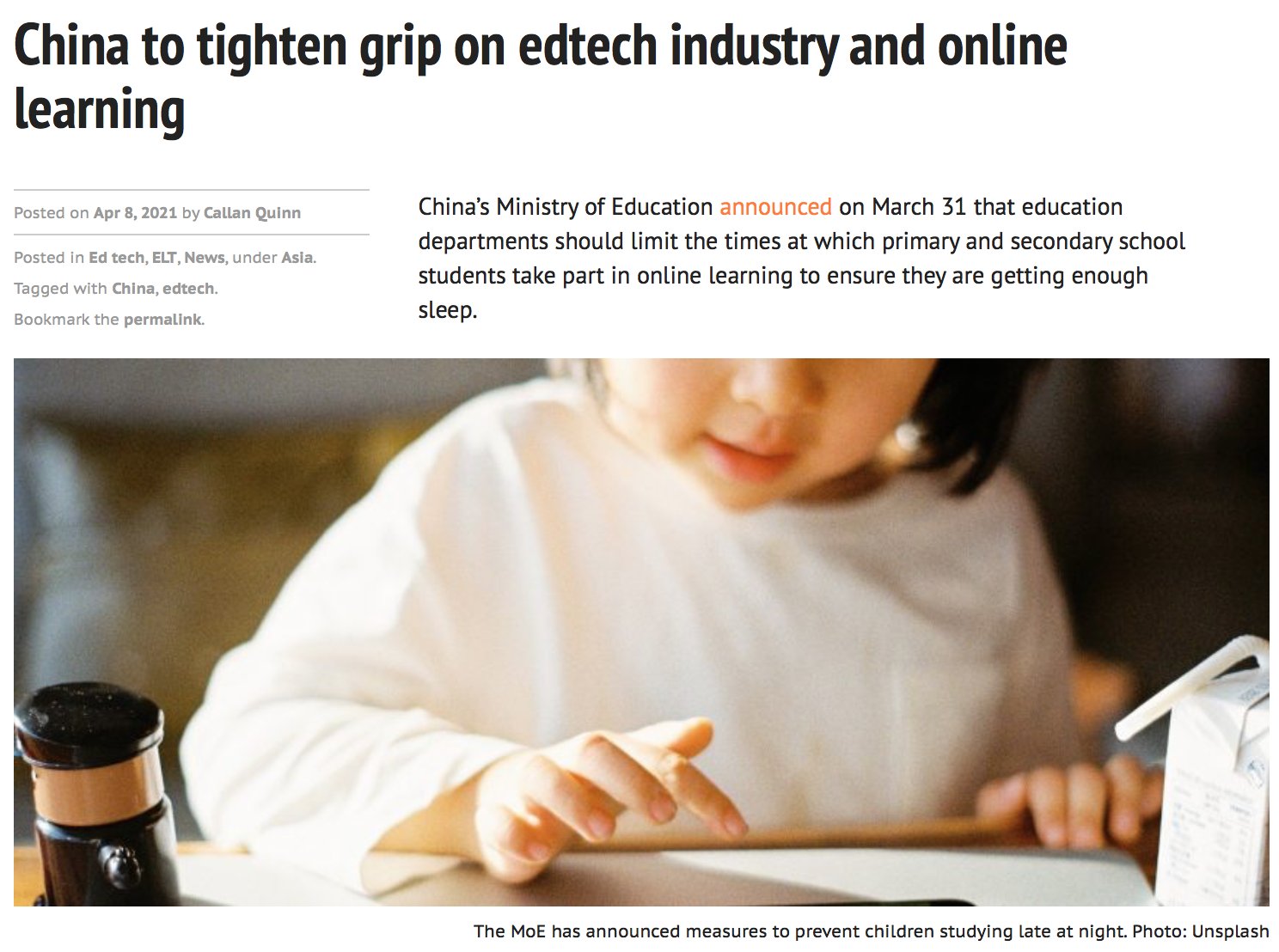 China's Ministry of Education announced on March 31 that education departments should limit the times at which primary and secondary school students take part in online learning to ensure they are getting enough sleep.
"Education departments in all regions will, in cooperation with relevant departments, effectively strengthen standardised management for online training and online games that are registered or filed in their jurisdictions, and adopt technical methods to carry out supervision to ensure that live online broadcasting training activities end no later than 9pm," said the ministry in a statement.
The announcement came after a tough month for China's online education industry after rumours began circulating in state publications and on social media of plans to greater regulate the industry. During the country's annual Two Sessions earlier in the month, several delegates also called for greater regulation and management of private online tutoring in terms of both content and consumer rights.
Among the rumours were suggestions of a coming crackdown on the content taught on online learning platforms and suggestions that content would be brought more in line with the national curriculum.
"[Tutoring companies] run on the fact that they give extracurricular help and their material being different/additive to the national curriculum. That's why parents are willing to pay for it," explained Justin Koh of LEK Consulting.
"Now, if you're saying that you need to regulate that and that has to be aligned back to the national curriculum, one, I don't think parents are going to really buy into that, and two, that also means that basically you have a regulator looking at the material saying yes or no."
There was also a piece published that said there would be a new restrictions on online education for children age six and under, which Koh said are mostly English language learners and could represent a substantial amount of business for some companies.
"They often only capture them prior to them enrolling in primary school. [After that] the focus is often directly on subject learning and how do I get better grades," he said.
New Oriental fell from $16.01 on Thursday March 25 to $13.79 by the following Monday, a decrease of 14%. It has since risen to $14.58 as of April 7. TAL Education Group followed a similar pattern, dropping from $60.72 to $52.09 but climbing back up to $58.19 as of April 7.
Genshuixue (GSX) – which multiple short sellers have accused of inflating figures – dropped from $66.75 to $31.78, a drop of 53%. It has since gone down to $30.96
One expert The PIE spoke with who is familiar with situation said he didn't believe any possible new regulations would damage companies like New Oriental or TAL.
Top Tweets About The Story