Covid-19 live updates: Brazil and India now worst-hit hotspots with record new cases and deaths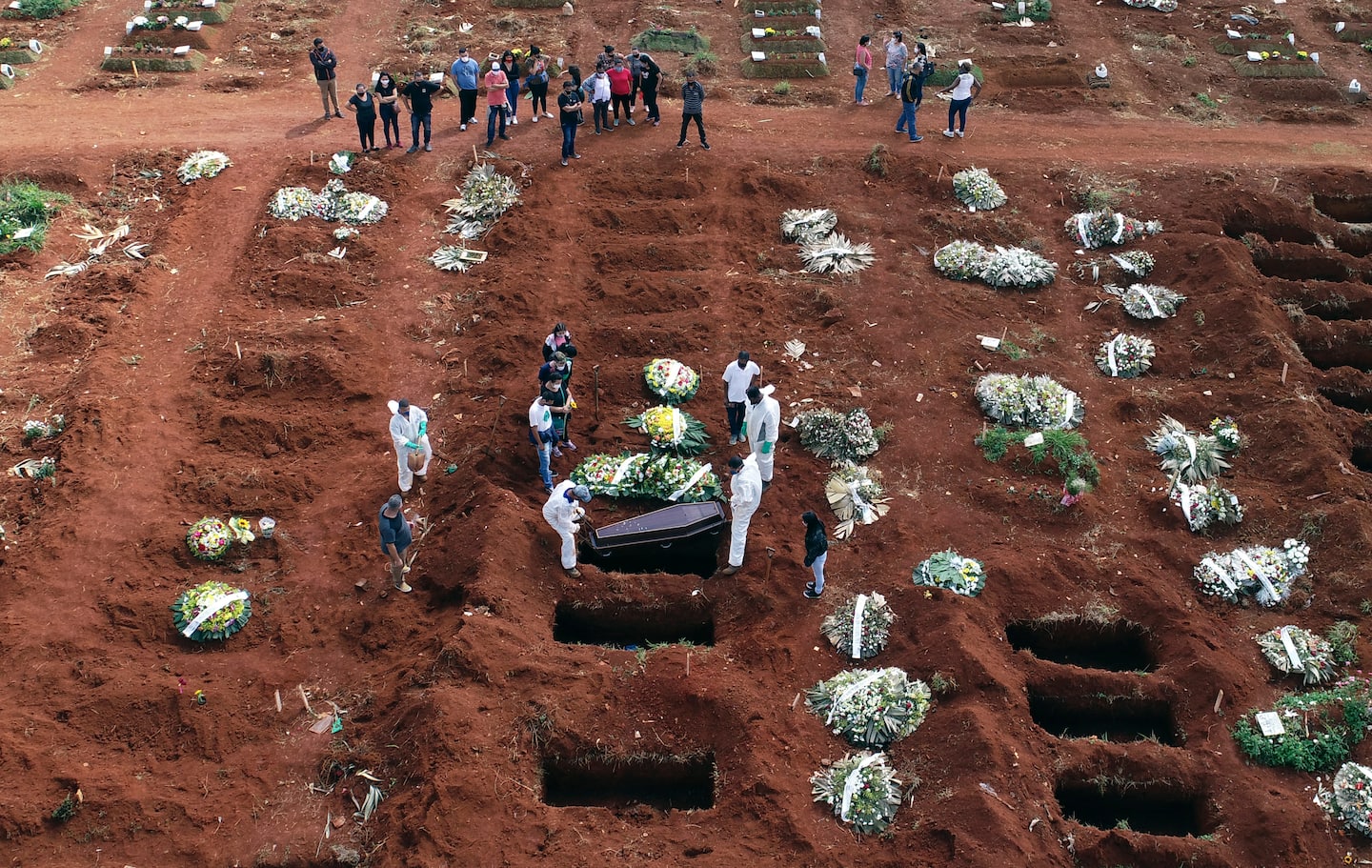 The Washington Post is providing this important information about the coronavirus for free. For more free coverage of the coronavirus pandemic, sign up for our Coronavirus Updates newsletter where all stories are free to read.
Public health experts are raising alarm over Brazil this week, as the pandemic-hit nation has reached several grim coronavirus milestones, including a record number of deaths and the possible spread of multiple more-contagious variants.
Brazilian authorities on Tuesday reported nearly 4,200 covid-19 deaths — the country's highest daily death toll since the pandemic began. The raging outbreak has been fueled by the virulent P.1 variant, and now scientists there say they have identified Brazil's first case involving a similar, more transmissible variant discovered in South Africa.
Because of the rising number of infections and deaths, officials in Brazil's most-populous city, Sao Paulo, say they are now adding 600 new graves to municipal cemeteries each day.
The requests were strange: Customers flocking to a Nevada feed store were asking for an animal deworming drug that they said worked for covid-19. "'No, that's not for you,'" Makenna LaFond, who works at Sierra Feed and Saddlery in Reno, recalled saying. "'That's for a 1,100-pound horse.' Then, they would buy, like, six tubes of it."
LaFond said requests for the paste decreased late last year after she aired her concerns during a local television interview. But elsewhere, interest in ivermectin is running high, despite insufficient evidence that it works as a treatment for covid-19 and the sometimes dangerous consequences when people take the animal version. The Food and Drug Administration said at least three people were hospitalized in February after taking the veterinary formulation. It warned that high doses can cause allergic reactions, seizures, liver injury and even death.
Experts say some people are snapping up the animal drug because it is easier to obtain than the one designed for people. That formula is approved for tropical maladies and requires a prescription. And although ivermectin is touted on social media as something that could end the pandemic, it has not been cleared for use against covid-19, the disease caused by the novel coronavirus.
"It's like the new hydroxychloroquine," said Angela Rasmussen, a virologist at Georgetown University's Center for Global Health Science and Security, referring to the malaria drug pushed by President Donald Trump that proved ineffective against covid-19. "It would be great if ivermectin did work — it's been around for years and is cheap. But to my knowledge, there is no data that suggests it's good for covid-19."
Iran announced a record number of coronavirus cases Thursday, reporting more than 22,000 infections in a 24-hour period as it struggles to tame an explosive new outbreak.
The toll Thursday brought Iran's total number of coronavirus cases to more than 2 million, cementing its position as the worst-hit country in the Middle East. Iran has recorded nearly 64,000 covid-19 fatalities.
The recent spike in cases followed celebrations of the Persian New Year, when Iranians meet, travel and feast to welcome the spring. Authorities have fought to impose stricter lockdown measures, but Iran's ailing economy has meant many residents flout the rules so they can continue to work.
Health Ministry spokeswoman Sima Sadat Lari called on Iranians on Thursday to avoid big gatherings, saying it was a "moral and social responsibility," according to the Associated Press.
"The very dangerous situation of the disease in recent days has led to us losing a number of compatriots," she said, the AP reported. "Yet many of us still cannot say 'no' to invitations to parties, weddings and funerals."
Top Tweets About The Story