Due to an apparent excess in supply, the Cal State LA super site is offering Johnson & Johnson COVID-19 vaccines to anyone age 18 and older who walks up from now through Sunday.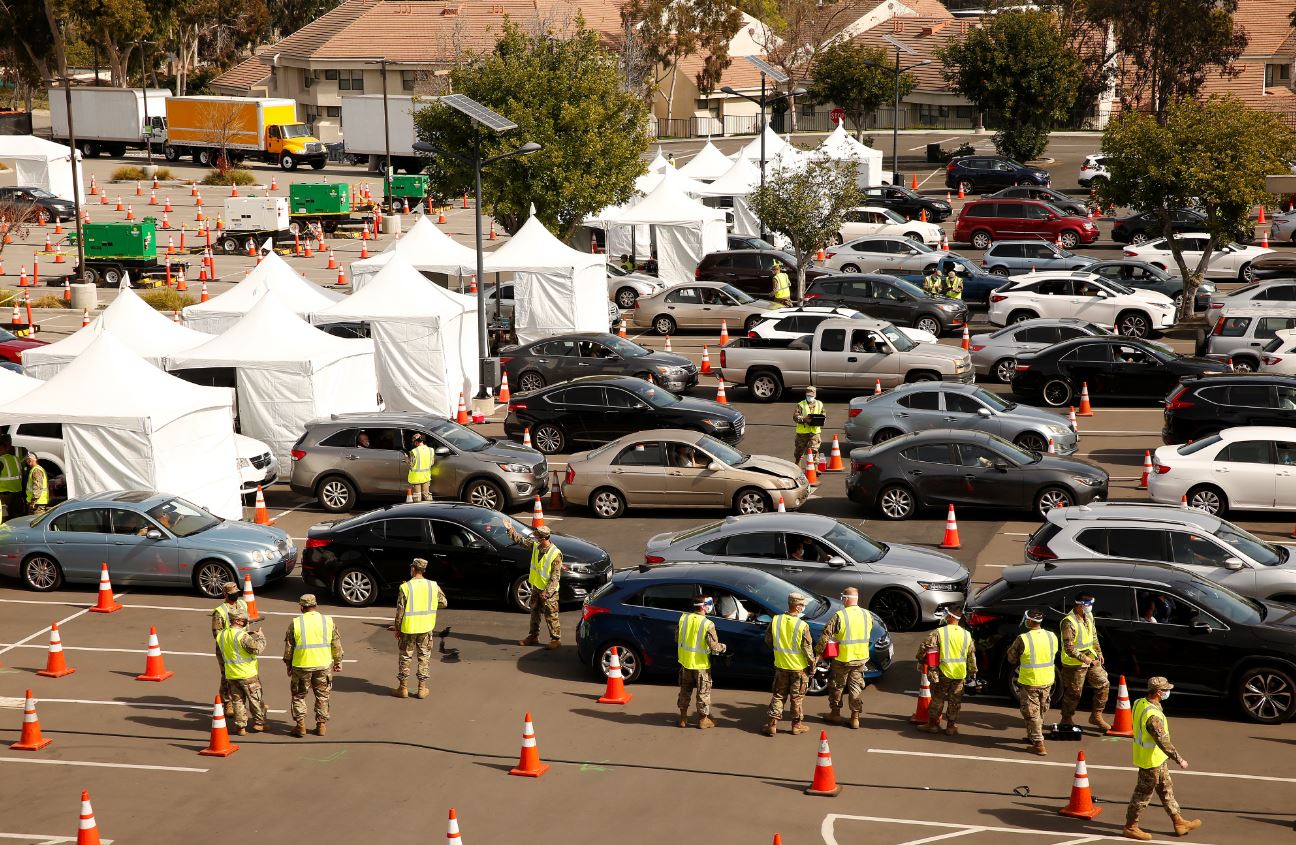 LOS ANGELES (CBSLA) — There were long lines outside the federally-run COVID-19 vaccine supersite at California State University, Los Angeles, Thursday morning, one day after officials announced that they had such an excess of COVID-19 vaccine doses that they would allow anyone age 18 and older to walk up and receive a vaccination.
However, the site got so much demand, that by 10 a.m. Thursday, officials were forced to halt the walk-up vaccinations and only fulfill those with advanced appointments.
"I heard it in the news and I was one of those, telling all my friends, 'you gotta go over there right now, there are no appointments," said Christian Lugo, a South Gate resident. "And then a bit later they retracted on that."
"They said there was going to be walk-in appointments, and that there was nobody here, so I looked it up and rushed down here, it took me like 30 minutes to get here," Manuel Dominguez of Newport Beach told CBSLA Thursday morning.
"We were just talking to a couple of the military people right there," Dominguez said. We could be here all day, we might not get an appointment, we might not get a vaccine."
The state's Office of Emergency Services had reported Wednesday that so many Johnson & Johnson vaccine appointments at the Cal State LA site were going unfilled that they were opening up the vaccination site to anyone age 18 and older. However, on Thursday morning CAL OES reversed course, saying that the appointments had filled up.
"We drove like 40 minutes to get here, and we waited in line for like over an hour now, so at this point, we're gonna keep waiting and see what happens," David Houle of Venice Beach said.
"To the extent to which appointments go unfilled, there may be a limited number of appointments available as walk ups for individuals 18+ between tomorrow and continuing through Sunday when management of the site transfers to the city," CAL OES spokesman Brian Ferguson told CBSLA in a statement Wednesday. "Providing vaccinators working at the site some flexibility to fill vacant appointment slots allows us to expand the rate of vaccinations in California in an efficient, effective and equitable manner."
Vaccination eligibility opened up on April 1 to anyone 50 years and older, and beginning April 15, anyone 16 years old and up will be able to get the vaccine across California.
"I went online and I made an appointment anyway just in case," said Wallace Flowers. "And I'm glad I did, looking at the number of people that are out here!"
OPEN SLOTS! Johnson & Johnson vaccine appointments are still available @CalStateLA this week. Register and book an appointment at https://t.co/oBmSONhGtS or call 1-833-422-4255. pic.twitter.com/7Nah0kFKR3
Top Tweets About The Story