French fishermen warn of blockades in UK licence row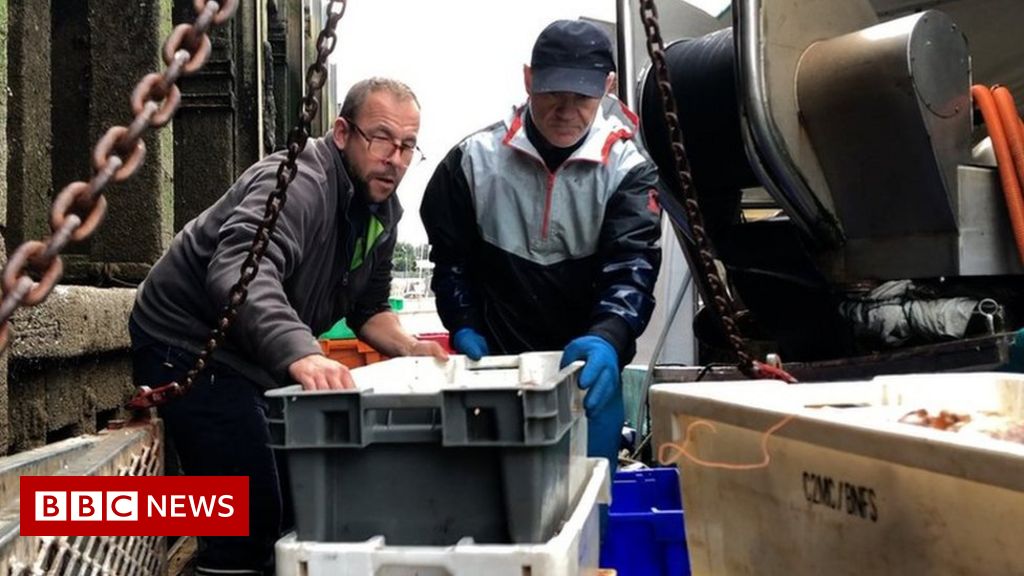 His family has worked freely in British waters for generations but, almost a year after Brexit, he is one of 180 French fisherman still waiting for the new licence he needs to fish there.
"Were in a constant state of anxiety and anger," Mr Merlin told the BBC. "We are waiting until Friday, and then well start to organise ourselves to attack."
The talk in ports like Boulogne-sur-Mer this week is of blockades, as negotiations and political pressure fail to deliver results quickly enough for men like Laurent Merlin.
"We saw the [impact of the] gas shortage; well try to create another shortage of something else. Were ready to block everything: Calais, Dunkirk, the Channel Tunnel. We need this fishing licence and well do anything to get it."
Benoît Firmin, manager of the local fishing committee, says the fishermen here in France are getting a lot of support from their counterparts in other EU nations like Ireland and Belgium.
If the blockade goes ahead, he says, its likely to be wider than just the port in Boulogne; and target Christmas supplies."We havent even blocked yet," he said, "and already theres a lack of food, petrol and staff [in the UK]."
The French Fisheries Minister, Annick Girardin, backed by ten other EU nations, this week challenged the UK requirement that boats prove their historic presence in British waters, and called the UKs response "incomplete and inappropriate".
The requirement for fishermen to provide proof of their presence in British waters between 2012 and 2016 is very difficult, he says, because smaller boats didnt have the equipment back then.
"From the beginning, we said that fishing would be Brexits variable adjustment, and it turned out to be true," he told us. "We feel like the punching ball between Europe and the UK."
The government here has promised responses from both Brussels and Paris in the next two weeks, including - it says - possible French retaliation by reducing electricity supplies to Jersey.