Online Chat | Hong Kong ISP blocks access to pro-democracy website under national security law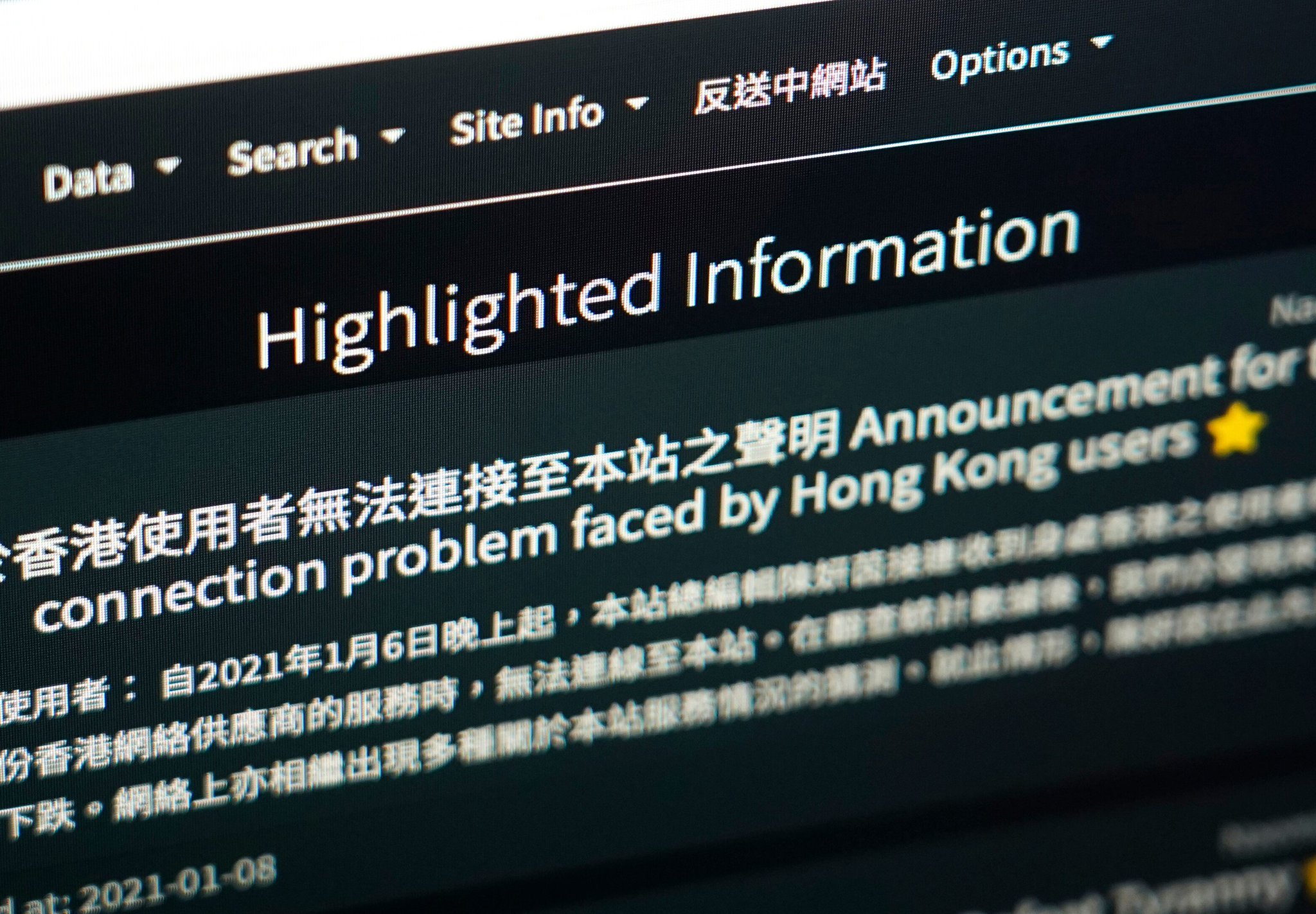 This material may not be published, broadcast, rewritten, or redistributed. ©2021 FOX News Network, LLC. All rights reserved. Quotes displayed in real-time or delayed by at least 15 minutes. Market data provided by Factset. Powered and implemented by FactSet Digital Solutions. Legal Statement. Mutual Fund and ETF data provided by Refinitiv Lipper.
A Hong Kong Internet service provider on Thursday said it had blocked access to a pro-democracy website to comply with the city's national security law.
In a statement emailed on Thursday, Hong Kong Broadband Network said that it had disabled access to HKChronicles, a website that compiled information on "yellow" shops that supported the city's pro-democracy movement and released personal information and pictures of police and pro-Beijing supporters during anti-government protests in 2019.
The chief editor of the site, Naomi Chan, said in a post last week that users in Hong Kong reported the site as inaccessible. She accused telecommunications companies such as SmarTone, China Mobile Hong Kong, PCCW and Hong Kong Broadband Network of blocking it.
The move to block HKChronicles has intensified concerns that Beijing is asserting more control over the city and breaking its promise of letting the former British colony maintain separate civil rights and political systems for 50 years after the communist-ruled mainland took over in 1997.
It has also heightened fears of Internet restrictions in Hong Kong akin to the "Great Firewall of China," a system of Internet censorship on the mainland that blocks foreign search engines and social media platforms like Google, Facebook and Twitter and scrubs the Internet of keywords deemed sensitive by the Chinese government.
Glacier Kwong, a digital rights and political activist based in Germany, wrote in a Twitter post last week that Hong Kong has "abused legal procedures and other means to hinder the free flow of info online" in the last 18 months.
"The Hong Kong government is stifling Hong Kong people's freedom on the Internet," she said. "An open Internet has always been the cornerstone of freedom in a place. Disrupting Internet freedom also undermines the flow of information, freedom of communication, and freedom of the press."
Beijing imposed a national security law on Hong Kong last June aimed at quelling dissent in the semi-autonomous territory after peaceful mass demonstrations against a now-withdrawn extradition bill morphed into months of anti-government protests that led to sometimes violent clashes.
Top Tweets About The Story