TRACKING THE TROPICS: Sally has officially weakened to a tropical storm and rain is starting to let up, hours after landfall along the Gulf Coast. Tracking the Tropics is breaking down the latest NHC update: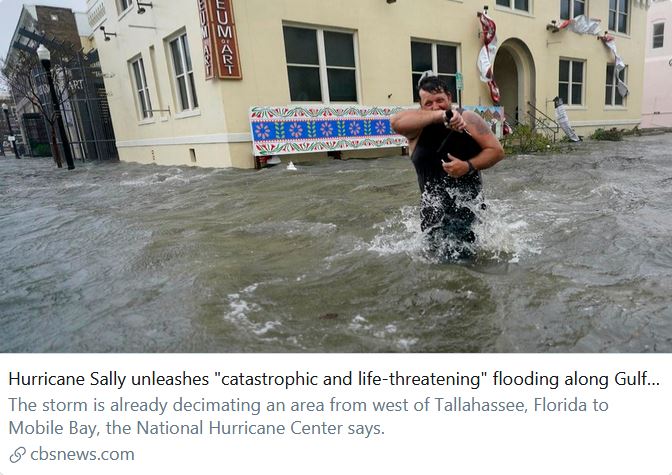 Flood waters move on the street, Wednesday, Sept. 16, 2020, in downtown Pensacola, Fla. Hurricane Sally made landfall Wednesday near Gulf Shores, Alabama, as a Category 2 storm, pushing a surge of ocean water onto the coast and dumping torrential rain that forecasters said would cause dangerous flooding from the Florida Panhandle to Mississippi and well inland in the days ahead.(AP Photo/Gerald Herbert)
TAMPA, Fla. (WFLA) — Sally, now weakened to a tropical storm, made landfall between the border of Alabama and Florida Wednesday morning as a Category 2 hurricane bringing hurricane-force winds and catastrophic flooding to parts of the Gulf Coast.
Sally is one of several systems churning in an extremely active Atlantic basin. Forecasters are also watching Hurricane Teddy, Post-Tropical Cyclone Paulette, Tropical Storm Vicky and three areas of interest.
Sally weakened to Category 1 strength after landfall and later became a tropical storm at 2 p.m. ET. By 5 p.m., Sally weakened further with just 60 mph max winds as it continued to creep northward.
The latest forecast from the NHC says heavy rain from Sally is starting to spread north into eastern Alabama and western Georgia as "catastrophic and life-threatening flooding" continues along the northern Gulf Coast.
Sally picked up a bit more speed, according to the 5 p.m. update, and is now moving northeast at 7 mph. The NHC says it's expected to continue moving slightly faster through Wednesday and Thursday.
The latest NHC forecast says Sally will move across the extreme western Florida Panhandle and southeastern Alabama through early Thursday. It will then move over central Georgia Thursday afternoon and over South Carolina Thursday night.
Top Tweets About The Story