Powerful Men Fall, One After Another, in France's Delayed #MeToo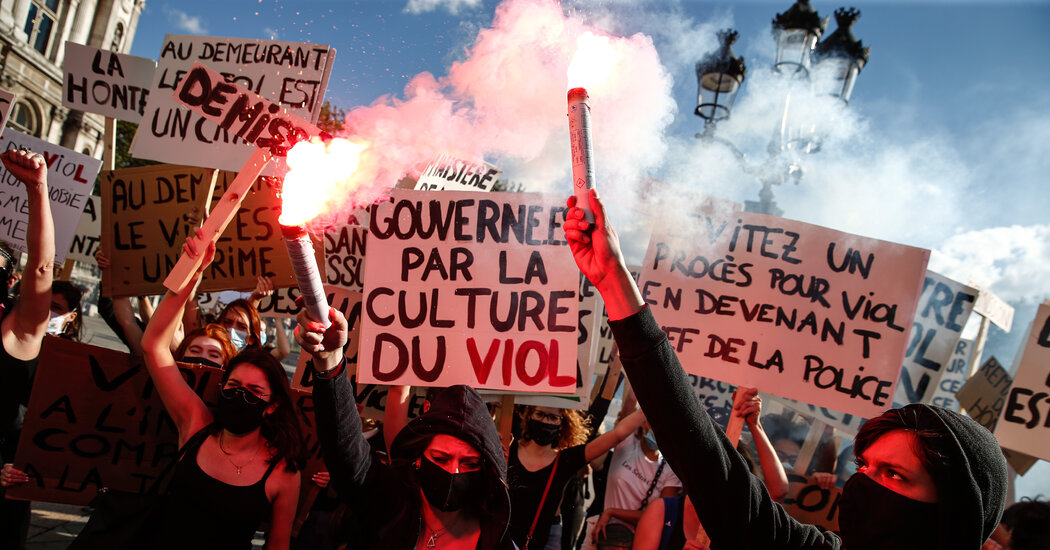 PARIS — When Sandra Muller launched France's #MeToo social media campaign in 2017, tens of thousands of women responded to her calls to "Expose Your Pig," or #balancetonporc."
But the backlash was overwhelming. Some of the most prominent women in the country, led by Catherine Deneuve, denounced the movement in a letter that came to define France's initial response to #MeToo. In 2019, Ms. Muller lost a defamation case against a former television executive she had exposed on Twitter, with France appearing immune to the larger global forces challenging the dominance of men.
Last week, Ms. Muller won her appeal. Though there were no new facts, a powerful ruling by the appeals court underscored how things have changed in the past two years.
"Before the ruling, I thought there were stirrings," Ms. Muller said in a phone interview from New York, where she now lives. "Now, I have the impression that there's been a leap forward."
Since the beginning of the year, a series of powerful men from some of France's most prominent fields — politics, sports, the news media, academia and the arts — have faced direct and public accusations of sexual abuse in a reversal from mostly years of silence. At the same time, confronted with these high-profile cases and a shift in public opinion, French lawmakers are hurrying to set 15 as the age of sexual consent — only three years after rejecting such a law.
The recent accusations have not only led to official investigations, the loss of positions for some powerful men and outright banishment from public life for others. They have also resulted in a rethinking of French masculinity and of the archetype of Frenchmen as irresistible seducers — as part of a broader questioning of many aspects of French society and amid a conservative backlash against ideas on gender, race and postcolonialism supposedly imported from American universities.
"Things are moving so fast that sometimes my head spins," said Caroline De Haas, a feminist activist who in 2018 founded #NousToutes, a group against sexual violence. She described herself as "super optimistic."
Ms. Haas said that France was going through a delayed reaction to #MeToo after a "maturation" period during which many French began to understand the social dimensions behind sexual violence and the concept of consent.
That was especially so, Ms. Haas said, after the testimony in the past year of Adèle Haenel, the first high-profile actress to speak out over abuse, and of Vanessa Springora, whose memoir, "Consent," documented her abuse by the pedophile writer Gabriel Matzneff.
"The start of 2021 has been a sort of aftershock," Ms. Haas said. "What's very clear is that, today in France, we don't at all have the same reaction that we did four, five years ago to testimonies of sexual violence against well-known people."
Last month, Pierre Ménès, one of France's most famous television sports journalists, was suspended indefinitely by his employer after the release of a documentary that exposed sexism in sports journalism, "I'm Not a Slut, I'm a Journalist."
Top Tweets About The Story