𝗔𝗮𝗽 𝗞𝗮 𝗦𝘄𝗮𝗴𝗮𝘁 𝗛𝗮𝗻𝘂𝗺𝗮! 🇮🇳 Welcome, @Hanumavihari. 💙 📝 🐻#YouBears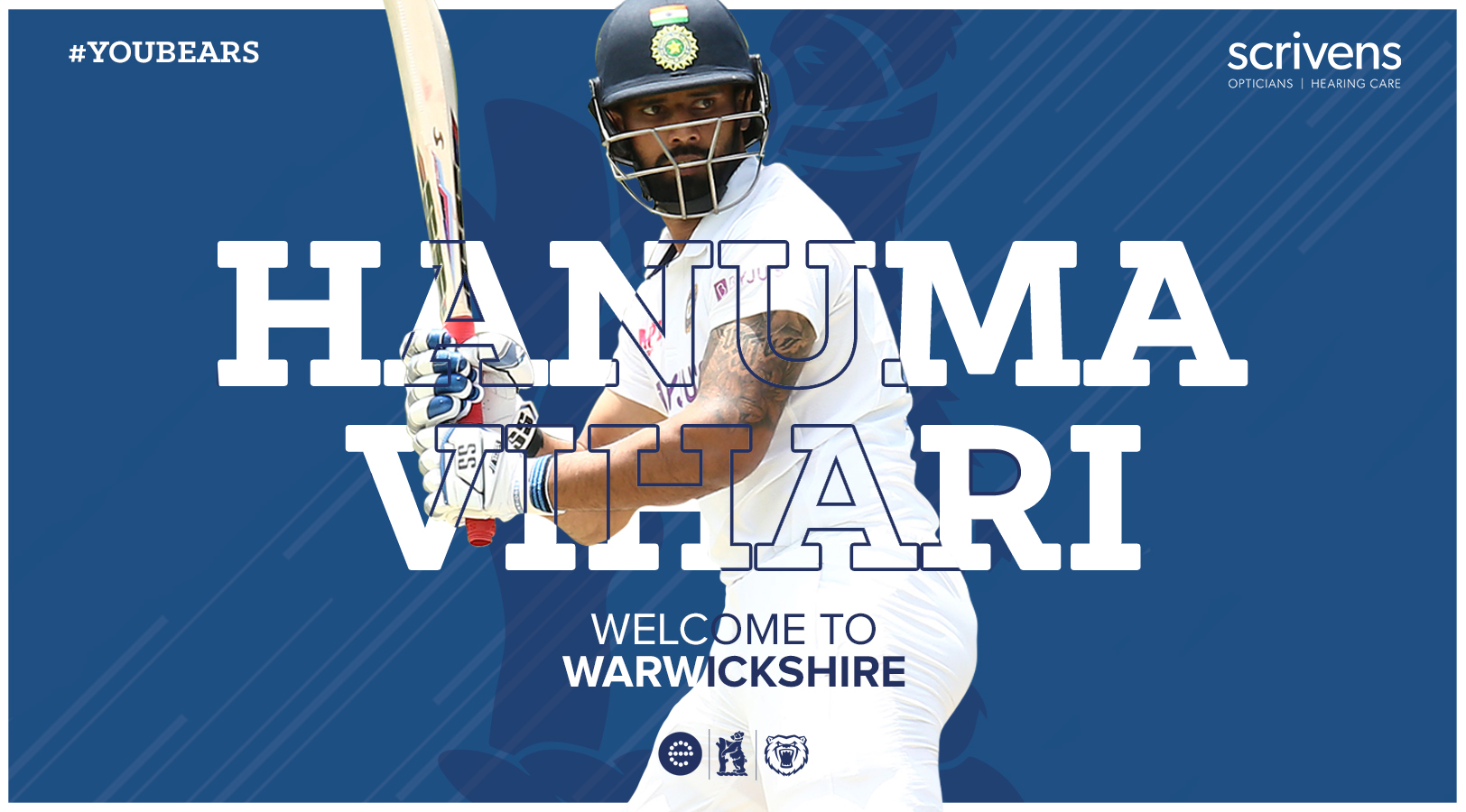 Acting as cover for Pieter Malan, 27-year-old Vihari made his Test debut against England in 2018 and he has played 12 Tests to date, including three matches in the recent series victory away to Australia and a career best score of 111 versus West Indies in 2019.
In the First Class game, Vihari has made 7,094 runs in 90 games, boasting an impressive average of 56.75, whilst his off spin has also contributed 27 wickets.
"Hanuma will arrive in the UK this afternoon," said Warwickshire's Director of Cricket Paul Farbrace, "We hope that this gives time for him to do his six days quarantine and to feature in next week's game versus Nottinghamshire at Trent Bridge, subject to receiving negative COVID tests.
"He's a high-quality batsman, and an effective off spinner, who has been part of two India Test series victories in Australia. But he also comes to Warwickshire with an outstanding record in the First Class game and our young batsman are going to learn a huge amount from playing and training with someone of Hanuma's calibre.
"We're also very grateful to Hanuma for stepping in at such short notice to cover Pieter Malan whilst we await confirmation of visa and his safe entry to the UK from South Africa."
Membership for the 2021 season is on sale now and offers entry to every home domestic game plus a host of benefits. With our COVID-19 Membership Guarantee, Members will get priority if crowds are restricted this summer.
Necessary cookies are absolutely essential for the website to function properly. This category only includes cookies that ensures basic functionalities and security features of the website. These cookies do not store any personal information.
Any cookies that may not be particularly necessary for the website to function and is used specifically to collect user personal data via analytics, ads, other embedded contents are termed as non-necessary cookies. It is mandatory to procure user consent prior to running these cookies on your website.
Top Tweets About The Story