ישראל פותחת אתר חיסונים לפלסטינים במזרח ירושלים האם טיבי ועודה יפרגנו?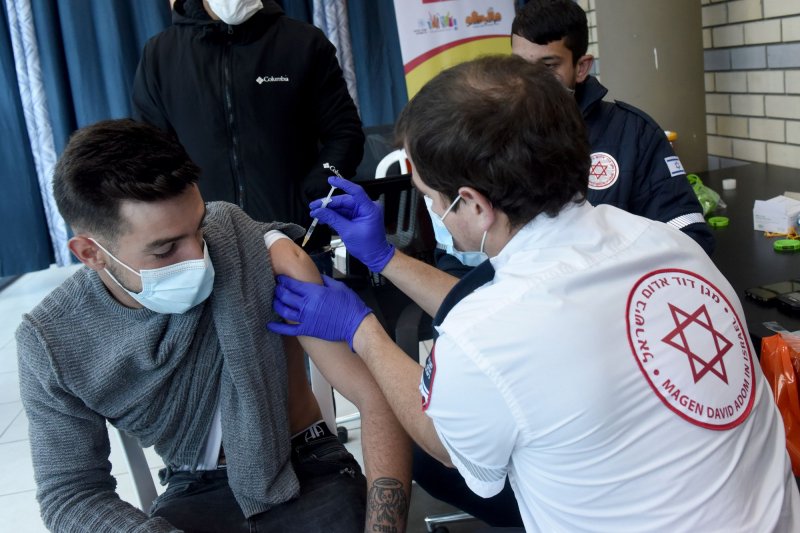 Feb. 23 (UPI) -- As part of its effort to ramp up coronavirus vaccinations, Israel on Tuesday opened a station in east Jerusalem to share vaccines with Palestinian workers.
Israels health ministry and other officials set up the site at the Qalandiya Crossing in the city to vaccinate thousands of Palestinians who work in Israel. Advertisement
Jerusalem Mayor Moshe Lion visited the site and said city officials will also help build a sports field, educational complex and Internet infrastructure in the village. RELATED South Africas COVID-19 cases, deaths decline as variant spreads globally
"The residents of Kfar Aqab are residents of Jerusalem, and we must take care of life as we take care of life in the rest of the city," Lion told The Jerusalem Post.
The vaccination drive is part of a deal with the Palestinian Authority to vaccinate 100,000 workers. RELATED Italys president, pope mark year anniversary of first nations COVID-19 case
Israel has vaccinated a greater share of its population, with almost 49% having received an initial dose, than any other nation, according to Bloomberg. About a third have received both doses. Israel says its vaccinated more than 4 million people.
"In light of the successful vaccination campaign in Israel, the leading country in the world in inoculating the population, Israel has received many requests from the countries of the world to assist with the supply of vaccines," Prime Minister Benjamin Netanyahus office said, according to Haaretz.
Tamar Zandberg, chairperson of the liberal Meretz party, urged Netanyahu to send more vaccine to the West Bank and Gaza. RELATED Israel sends shipment of COVID-19 vaccines to Palestinian Authority
Top Tweets About The Story