It's official: KC-46 tankers and more F-35s for Israel, but no advanced F-15s for now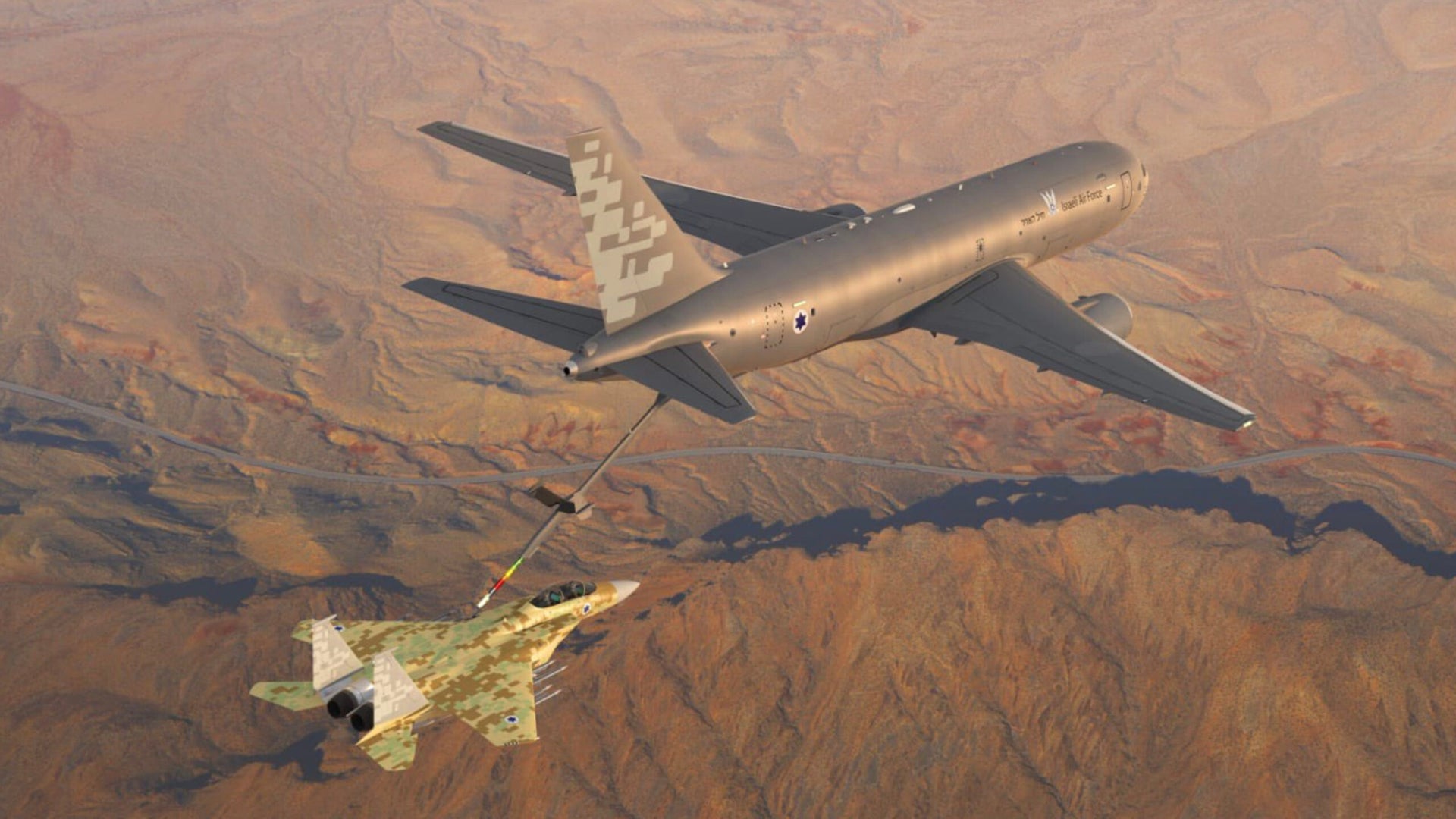 Israel has formally approved plans for its first order of troubled KC-46 Pegasus aerial refueling tankers from Boeing, as well as the third squadron of F-35I "Adir" stealth fighters. Despite reported Israeli interest, there was no mention of any planned purchases of advanced versions of the F-15 Eagle. However, the Israeli government has also given the green light to purchases of "advanced munitions" and a new heavy-lift helicopter, either a variant of the H-47 Chinook or CH-53K King Stallion.
The Israeli Ministry of Defense said it had begun working on these procurement programs after they were all approved by the Israeli government on February 22, 2021. The first Letter of Offer and Acceptance (LOA) for the initial two KC-46s was signed over the weekend. An LOA is a government-to-government agreement that identifies the defense equipment and services to be sold by the U.S. government.
Digital artwork published today on Twitter by the Israeli Ministry of Defense showed a KC-46 in Israeli markings refueling an advanced version of the F-15. It's not clear if this imagery originated with the defense ministry or with Boeing, which manufactures both types, but for now, at least, there are no formal Israeli plans to buy new versions of the Eagle.
All these purchases for the Israeli Air Force (IAF) will be conducted via U.S. military channels, with funding provided by the Foreign Military Financing (FMF) initiative. In 2018, the Trump Administration approved a 10-year memorandum of understanding with Israel that covers $3.3 billion in FMF aid. FMF provides allies with block grants of money for military purchases, with the stipulation that a significant percentage is spent with U.S. companies. 
The Israeli Ministry of Defense has confirmed that similar procurement processes will be launched to buy the additional F-35Is, new heavy-lift helicopters, and undisclosed armament.
The U.S. State Department approved the potential sale of eight KC-46As to Israel almost a year ago, to replace the IAF's aging Boeing 707-based tankers. The entire package in the eight-aircraft deal had an estimated value of $2.4 billion.
Israel reportedly inquired about whether it could take delivery of its first pair of KC-46s from a lot the U.S. Air Force had already contracted Boeing to build. This would allow the IAF to get these aircraft earlier than would otherwise be possible.
Boeing faced competition for Israeli orders from the Israel Aerospace Industries' Bedek Aviation Group which had offered second-hand Boeing 767s converted into tankers. IAI had previously supplied similar 767 tanker conversions to Brazil and Colombia. Reportedly, Boeing blocked these plans to assure its KC-46 would win through, something you can read about in detail here.
Another option was the Airbus A330 Multi-Role Tanker Transport (MRTT), 61 examples of which had been ordered by March 2020, by Australia, France, NATO, Saudi Arabia, Singapore, South Korea, the United Arab Emirates, and the United Kingdom. The A330 MRTT will have been operational in a tanker capacity with its launch customer, the Royal Australian Air Force, for a decade this summer.
We don't yet know when Israel will receive its first two KC-46s, but the aircraft is currently still years away from providing its intended mission set. Earlier this month, General Jacqueline Van Ovost, the head of Air Mobility Command, described the Pegasus as a "lemon," amid ongoing problems that prevent it from performing its primary aerial refueling mission on a day-to-day basis. Full operational capability now won't happen until late 2023 or 2024 at the earliest, according to officials.
With that in mind, the IAF's tanker choice might require the 707-based fleet to soldier on longer still. Known locally as the "Re'em," which means "Oryx" in Hebrew, the 707-300s now in use were introduced beginning in 1978. These second-hand aircraft were converted to tanker configuration by IAI, including installation of a refueling boom and its control system. The Reem plays an important part in support of the IAF's overseas deployments. The oldest Re'em, serial 140, a veteran of the IAF's raid on the Palestine Liberation Organization (PLO) headquarters in Tunisia in 1985, was retired in 2019, leaving nine examples active.
However, it remains possible that Israel will receive a bespoke version of the KC-46, as it did in the past with the F-35I, and others. The IAF could potentially acquire a Pegasus that differs significantly from the U.S. Air Force model and it should be noted that boom-equipped KC-767 tankers have been operating now for many years with both Italy and Japan. 
The decision to buy a third squadron of F-35Is comes as little surprise, as Israel was also weighing up the options of buying advanced versions of the F-15 as well, including a potential mixed buy. For now, however, the IAF appears to have decided to focus on the F-35I — the local name "Adir" means "Mighty One" —rather than supplementing and/or upgrading its existing fleet of F-15s.
Top Tweets About The Story