Kyiv's critical infrastructure hit by Russian rocket attacks; Ukraine to set up winter shelters.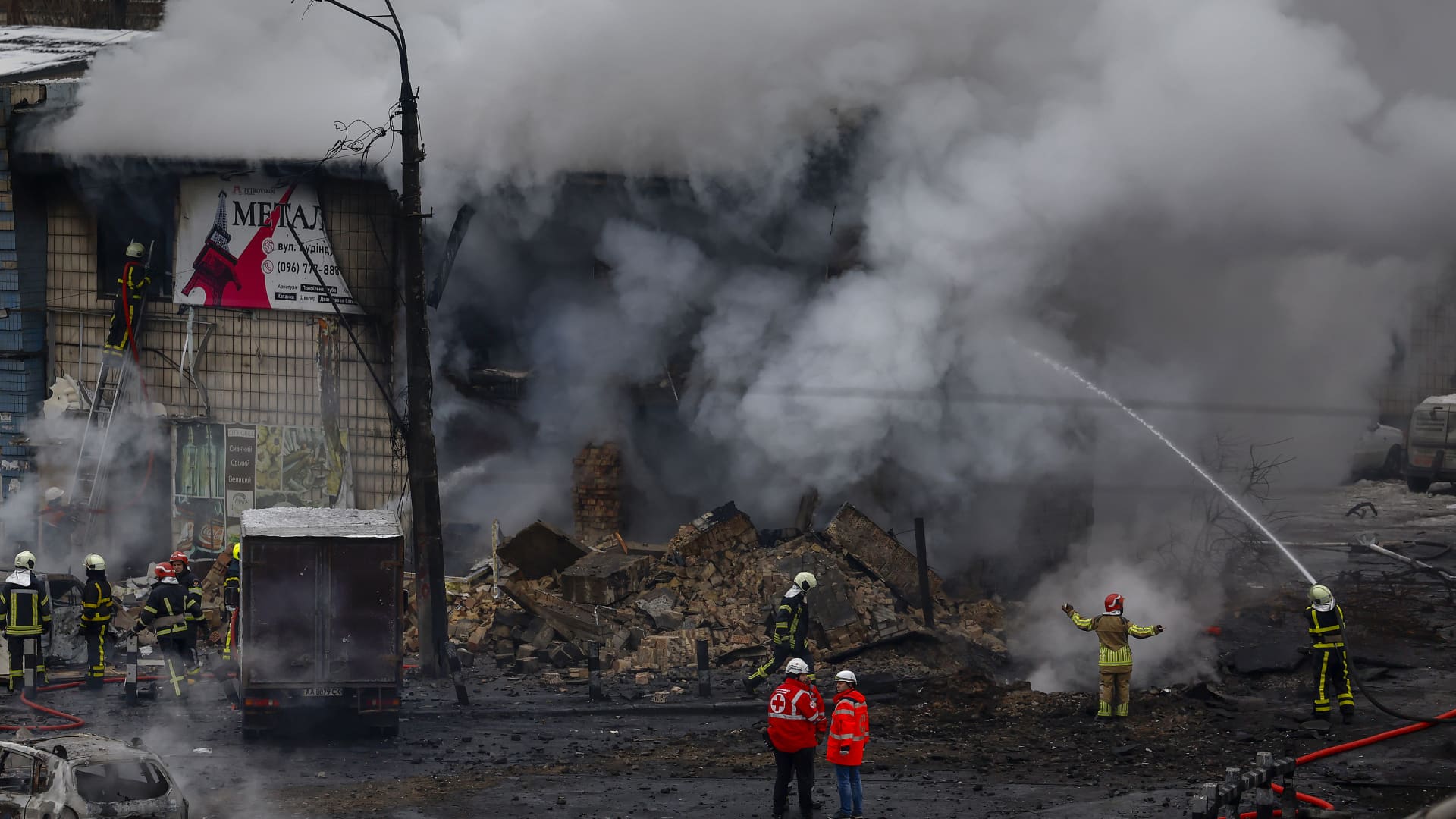 Ukrainian authorities said one person was killed and another was injured in a Russian missile strike on the capital city of Kyiv. CNBC has not been able to independently verify the information.
The Kyiv city military administration said a two-story building was damaged as a result of the hit and officials advised residents to stay in shelters until the air alert ends.
In a largely symbolic move, European lawmakers said deliberate attacks by the Kremlins forces and their proxies against civilians in Ukraine constitute war crimes. Russia denies targeting civilians.
The International Atomic Energy Agency spoke out for the second time this week about the precarious position of the Zaporizhzhia Nuclear Power Plant. Over the weekend, the plant was damaged by heavy shelling and on Wednesday it was forced to go into "full blackout mode" due to continued Russian missile strikes.
"The latest incident at the ZNPP highlights the increasingly precarious and challenging nuclear safety and security situation at Europes largest nuclear power plant, coming just a few days after it was repeatedly shelled," Director General Rafael Mariano Grossi said.
Grossi also underscored the need for an off-site power supply to nuclear sites as one of the seven indispensable pillars for nuclear safety during armed conflicts, which Grossi outlined earlier this year. The plant is currently operating as if off-site power has been lost, relying on diesel generators.
"Reactors need power for cooling and other essential nuclear safety and security functions also when they are in shutdown mode and do not produce electricity anymore," the IAEA said in a statement. "In the case of an external power loss, they have emergency diesel generators that can provide back-up electricity for a limited period of time, at least for 10 days in the case of the ZNPP."
Grossi met a Russian delegation led by the Alexey Likhachev, director general of the Russian nuclear agency, Rosatom, in Istanbul earlier on Wednesday. The pair consulted on "operational aspects related to safety at the ZNPP and on the need to urgently establish a nuclear safety and security protection zone around the plant."
Russias missile strikes directed at civilian targets do not have a military purpose but are instead intended to increase Ukrainian suffering and death, the U.S. National Security Council said Wednesday.
"As Russia struggles on the battlefield, it is increasingly turning to horrific attacks against the Ukrainian people with punishing strikes damaging energy grid infrastructure, and deliberately doing so as winter approaches," NSC spokesperson Adrienne Watson said.