Macron's leadership at risk amid tensions over French pension plan.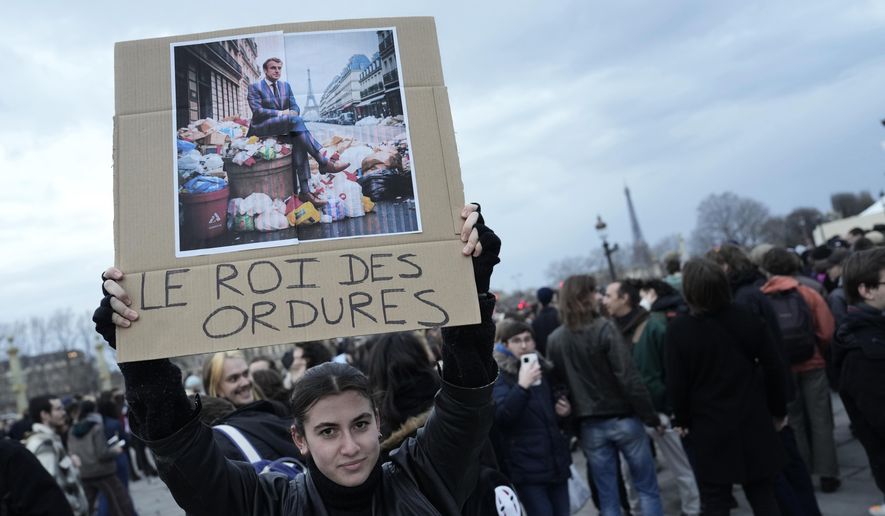 PARIS (AP) — A parody photo appearing on protest signs and online in France shows President Emmanuel Macron sitting on piles of garbage. The image references the trash going uncollected with sanitation workers on strike, but also what many French people think about their leader.
Macron, 45, had hoped his push to raise the retirement age from 62 to 64 would cement his legacy as the president who transformed France's economy for the 21st century. Instead, he finds his leadership contested, both in parliament and on the streets of major cities.
His brazen move to force a pension reform bill through without a vote has infuriated the political opposition and could hamper his government's ability to pass legislation for the remaining four years of his term.
Demonstrators hoisted the parody photo at protests after Macron chose at the last minute Thursday to invoke the government's constitutional power to pass the bill without a vote at the National Assembly. He has remained silent on the topic since then.
Since becoming president in 2017, Macron often has been accused of arrogance and being out of touch. Perceived as "the president of the rich,″ he stirred resentment for telling a jobless man he only needed to "cross the street" to find work and by suggesting some French workers were "lazy."
Now, Macron's government has alienated citizens "for a long time" to come by using the special authority it has under Article 49.3 of the French Constitution to impose a widely unpopular change, Brice Teinturier, deputy director general of the Ipsos poll institute, said.
The situation's only winners are far-right leader Marine Le Pen and her National Rally party, "which continues its strategy of both 'getting respectable' and opposing Macron," and France's labor unions, Teinturier said. Le Pen was runner-up to Macron in the country's last two presidential elections.
Macron repeatedly said he was convinced the French retirement system needed modifying to keep it financed. He says other proposed options, like increasing the already heavy tax burden, would push investments away and that decreasing the pensions of current retirees was not a realistic alternative.
The public displays of displeasure may weigh heavily on his future decisions. The spontaneous, sometimes violent protests that erupted in Paris and across the country in recent days have contrasted with the largely peaceful demonstrations and strikes previously organized by France's major unions.
Macron's reelection to a second term last April bolstered his standing as a senior player in Europe. He campaigned on a pro-business agenda, pledging to address the pension issue and saying the French must "work longer."
In June, Macron's centrist alliance lost its parliamentary majority, though it still holds more seats than other political parties. He said at the time that his government wanted to "legislate in a different way," based on compromises with a range of political groups.
Since then, conservative lawmakers have agreed to support some bills that fit with their own policies. But tensions over the pension plan, and widespread lack of trust among the ideologically diverse parties, may end attempts at seeking compromise.
Macron's political opponents in the National Assembly filed two no-confidence motions Friday against the government of Prime Minister Elisabeth Borne. Government officials are hoping to survive a vote on the motions set for Monday because the opposition is divided, with many Republicans expected not to support it.