Many Migrants Still Stranded in Bosnia as Freezing Cold Sets In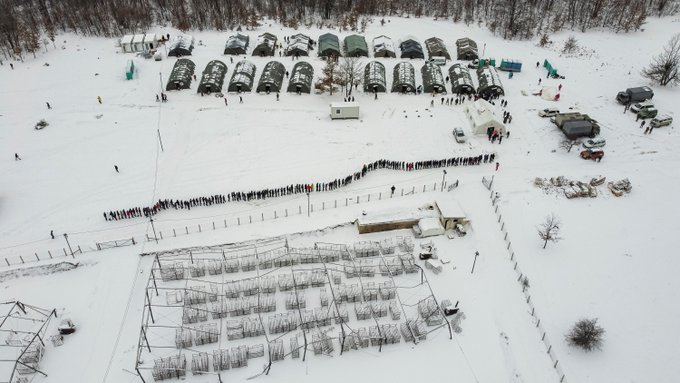 Local authorities have refused to reopen an E.U.-funded housing facility for the migrants, bringing criticism that Bosnia has failed to provide basic humanitarian assistance required by international law.
Hundreds of migrants have slept in the open or in abandoned buildings in freezing temperatures this month as snow has blanketed the mountains of northwestern Bosnia and Herzegovina, according to humanitarian organizations.
Some of those staying in a destroyed migrant camp have had to resort to washing themselves in the snow for lack of heated facilities or lining up barefoot to receive food. Many are suffering from scabies and high fevers.
The mayor of the town of Bihac, 15 miles north of the camp, has refused to reopen a housing facility for the migrants funded by the European Union, which operated for nearly two years until it was closed in the fall. Now, aid organizations and the military are scrambling to provide humanitarian relief as temperatures have fallen below 15 degrees Fahrenheit at night.
"It's an unlivable place. We're not talking about even meeting the basic humanitarian standards here," said Nicola Bay, the country director for the Danish Refugee Council, which has provided winter clothes and medical assistance to the migrants.
The extreme cold is just the latest misery in a saga that has unfolded over years, and which took a dark turn last month when humanitarian organizations had to dismantle the Lipa camp after it was deemed unsafe. As migrants evacuated, a fire destroyed most of the tents there, forcing them to take refuge either in the hulk of the destroyed camp or in abandoned buildings and icy wooded areas surrounding it.
On New Year's Eve, Bosnian authorities vowed to relocate the stranded migrants to the nearby housing facility in Bihac "very quickly." But two weeks into 2021, that facility has remained closed, and a Bosnian government minister has acknowledged that it would likely remain so.
Bosnia has faced growing criticism from the European Union and others for failing to provide the migrants with basic humanitarian assistance as required by international law.
"Hundreds of people, including children, are sleeping outside in freezing temperatures in Bosnia and Herzegovina," Janez Lenarcic, the European Commissioner for Crisis Management, said earlier this month. "This humanitarian disaster could be avoided if the authorities created sufficient winterized shelter capacity in the country, including by making use of existing facilities available."
Since Bosnia became a route for thousands of people hoping to reach Europe in 2018, the European Union has provided 89 million euros, or more than $108 million, to the country's authorities or organizations working there as part of a larger strategy to thin the influx of migrants at its external borders. (Bosnia isn't part of the European Union, but it borders Croatia, which is.)
Yet the coronavirus pandemic has brought the movement of migrants along what is known as the Western Balkans route to a near complete halt, and more than 8,000 migrants are stranded in Bosnia, according to the International Organization for Migration, a United Nations agency. While 6,000 of them are in housing centers, nearly 2,000 remain in precarious conditions throughout the country.
Top Tweets About The Story