The appropriately titled #MetalTourofTheYear features @Megadeth + @lambofgod along with @TriviumOfficial and @InFlames_SWE • The historic run will mark Megadeth's first North American tour since 2017.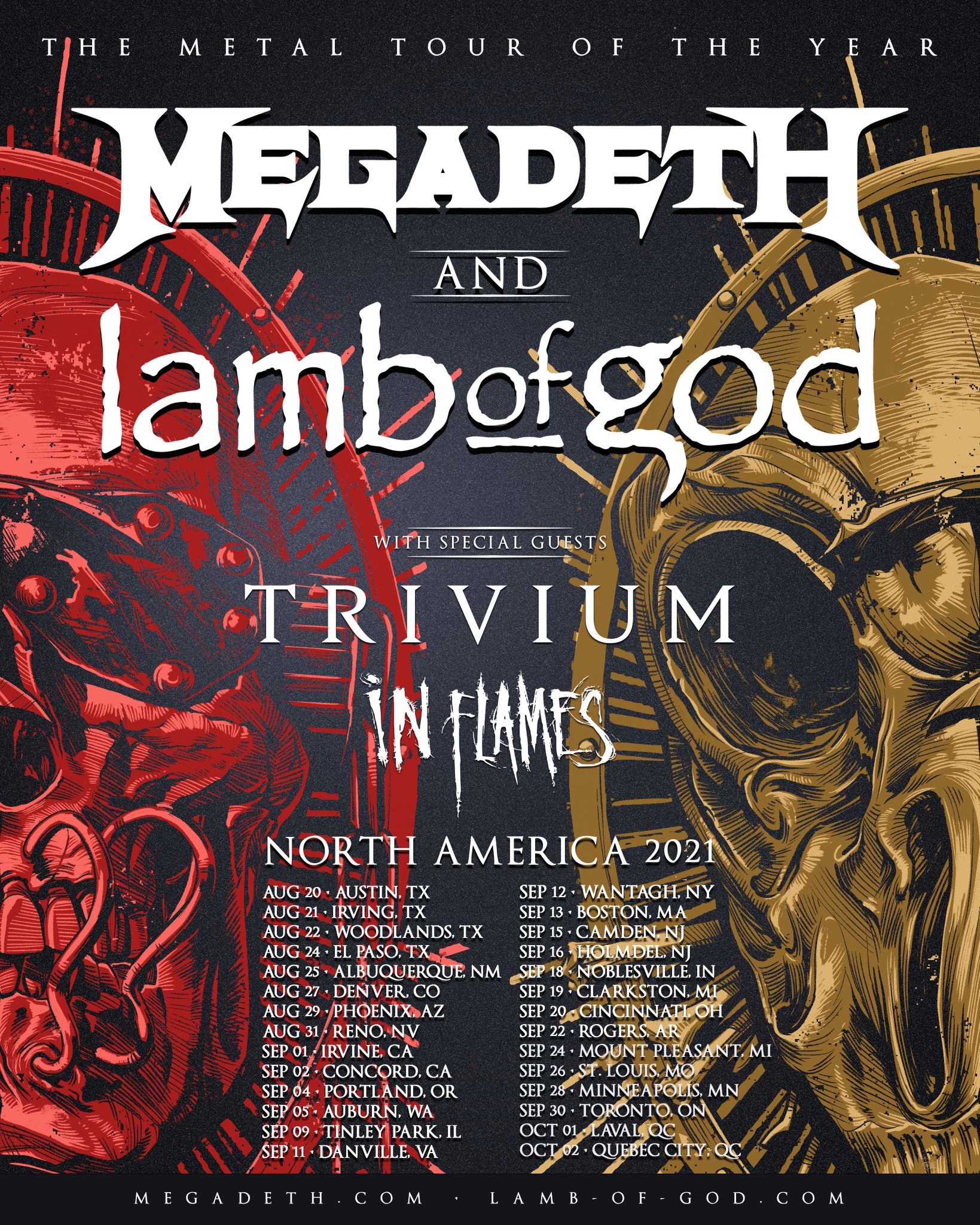 The historic pairing of thrash pillars Megadeth and metal titans Lamb of God is once again, official. Hitting the road with a set of rescheduled dates set to commence later this summer, the billing as 'The Metal Tour of the Year' is all too accurate as the gathering of some of the genre's biggest names are all sharing the same stage.
As previously confirmed, the tour will feature a stellar supporting roster with savvy veterans Trivium and In Flames joining the heavy metal caravan. The monumental tour, apart from featuring such heavyweights, will also prove especially significant as the run will mark Megadeth's triumphant return to the stage for their first North American tour since 2017.
Dave Mustaine issued the following of the announcement. "Can you hear that sound of armies on the march – of destruction on the horizon? That's this tour, coming for you. We cannot wait to return to the stage and I promise you you do NOT want to miss these shows. You're not going to know what hit you!"
Delivering one of the most important albums of 2020, Lamb of God are primed to unleash their legendary live show as an integral component to 'The Metal Tour of the Year'. Armed with a arsenal of songs that have yet to be played on tour, the band is eager to share their craft with the fans once again. The band's frontman Randy Blythe shares, "It's been far too long since we got together to do our thing— by 'we' I mean bands, road crew, bus drivers, truck drivers, local venue staff, vendors, audience, parking lot attendants, the freaking janitors- the whole damn enchilada. ALL OF US. TOGETHER. Everyone has been waiting, but the time has come to put the puzzle back together— I honestly don't think I've ever been more ready to hit the road with lamb of god. See y'all in a few months with Megadeth, Trivium, & In Flames. Over a year with no live music? These shows are gonna be INSANE."
Echoing that same sentiment, Trivium's Matt Heafy is excited to get back to the business of taking command of the stage and cautions fans to be prepared because everyone is bringing their A-game. "The Metal Tour of the year couldn't be stopped by anything. It is still happening, and we can't wait to bring back shows with this monumental tour. We're ready. Are you?"
In Flames voice Anders Fridén also chimed in and shared the kind of anticipation that is building ahead of such a colossal tour after such an extended time away from touring. "I can't really describe how good it feels to be really talking about going on tour, let alone The Metal Tour of the Year. This setup is long overdue and we can't wait to finally make it happen."
The 26-date run is set to begin August 20th in Austin, TX and will wrap in Quebec City, QC on Saturday, October 2nd. All previously purchased tickets for any of the rescheduled dates listed below will be valid for the new date. For any cancelled dates, refunds will automatically be processed at your point of purchase.
Top Tweets About The Story