More than 1,400 dolphins killed in Faeroe Islands hunt, stirring fresh anger over old tradition - NBC News #news #topstories #berkleybearnews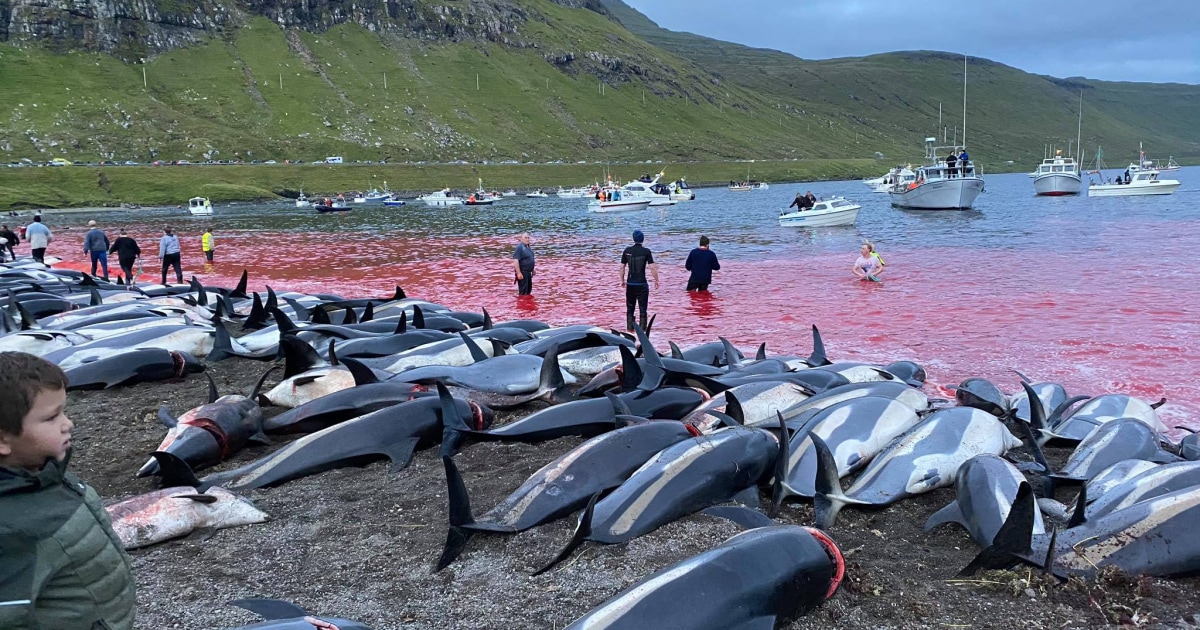 But the tradition is facing fresh scrutiny after more than 1,400 of the aquatic mammals were killed Sunday in a record-breaking slaughter that has sparked outcry among local residents and global environmental groups.
The hunt in the North Atlantic islands is not done for commercial purposes and is authorized by the government, but even those who support the practice expressed concern this years event could prompt greater scrutiny.
For hundreds of years, residents of the Faeroe Islands have participated in the annual hunting tradition, which is known as the "grind," or grindadráp in Faeroese. It sees pilot whales, the second largest species of dolphins following the orcas, and other dolphins corralled into fjords before being stabbed to death.
According to the Faeroese government, the practice is "fully regulated" and considered "sustainable," with around 600 pilot whales and 250 white-sided dolphins caught on average each year over the past two decades.
Sundays catch blew past that average, however, with the Seattle-based Sea Shepherd Conservation Society estimating that at least 1,428 white-sided dolphins were killed in what the organization branded a "cruel and unnecessary hunt."
"Considering the times we are in, with a global pandemic and the world coming to a halt, its absolutely appalling to see an attack on nature of this scale in the Faroe Islands," Alex Cornelissen, Sea Shepherd Global CEO, said in a statement.
Top Tweets About The Story