Mother in India desperate for travel exemption to see critically injured son in Sunnybrook ICU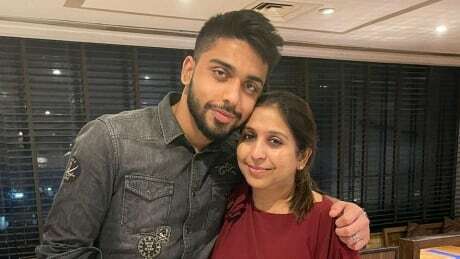 Her family in India is desperately trying to get her to Toronto to see her son Vinayak, who remains in intensive care at Sunnybrook Hospital after he was struck by a car on May 22. But travel restrictions due to COVID-19 are making it nearly impossible, as her visa application remains in limbo.
He was waiting in a TTC bus shelter near Don Mills Road and Gateway Boulevard in Toronto when a car slammed into him. He was rushed to Sunnybrook Hospital, where he has remained in the intensive care unit ever since.
"Im praying every day, I just want to be there with him, please help me," a tearful Poonam said with her hands clasped during a Zoom interview Tuesday with CBC News.
The family is receiving help from friends in both countries. Vinayaks friend Chintan Shah has recently been granted visiting access in the ICU, and back in India, his parents are getting assistance from family friend Digish Narang.
With broken thigh bones and other serious injuries, Vinayak underwent multiple life-saving surgeries before his family received notice. The operations continued after the family learned he was in critical condition.
Top Tweets About The Story