NEW: Peruvian election, still undecided, pushes a democracy to its brink. With 99% of votes counted, Castillo leads by a hair, while Fujimori seeks to toss out as many as 200,000 votes. The move would disenfranchise many poor and Indigenous Peruvians.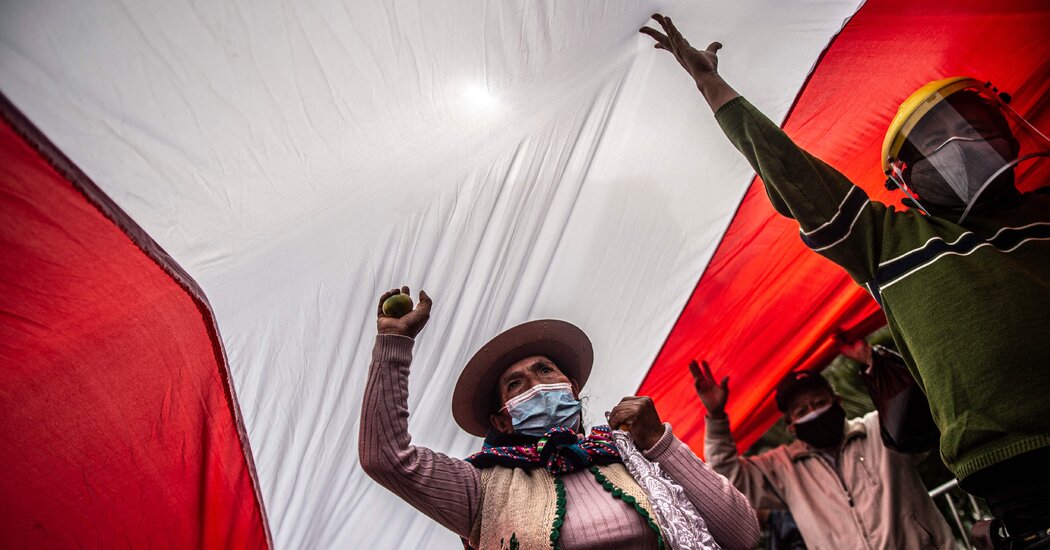 The two presidential candidates are locked in a near tie. One claims fraud and is seeking to have tens of thousands of votes nullified. The other has called his supporters into the streets.
LIMA, Peru — Peru has been through a year of profound turmoil: it cycled through three presidents, suffered one of the world's highest coronavirus death rates and watched its economy shrink more than any in the region under the weight of the pandemic.
Many in the country hoped against the odds that the presidential election last Sunday would offer a new start. Instead, nearly a week after the votes were cast, Peru is again gripped by uncertainty.
The two candidates are locked in a near tie. One candidate is alleging fraud and calling for as many as 200,000 votes to be nullified — a move that would disenfranchise many poor and Indigenous voters. The other has called his supporters into the streets to defend those votes.
The tension is pushing democracy to the limit, analysts said, exacerbating the fissures running through a deeply divided society and raising concern about the country's future.
The country is enduring "this nuclear war in which Peruvian politics has been plunged," said the political scientist Mauricio Zavaleta, one in which politicians believe that "the ends justify the means."
With 99 percent of votes counted, Pedro Castillo, a leftist former teacher with no past governing experience, leads Keiko Fujimori, the daughter of former right-wing President Alberto Fujimori, and a symbol of the country's establishment, by about 70,000 votes. Mr. Castillo has won about 50.2 percent of the votes counted, Ms. Fujimori 49.8 percent.
But Ms. Fujimori has asked officials to toss out thousands of votes, claiming without concrete evidence that her opponent's party has violated the voting system "in a systematic way."
Electoral authorities and observers say there has been no evidence presented yet of systematic fraud, and analysts say Ms. Fujimori's effort will likely fail to turn the results in her favor.
Electoral authorities have until Saturday to review requests from Ms. Fujimori's party to nullify the vote tallies at 802 polling stations, where she is accusing Castillo supporters of various types of illegal activity, including changing vote counts in his favor.
The polling stations are in regions Mr. Castillo won with strong margins — mainly poor and historically marginalized rural Andean areas, including Mr. Castillo's hometown.
By Thursday, a crowd of Castillo supporters had gathered outside the office of the national electoral authority. Some had traveled from far away, and said they were frustrated and worried that Ms. Fujimori was trying to steal the election.
Top Tweets About The Story