Remember to be super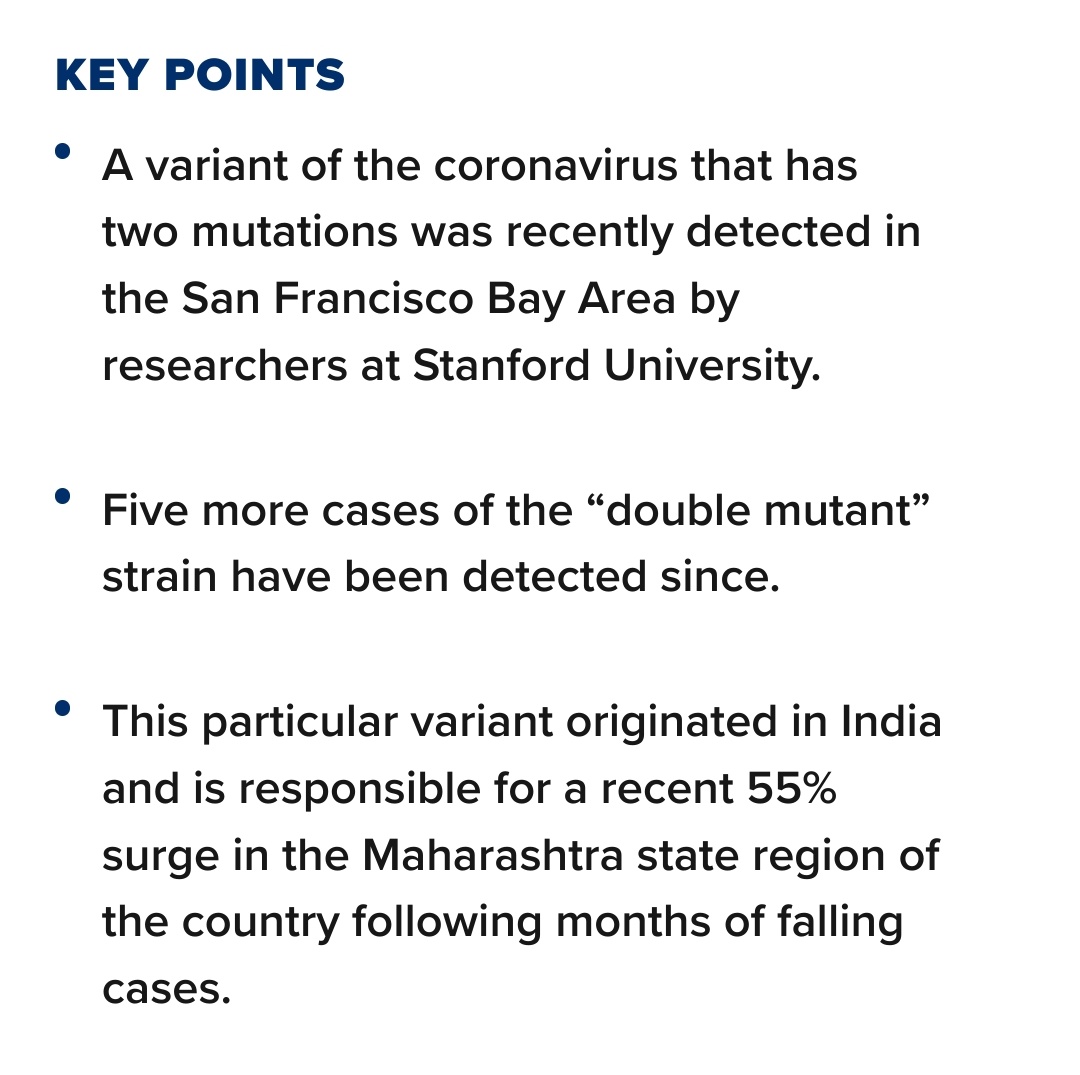 Stanford University researchers have identified five new cases of a "double mutant" Covid-19 strain that was recently discovered in the San Francisco Bay Area. Doctors suspect it could be more contagious than earlier strains and may be resistant to existing vaccines.
The new variant originated in India where its credited with a recent 55% surge in cases in the state of Maharashtra, home to Mumbai, after months of declining cases.
It contains two key mutations, which scientists call E484Q and L452R, that have been found separately in other variants but not together in a single strain, according to Dr. Benjamin Pinsky, medical director of Stanfords clinical virology laboratory, which discovered the new variant in the U.S.
In other variants, the L452R mutation has been shown to make the virus more transmissible. There is also evidence that antibodies dont recognize that mutation, which has been found in other strains to reduce the effectiveness of vaccines.
The E484Q mutation has also been shown to be less susceptible to neutralizing antibodies, which help fight the coronavirus. Its still too early to tell if the mutation makes the virus more contagious.
"But youd expect that in combination with L452R that there may be an increase in transmission as well as reduction in antibody neutralization," Pinsky said.
If the mutation makes the virus more resistant to antibodies, that could reduce the effectiveness of both vaccines as well as antibody treatments that have become a critical tool for doctors in fighting Covid-19, according to Pinsky.
"I suspect that existing vaccines will be slightly less effective in preventing infection by this new variant," he said, "but all of the vaccines are extremely effective in preventing hospitalizations and deaths."
Top Tweets About The Story