$THC - Tenet Healthcare: A Great Play In The Healthcare Space. #stockmarket #markets #investing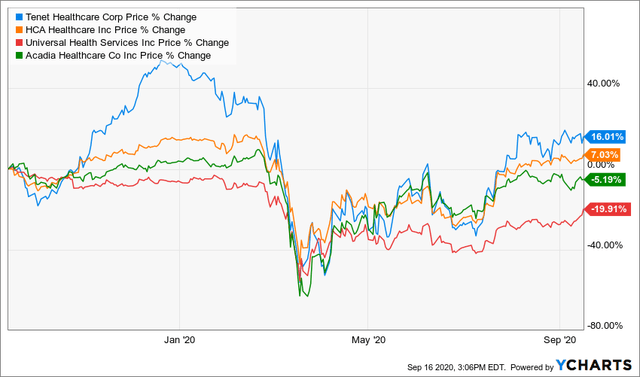 Hospitals and healthcare have never been as important to society as they are now in the midst of a pandemic. Many hospitals, however, have suffered financially, and have had their resources used to their limits. Despite that, there is a diversified healthcare company based in Dallas, Texas, that has not only shown how important it is to a functioning society, but also shown how it has adapted in the face of long odds. This is a stock trading at a significant discount with a strong upside that is more likely to surge in the near future. That company would be Tenet Healthcare (THC). COVID-19 has economically affected all industries across the globe, and hospitals have been no exception. However, because of Tenet's multifaceted business model, and crucial contributions to healthcare, it is a strong bet to recover along with the greater healthcare industry and the US economy. While Tenet Healthcare is down ~23% YTD to September 16, it has performed significantly better than some of its competitors in the prior year, as compared to HCA Healthcare (HCA), Universal Health Services, Inc. (UHS) and Acadia Healthcare Company, Inc. (ACHC), as pictured below.
While other healthcare stocks have performed better, and those with lots of exposure to hospitals have largely suffered, just basing any evaluation of Tenet on this is misleading. Unless healthcare stocks focus on telemedicine, innovation, or biotech, they have been largely hurt from COVID. One of the major byproducts of COVID were patients cancelling elective procedures and appointments, with hospitals losing significant revenue as a result. However, as things get back to normal, and normal hospital operations return, stocks such as Tenet Healthcare, which has already been pursuing strategic initiatives to recover, should perform well.
Tenet Healthcare has a unique business model based on three facets: Hospital Operations, United Surgical Partners International (USPI), and Conifer Health Solutions. With Hospital Operations, the company operates 65 acute care and specialty hospitals, which also include primary and specialty care clinics, diagnostic imaging centers, micro-hospitals and off-campus emergency departments. USPI has the largest ambulatory platform in the country with over 400 facilities, and includes ambulatory surgery centers, surgical hospitals, imaging centers and urgent care centers. Conifer Health Solutions provides healthcare-management services and provides services such as revenue cycle management and value-based care services to 660 clients across the country. Conifer's clients include hospitals and health systems, physician groups, health plans, and self-insured organizations, as well as the management of $25 billion in net patient revenue annually and the care of 5.9 million people.
These are all very crucial services to healthcare, and one could understand why these services would be so adversely affected by a pandemic. Despite the anticipated revenue drop, which has been accurately priced into the stock, Tenet's earnings report from Q2 was considerably better than expected. Though revenue dropped by 20%, the rest of its earnings signified recovery and an upward trajectory. Earnings per share beat by $1.97, net income from continuing operations was $88 million compared to net income of $24 million in Q2 2019, adjusted EBITDA showed a 9% year-over-year increase, and same-hospital adjusted admissions dropped 27.3% vs. an estimated -31.8%.
While hospitals have lost significant revenue, and Tenet has been no exception, its management has strategically restructured the company's operations to be more conservative. Operating expenses fell 12.1% year over year to $3.4 billion. Furthermore, the company has built up its cash reserves to unprecedented levels.
As of June 30, 2020, Tenet Healthcare had cash and cash equivalents of $3.5 billion, up from $262 million at the end of 2019, along with net cash provided by operating activities at $2.4 billion by the end of Q2 2020 compared to $294 million in the same period one year ago.
Top Tweets About The Story