The Mandalorian inadvertently uncovers a dark secret in season 2, episode 4 The Siege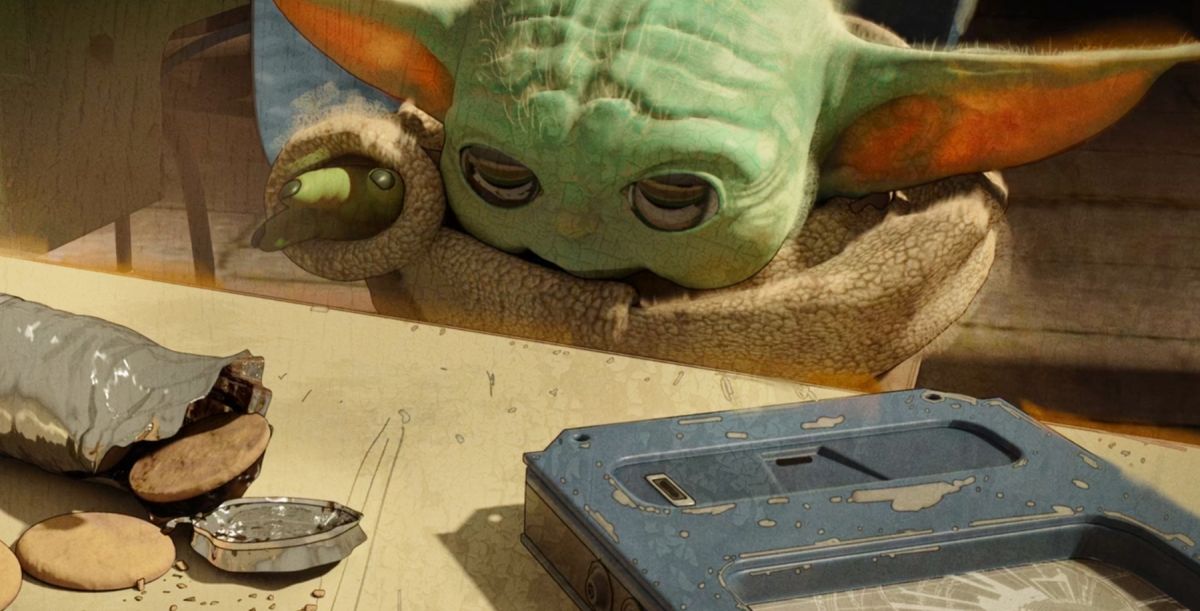 What everyone needs right now is a little escapism. Were all feeling a little stressed and a little sad, especially since the Thanksgiving holiday will be a somewhat subdued affair and "The Mandalorian" is exactly what should be prescribed to beat any burgeoning case of the blues. The second season of the Disney Plus "Star Wars" series has established itself, found its feet and is providing us with some thoroughly entertaining, up-beat sci-fi, without having its primary character blubbering in Every Single Episode. 
Having a plausible story arc counts for a lot and of course and from a more mercenary, merchandising perspective, Disney has struck gold with Baby Yoda. (NASA even launched into space this week!) This weeks installment, entitled "Chapter 12: The Siege," is an exciting 35 minute episode offering some amazing set piece action, a whole new dark side of the Empire, while still advancing the overall story a little bit as well. What more could you possibly ask for?
We start with a smile-inducing scene where the Mandalorian, a.k.a. Din Djarin (Pedro Pascal) is trying to instruct Baby Yoda, a.k.a. the Child to fix some wiring in a hard-to-reach conduit. Following a variation on some classic red-wire/blue-wire shenanigans, he gives up and grumpily concludes that the Mon Calamari repair job on the Razor Crest is not going to be enough to get them to the city of Calodan on the forest planet of Corvus, which is where Bo-Katan Kryze (Katee Sackhoff) told him he must seek out Ahsoka Tano, in last weeks enthralling episode. 
"I think we need to visit some friends for repairs," Djarin tells the Child. "How would you like to go back to Nevarro?" he asks. If the Child could properly understand what the Mandalorian was saying, it would probably not be too thrilled at the prospect, but as were about to see, things have changed since we last visited this volcanic planet.
We cut to what appears to be the Armorers former beskarworks in the one-time underground stronghold for the Mandalorians on Nevarro. A gang of Aqualish scavengers is picking the place clean as one hears a disturbance outside. The next thing we see is Cara Dune (Gina Carano) giving these posterior-faced plunderers a serious pummeling. It seems she has become a town marshal in Nevarro City. Roll opening credits.
The Mandalorian lands just outside the city limits and is greeted straightaway by Dune and Greef Karga (Carl Weathers — who also directed this episode). Both are delighted to see Djarin and the Child and its immediately apparent that the Razor Crest is afflicted, so Karga promises hell get his best people to (a human and a shifty-looking Mimbanese) to repair it. 
Nevarro City certainly has been cleaned up. The last we saw it, Imperial Stormtroopers under the command of Moff Gideon (Giancarlo Esposito) were literally carving up the place with an E-Web heavy repeating blaster in the Season 1 finale and now its a flourishing market town. In fact, the bar where Dune, Karga, Djarin and IG-11 were holding up has now been turned into a school. 
The child is left there while the others find somewhere to talk business, much to the other childrens curiosity. Theres even a very young girl in the class who even looks like a young Rey from "The Force Awakens" no doubt thrown into the mix for some fun. However, the dates of the sequel trilogy and "The Mandalorian" dont make it possible otherwise Rey would be in her mid 30s when we first meet her. Perhaps its more of a statement on hair fashion in the outer rim territories.
Top Tweets About The Story