Season 2 of the #KellyClarksonShow is going to look a bit different! Check out this sneak peek of our new virtual audience 👀 Reserve your seat! ➡️ Open to residents age 18+.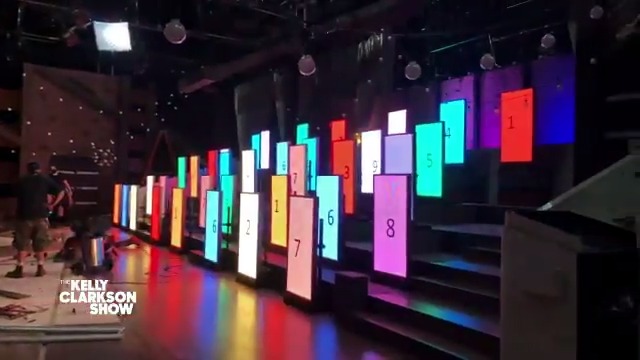 To call this year difficult would be an understatement for pretty much everyone in the world, and that includes celebrities. In a new interview, Kelly Clarkson has opened up about her especially difficult 2020, which has included the surprising announcement of the singer's divorce from husband Brandon Blackstock.
In June, Clarkson announced that she and Blackstock were divorcing after nearly seven years of marriage. The 38-year-old popstar shares two young children with Blackstock, and Blackstock has two older children from a previous marriage that Clarkson remains close with. On Sunday, The Today Show aired a new interview with Clarkson and host Willie Geist, giving Clarkson the chance to speak candidly about her divorce and how she's using music to deal with the devastating loss.
"I mean, it's no secret. My life has been a little bit of a dumpster," said Clarkson. "Personally, it's been a little hard the last couple months." The American Idol alum said that she has been leaning on friends, her therapist and writing new music to help make her way through to the other side of divorce. "I've been talking to friends that have been through divorce. I don't know how people go through that without having some kind of outlet because it is the worst thing ever for everyone involved," said Clarkson, who revealed that she has a new album of music ready to go for next year.
"This next record will probably be the most personal one I've ever released," said Clarkson. "And the whole record is basically every emotion you experience from the beginning of a relationship to the end of what it is now and it's been very therapeutic for me. It's very honest."
Keeping her sense of humour throughout the painful ordeal, Clarkson joked about her young children, six-year-old River Rose and four-year-old Remington, singing along to her new songs while the family is together in the car. "I'm going through mixes, and I'm just, like, 'This is weird.' Like, it's your relationship. I've never written about my life to where my kids are singing along."
On Monday, Clarkson once again appeared on The Today Show, this time with host Hoda Kotb. The pair spoke about the dissolution of Clarkson and Blackstock's marriage, with Clarkson noting that she has tried to strike a balance between sharing her story while also maintaining privacy for her family. "You can ask anyone who has gone through divorce. I don't think anyone expects it. You see yourself growing old with someone and then life has a different path. It's so hard on everyone," said Clarkson. "I try to be open and share because I think we all go through things, but at the same time, we have four kids total together so that's a lot of hearts involved and you just have to be really careful. It's a tricky thing to navigate."
During her conversation with Geist, Clarkson also talked about the success of her hugely popular daytime TV show. When season two of The Kelly Clarkson Show premieres on September 21, Clarkson will be returning as an Emmy winner. "I totally forgot that the Emmys were on," she told Geist. "I'm sitting there playing with Legos with my kid. My executive producer Alex calls me and is, like, 'You are the best host.' And I was, like, 'Thank you.' And I was having kind of a hard week, and I literally almost started crying, because I was like, 'This is just the nicest thing to call someone out of nowhere and just be kind.' And she was, like, 'No, no, no, no. You won the Emmy for outstanding…' and I was, like, 'What?!"
In addition to working on her new album, returning to her daytime talk show and preparing for her third year as the host of the Billboard Music Awards on October 14, Clarkson has also been filming the Blind Auditions for the upcoming season of The Voice along with fellow coaches Blake Shelton, John Legend and Gwen Stefani. "We're lucky because we get live music and not everyone gets that right now," said Clarkson. Season 19 of The Voice is set to premiere on October 19.
Top Tweets About The Story