Trump Slams Fauci Over Comments on Coronavirus Surge: "Wrong!"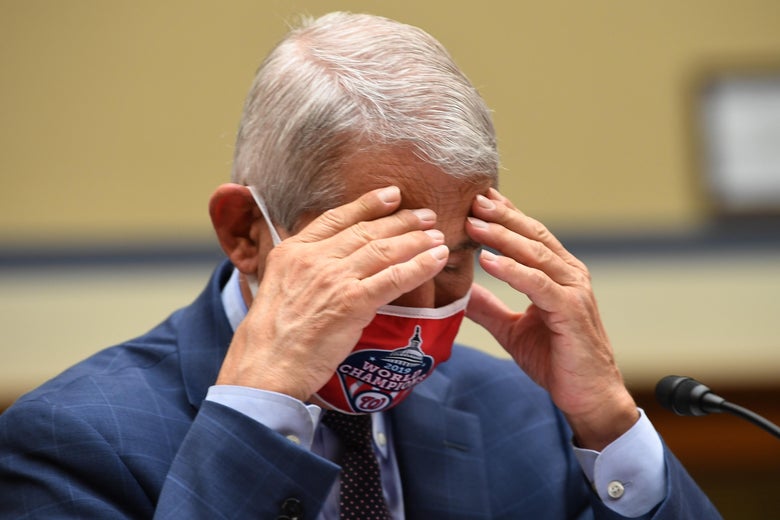 President Donald Trump publicly criticized the nation's top infectious disease expert, claiming that Anthony Fauci's explanation of why coronavirus cases have been surging in the United States was "Wrong!" Trump wrote his public rebuke of Fauci in a retweet of a video in which the head of the National Institute of Allergy and Infectious Diseases explained why the United States had experienced a new surge of COVID-19 cases while European countries that were hardest-hit by the virus were having more success in getting it under control. During his testimony Friday before a House subcommittee investigating the Trump administration's response to the coronavirus crisis, Fauci noted that while European countries instituted strict lockdown measures that shut down their country by about 95 percent, the United States took a more relaxed approach. "Even though we shut down, even though it created a great deal of difficulty," Fauci said, "we really functionally shut down only about 50 percent of the totality of the country."
Wrong! We have more cases because we have tested far more than any other country, 60,000,000. If we tested less, there would be less cases. How did Italy, France & Spain do? Now Europe sadly has flare ups. Most of our governors worked hard & smart. We will come back STRONG!:: https://t.co/hhwYOrnWZn
Trump disputed Fauci's characterization of what happened, once again going back to his insistence that the United States has simply done more testing. "We have more cases because we have tested far more than any other country, 60,000,000," Trump wrote. "If we tested less, there would be less cases." Trump has made the claim before that has been roundly disputed by health experts who point to data that make clear the rise in COVID-19 cases in the United States is not due to increased testing. In most of the country, the number of new cases increases faster than testing. And while it's true that some European countries have been testing less over time that largely has to do with the way in which they were more successful at containing the virus by pursuing a strategy of aggressive early testing.
Dr. Anthony Fauci to @GStephanopoulos: "I dont tweet. I dont even read them so I dont really want to go there. I just will continue to do my job no matter what comes out because I think its very important." https://t.co/JgCvhTifYS pic.twitter.com/BJGIqwSjuT
Trump's public criticism of Fauci comes after weeks of increased tensions between the infectious disease specialist and Trump. Last week, for example, Trump retweeted a message that said Fauci had "misled" Americans on a number of issues. Fauci disputed that claim: "I have not been misleading the American public under any circumstances." Earlier, Trump had characterized Fauci as "a little bit of an alarmist." Fauci also pushed back on that assertion, saying he considered himself "more a realist than an alarmist." Several senior White House officials have also spoken up against Fauci. Most notably, Peter Navarro, the president's top trade adviser, published a mid-July op-ed in USA Today that said "Fauci has a good bedside manner with the public, but he has been wrong about everything I have interacted with him on."
"I consider myself more a realist than an alarmist," Dr. Anthony Fauci says in response to President Trump calling him an "alarmist" amid the coronavirus pandemic pic.twitter.com/Ikq9u0sKyH
Trump's direct attack against Fauci came a day after one of his top cheerleaders, Tucker Carlson, used a segment on his Fox News show to attack Fauci as a "total fraud." Carlson used a graphic with the term "Dear Leader" to blast Fauci for refusing to answer a question from Republican Rep. Jim Jordan about whether the government should limit protests. "I just want an answer to the question. Do the protests increase the spread of the virus?" Jordan insisted after some back-and-forth. Fauci pressed his point that people gathering in crowds of people, especially if they aren't wearing masks increases the risk of transmission. But Fauci refused to answer whether the government should limit protests: "I'm not in a position to determine what the government can do in a forceful way." Carlson attacked Fauci for his answers: "There is nothing Dr. Anthony Fauci won't opine on as long as it doesn't offend the popular and fashionable left."
Tucker Carlson lights up Dr. Anthony Fauci for dodging @Jim_Jordans questions on protests and coronavirus:"What a fraud this guy is!"https://t.co/iPCHZlJO6g pic.twitter.com/c795SqMqXJ
You've run out of free articles. Join Slate Plus to continue reading, and you'll get unlimited access to all our work—and support Slate's independent journalism. You can cancel anytime.
Top Tweets About The Story