A group of anti-Trump Republicans is hoping to amplify the voices of frustrated Republicans ahead of the 2020 election to sway some Trump voters to back Biden, ABC News' @MaryKBruce reports. The group is also targeting GOP lawmakers who back the president.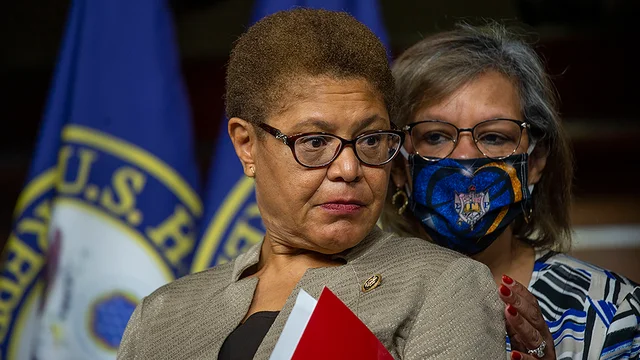 A "dark money" group launched by allies of Sen. Tom Cotton (R-Ark.) is spending on digital attack ads targeting incumbent Democrats facing reelection in congressional districts President Donald Trump won in 2016.
A representative of America One Policies told Arkansas news outlet Talk Business & Politics the group planned to raise $2 million in the 2020 election cycle for "advocacy efforts around conservative issues, such as national security and free enterprise, which could help other federal and state Republican candidates on issue messaging." But the 501(c)(4) nonprofit was not officially approved for IRS tax exempt status until May 2020 and filed a tax return disclosing that it did not raise or spend more than $50,000 before the end of 2019, its first year in operation.
Months after Cotton allies created the dark money group, Cotton's Democratic challenger dropped out and the Arkansas Democratic Party announced that there was no legally-allowed path to replace him since Arkansas' filing deadline had passed. That freed America One Policies to spend on races beyond Cotton's Senate contest. 
Cotton, a strong Trump supporter, is widely speculated to be a potential 2024 presidential candidate. As Cotton's controversial statements about the coronavirus pandemic and U.S.-China policy increased his national profile, the dark money group began ramping up spending in key races across the nation as well. 
Since it started buying digital ads in mid-June, America One Policies has quickly poured more than $36,000 into digital ads on Google and Facebook attacking House Democrats on China and the coronavirus pandemic ahead of 2020 elections. A sixth of that went to Facebook ads in the last week alone, according to digital ad spending analyzed by OpenSecrets.
Multiple ads bankrolled by America One Policies target House Democrats running for re-election in districts where Trump won by multiple points, consistent with the Republican Party game plan to flip the House by targeting Democrats in districts Trump won by a wide margin in the 2016 election.
Attack ad targets are largely freshman House Democrats elected in "blue wave" of the 2018 midterm elections such as Rep. Elissa Slotkin (D-Mich.), who represents Michigan's 8th District where Trump won by nearly 7 points, and Rep. Anthony Brindisi (D-N.Y.), who won his House seat in by less than 2 points in 2018 in a district Trump won by 15 points two years earlier.
The dark money group also targeted Rep. Jared Golden (D-Maine), the first challenger to unseat an incumbent in Maine's 2nd District since 1916 in the first trial of the state's ranked-choice voting system in congressional elections. Trump won the district with more than a 10-point margin in 2016 but the stakes of the presidential election are especially high in Maine, which is one of two states that allocates electoral votes by district. 
The attack ads are nearly indistinguishable and follow the same script but customized to target different Democratic candidates, calling on viewers to tell each candidate "to hold Communist China accountable."
In addition to House Democrats, America One Policies's Facebook ads also target Sen. Doug Jones (D-Ga.) with a generic version of the attack ad targeting "Congress" instead of naming a specific candidate.
Top Tweets About The Story