#Ukraine thwarts #Russian forces at river, sees long fight ahead Read: #UkraineWar #UkraineRussiaWar.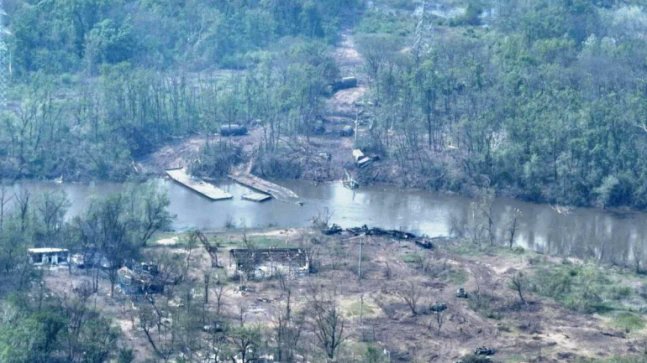 DERGACHI, Ukraine, May 13 (Reuters) - Ukrainian forces destroyed parts of a Russian armoured column as it tried to cross a river in the Donbas region, video from Ukraines military showed on Friday, as the Ukrainian defence minister predicted many weeks of grinding fighting ahead.
Ukrainian forces have driven Russia from the second-largest Ukrainian city of Kharkiv in their fastest advance since Kremlin troops pulled away from Kyiv and the northeast over a month ago to focus their offensive on the Donbas region bordering Russia.
The city, which had been under fierce bombardment, has been quiet for at least two weeks and Reuters journalists have confirmed Ukraine now controls territory stretching to the Siverskyi Donets River, around 40 km (25 miles) to the east.
Some 10 km (six miles) north of the city, firefighters doused smouldering wreckage in Dergachi after what local officials said was an overnight Russian missile attack on the House of Culture, used to distribute aid. Volunteers inside were trying to salvage packages of baby diapers and formula.
"I cant call it anything but a terrorist act," the mayor, Vyacheslav Zadorenko, told Reuters. "They wanted to hit the base where we store provisions and create a humanitarian catastrophe." read more
Another missile had slammed into the building on Thursday and Russian shelling had wounded a staff member at a clinic and killed a young couple in their home, he said.
Russia, which denies targeting civilians, said its forces had shot down a Ukrainian Su-27 aircraft in the Kharkiv region and disabled the Kremenchuk oil refinery in central Ukraine.
Southeast of Kharkiv, Britain said Ukraine had stopped Russian forces crossing the Siverskyi Donets river west of Severodonetsk. Footage released by Ukrainian Airborne Forces Command appeared to show several burnt out military vehicles near segments of a partially submerged bridge and many other damaged or abandoned vehicles, including tanks, nearby.
The Kremlin calls its Feb. 24 invasion of Ukraine a "special military operation" to demilitarise a neighbour threatening its security. Ukraine says it poses no threat to Russia and that the deaths of thousands of civilians and destruction of cities and towns show Russia is waging a war of aggression.
"We are entering a new, long phase of the war," Ukrainian Defence Minister Oleksii Reznikov said in a Facebook post, predicting "extremely tough weeks" ahead during which he said Ukraine would largely be alone against an "enraged aggressor".
In their first conversation since the invasion, U.S. Defense Secretary Lloyd Austin spoke by telephone on Friday with Russian Defence Minister Sergei Shoigu, seeking an immediate ceasefire and stressing the importance of open lines of communication.
Ukraine accused Russia of forcibly deporting more than 210,000 children since its invasion, saying they were among 1.2 million Ukrainians transferred against their will. The Kremlin says people have come to Russia to escape fighting.