Utah is on a couple of lists mentioned in this article. They are not good lists 😞 #CovidVaccine #coronavirus #Corona @RobertGehrke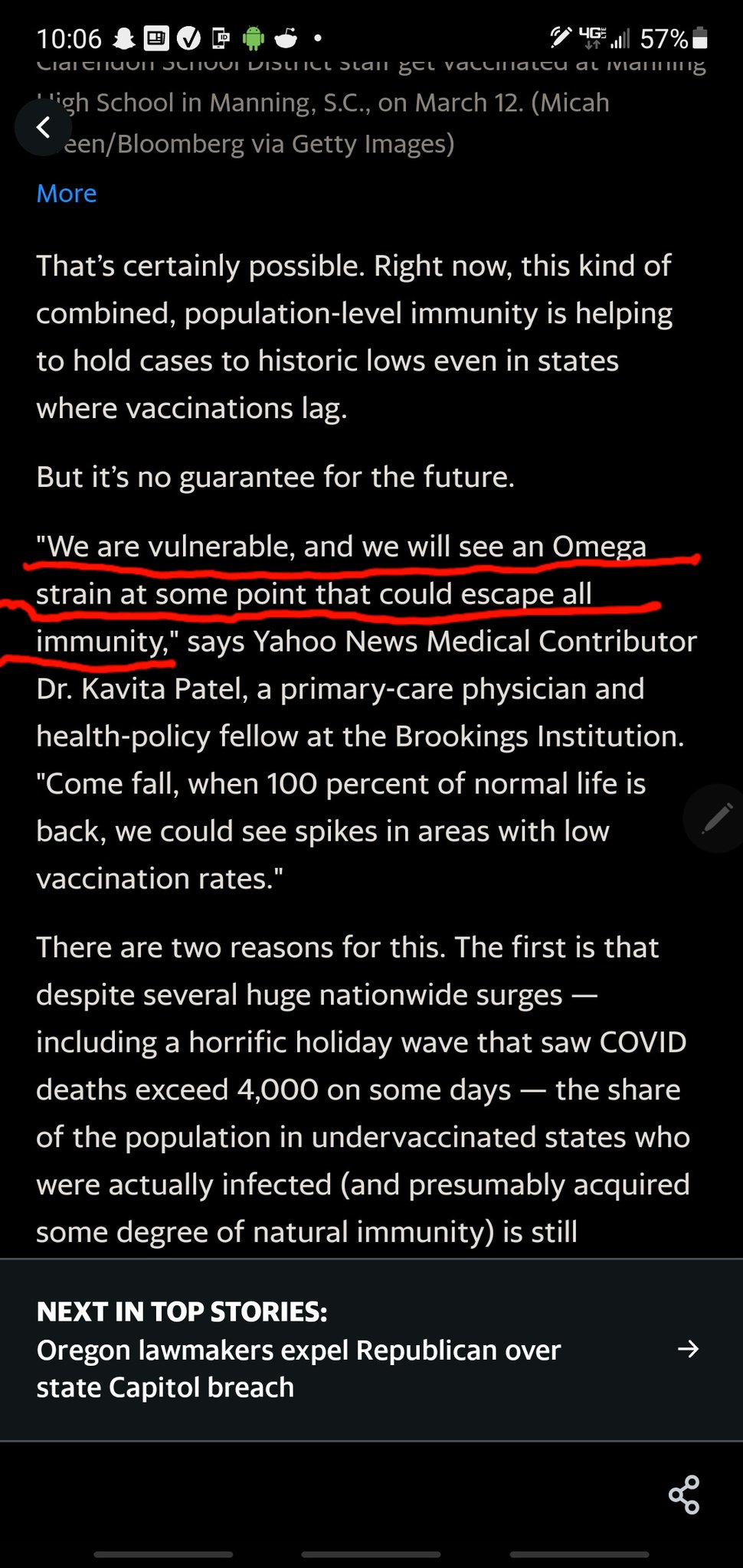 Many conservative-leaning U.S. states and communities are nowhere near reaching the level of COVID-19 vaccination that could keep them safe from future outbreaks of the highly contagious Delta coronavirus variant, according to the latest data from the Centers for Disease Control and Prevention.
Across America, the people most at risk of serious illness or death from COVID-19 — senior citizens — have been vaccinated at the highest rates so deaths and hospitalizations will never again reach their horrific winter highs. Overall, experts agree, the worst of the pandemic is behind us.
Even so, the Delta variant — which drove the massive wave of infection and death in India this spring — presents some very real risks. According to epidemiologists in the U.K., Delta (or B.1.617.2) is 40 to 60 percent more transmissible than the Alpha variant (B.1.1.7) that first emerged there in late 2020 and was itself up to 70 percent more transmissible than earlier versions of the virus.
As a result, Delta has quickly overtaken Alpha in the U.K., where COVID-19 cases — 91 percent of which are now Delta — have doubled over the last week. And while all two-dose COVID vaccines are effective against Delta when fully administered, the variant's immune escape properties cut vaccine protection to just 33 percent in the period between the first dose and the second, according to a new study from Public Health England. (Vaccine protection from Alpha is 50 percent three weeks after the first dose, according to the study.)
This means, as another new U.K. study has shown, that while the current risk of infection is 1 in 22,455 for fully vaccinated U.K. residents, it rises to 1 in 7,901 for those who are partially vaccinated and 1 in 2,908 for the unvaccinated.
That's why Delta is now driving "an epidemic among the unvaccinated and partially vaccinated populations in the U.K.," Tim Spector, a professor of genetic epidemiology at King's College London and the lead author of the second study, told the Financial Times earlier this week. "The U.K. has rapidly changed from one of the best performing nations to a nation again struggling with rising cases."
Earlier this week, Dr. Anthony Fauci, America's top infectious disease expert, said the variant's spread and dominance in the U.K. could spell trouble for the U.S., where Delta now accounts for 6 percent of all infections — a figure that rises to 18 percent or higher in some Western states — and where the number of first vaccine doses administered each day has fallen by more than 80 percent over the last three weeks.
"We don't want to let happen in the United States what is happening currently in the U.K., where you have a troublesome variant essentially taking over as the dominant variant," Fauci warned. "We have within our power to [prevent] that by getting people vaccinated."
But that's the problem: not enough Americans living in conservative states and communities are getting jabbed to eliminate that possibility, particularly when masking and distancing are no longer in effect. And it's not safe to assume that natural immunity will pick up the slack.
The latest CDC data shows that the gap between vaccination rates in red states and blue states is vast, and it's only getting wider. Right now, the 10 states that have fully vaccinated the smallest share of their residents are Mississippi (28 percent), Alabama (30 percent), Arkansas (32 percent), Louisiana (32 percent), Wyoming (33 percent), Tennessee (33 percent), Utah (34 percent), Idaho (34 percent), Georgia (34 percent) and Oklahoma (35 percent).
Meanwhile, the 10 states that have fully vaccinated the largest share of their residents are Vermont (60 percent), Massachusetts (57 percent), Maine (57 percent), Connecticut (56 percent), Rhode Island (54 percent), New Hampshire (53 percent), New Jersey (51 percent), Maryland (51 percent), Washington (49 percent) and New Mexico (49 percent).
With the exception of Georgia, every state on the low-vax list voted Republican in the 2020 presidential election. Every state on the high-vax list voted Democratic.
Likewise, the vast majority of the 100 U.S. counties with today's highest per capita case counts are in conservative areas. According to the most recent Yahoo News/YouGov poll, more than three-quarters of Democrats (76 percent) say they've already been vaccinated, while less than half of Republicans (49 percent) say the same. A full 28 percent of Republicans say they will "never" get vaccinated.
Top Tweets About The Story