Raw recap & reactions: Bait and switch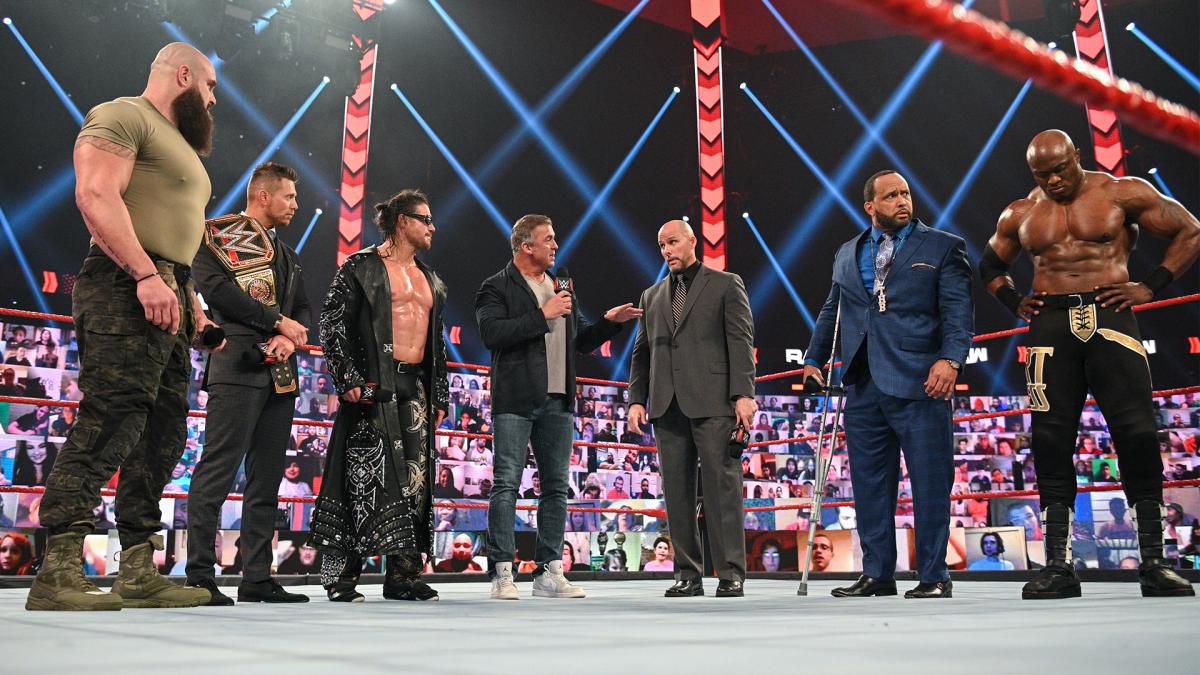 I didn't like the close of Elimination Chamber. After cooling down, I thought of what the benefit was to having Lashley out there helping Miz. It was definitely to get Lashley a title match.
As it turns out, that's exactly what the plan was. Good! Lashley's been super protected for months and he honestly deserves a title match. He honestly deserves to be champion.
They started with that on this show, aaaaand then shenanigans and bait and switch galore. Braun Strowman has to be involved, Shane McMahon has to be involved, and now Bobby has to fight to get what he's owed.
Oh and now Bobby will face Miz next week. Only problem is - this is wrestling. You know what's happening next week. More bait and switch! Someone's interfering. They have to drag it out and extend it to Fastlane.
So if you want to have the match at Fastlane, just… announce it for Fastlane. But what will they do if they don't do bait and switch, interferences, and disqualifications? That's just the easy and lazy way of doing it. Bleh.
He talked about how people thought he would be fired within three months in WWE 16 years ago. Name dropped Batista, Cena, Rock, and Bobby Lashley as not up to his longevity. Then MVP and Lashley came out and MVP mentioned the deal they cut last night. Miz tried weaseling his way out of it and Lashley gave him an hour to make his decision.
This was easily Bobby Lashley's best promo since returning to WWE. To be honest, I'd totally watch the "How Lashley sent me to the Emergency Room" reality show. Did you SEE that suit? My God, y'all. As soon as he walked out I said "that's MY WWE Champion!" Dude looked incredible. Miz played his role well here. I actually was not annoyed by him, and I didn't mind the promo.
By the way, Miz's "side plates" were the generic WWE side plates that come with the main titles just reversed to look like M's. That's pretty brilliant.
Then it was time for Miz to reveal his decision, to which he just decided he needed more time. Lashley didn't like that, but neither did Braun Strowman because he decided to come out. He tried to strong arm Adam Pearce into a title match for himself, but then Shane McMahon came out and said that if he beats Lashley later, he'll get added to the title match next week.
Lashley and Strowman hossed it up and beat the crap out of each other. Lashley tried to get the Hurt Lock in but couldn't due to ya know… It's Strowman. Strowman was able to get Lashley in the powerslam and Lashley kicked out. Lashley speared Strowman and won. Miz tried to attack and got chokeslammed and speared for his troubles.
A great and dominant performance by Lashley, and I already know what's happening next week. As an evil rich bastard would say, there's "no chance in hell" Lashley is walking out next week with the title. He doesn't have Braun in the match, but that doesn't mean Braun won't be there! Also, Drew was nowhere this week so you can bet he'll likely show up next week as well.
Top Tweets About The Story