Young LGBTQ Americans search for hope as they grieve in Colorado Springs via @washingtonpost.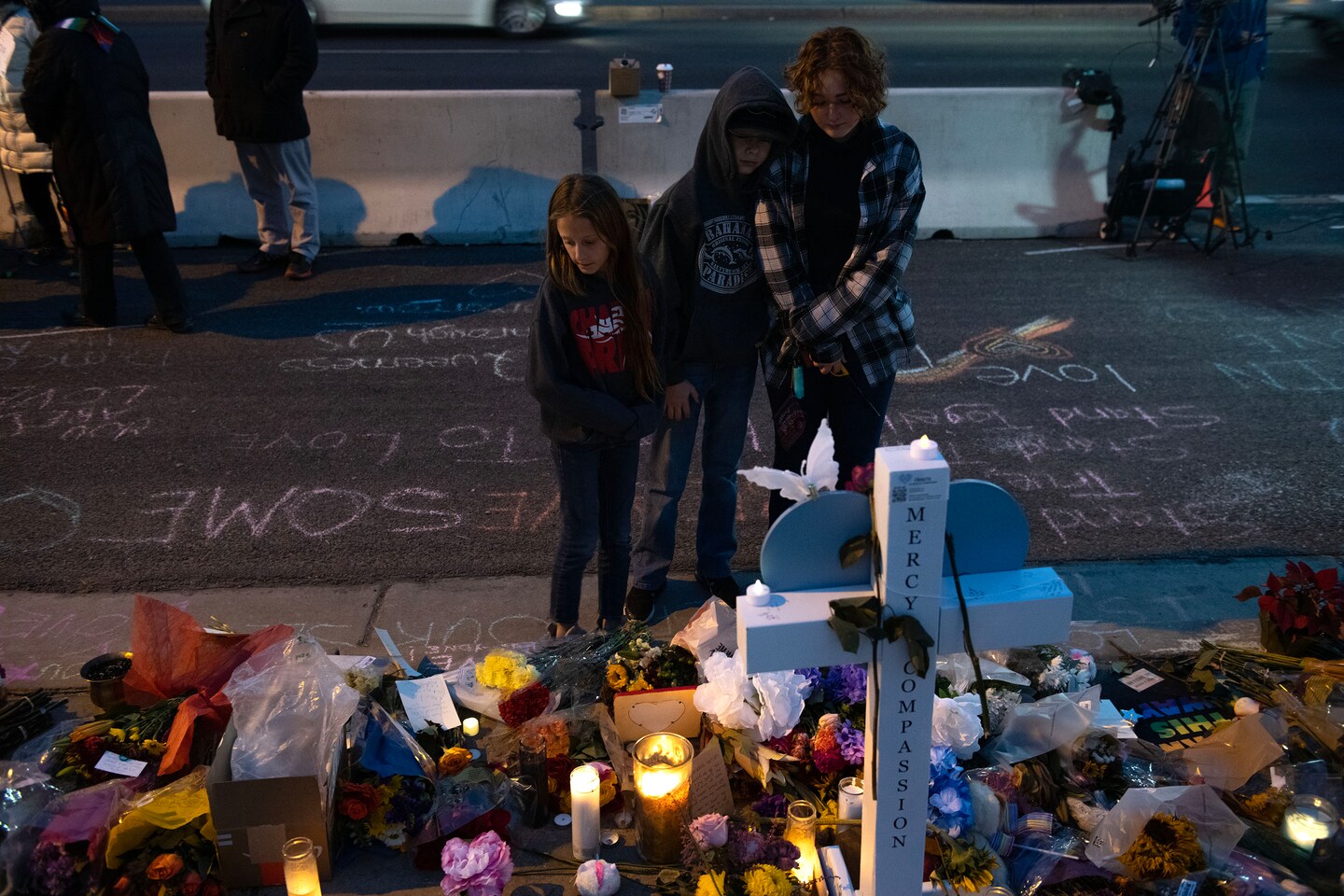 "I didn't have anyone to go with me," said Padillo, 21, who recently came out to his parents as questioning his sexuality. "I just wasn't comfortable going by myself."
But two days after a gunman stormed Club Q, killing five and wounding 18, Padillo finally stopped by to reflect on — and mourn with — Colorado's gay, lesbian, bisexual, transgender and queer community.
"I wanted to see the memorial," said Padillo, standing in front of a collection of flowers, candles and rainbow flags. "This is a wake-up call, and a cry for change, and although it's definitely saddening, it's inspiring at the same time."
As the nation grieves three mass shootings in the past two weeks, makeshift memorials have served as reminders of the nation's unrelenting gun violence. But the tribute here has taken on a deeper meaning — it has become a space for LGBTQ teenagers and young adults to grieve, honor their community and ask, "What now?"
Some drove to Colorado Springs from as far away as Boulder, about 90 minutes north, just to stand in front of the memorial for a few minutes. Others came with their parents, reflecting a generational shift toward adults being supportive of their LGBTQ children. A few have stopped by multiple times on multiple days, saying they cannot explain why they keep coming back.
"I am trans and queer myself," one 15-year-old, who asked to be identified by their first name, Eliot, said while viewing the memorial with their 61-year-old grandmother. "As a high school kid, it terrifies me that this could happen based on someone's identify. … But being here helps."
It was not lost on many young visitors that they were standing in front of a bar where they could not even legally drink. Yet many said they know what Club Q represents in this conservative community.
As soon as he heard about the shooting, Wyatt Krob, 20, knew he had to travel here from Denver, about an hour north. In January, after months of "connecting all of the pieces," Krob told his parents that he was bisexual. He had planned to visit with his father, "but I couldn't wait for him to get out of work," he said.
Krob, who attends Fort Lewis College in Durango, Colo., said the memorial's combination of pain, anguish and "love" helped him better understand that spots like Club Q "are sacred places" for the LGBTQ community.
It also allowed him to dig deeper for information about himself. "I wanted to come here, find other people who are grieving, and also maybe have a better understanding of myself," he said. "I would say for anyone who is questioning, or identifies as anything other than straight, this definitely hits home in their soul."
A few feet away, Amber Cantorna stood wearing a sweatshirt that read "Free Mom Hugs." Free Mom Hugs is a nationwide group of women whose members travel to LGBTQ-focused events to support youths.