Vardy Twitter Trend : Most Popular Tweets | South Africa
Jamie Vardy was the most-bought #FPL forward of GW10, having been the subject of 393,733 transfers in #LEIFUL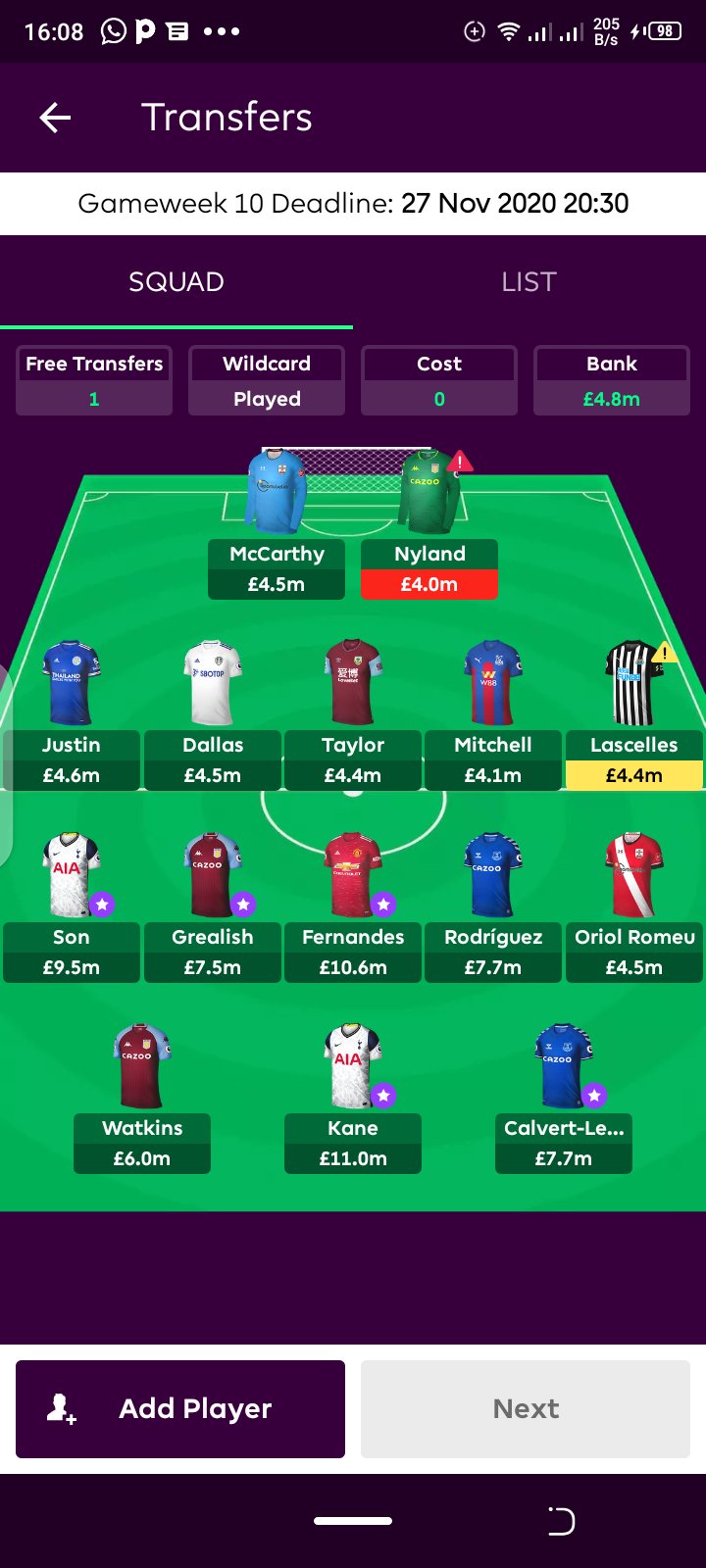 Vardy on Twitter
FPL Éire 🍀 ()
GW10 Reflection 🤔 72 points ⭐️ Chilwell, Zouma, Bowen ❤️, Grealish, KDB, Bruno and Vardy all with 👍 Vardy ©️ could have been a lot worse so I'll take the 5pts! ✅ Massive green arrow! 🙏 Overall Rank: 374k 🌎📈 Éire Abú! 🇮🇪☘️ #FPL #FPLCommunity
Heskibo (FPL) ()
Top Projected Scores for GW11 1 - KDB () 2 - Aguero () 3 - Jesus () 4 - Sterling () 5 - Mahrez () 6 - Salah () 7 - Kane () 8 - Foden () 9 - Vardy () 10 - Werner () *Projections based on the assumption the player starts.
FPL General ()
Frustrating end to the gameweek as a Watkins owner 🙃 Going into #GW10 without any City players, Jota/Salah or Vardy had me fearful. Bruno (c), Chilwell & Grealish my only returners but enough for a small green arrow 😀 83k ➡️ 77k. Two frees for GW11.
Maciek Caban ()
Vardy bez gola i chuj mi w dupe? Tak. Ale jakby wam powiedzieć, czuje tylko pustke i nic więcej. Ja w tym sezonie i dwucyfrówka na opasce? No way. A nawet to się cieszę, bo nie było daleko od dania mu TC. Psy szczekają, a mój składzik jedzie dalej. To ze zdjęcia? Innym razem 🤷‍♂️
Cobi Budge ()
At this moment in time I would genuinely have Jack Grealish in my top 5 Premier League Players, along with Kane, De Bruyne, Mane & Vardy.
Heskibo (FPL) ()
Time to switch off Leicester and watch the FA Cup draw. Hopefully Vardy will have scored by the tune I switch back over.
🗣️ 𝗯𝗶𝗴𝗦𝗔𝗠 💯#FPL ()
All non Vardy owners keeping a close eye on their #FPL live ranks during the game 😅
OptaJoe ()
3 - Jamie Vardy was involved in all three of Leicester's goals the last time they faced Fulham in the Premier League, scoring two and assisting one in the Foxes 3-1 win in March 2019. Repeat? #LEIFUL
Fantasy Premier League ()
Jamie Vardy was the most-bought #FPL forward of GW10, having been the subject of 393,733 transfers in #LEIFUL
PL Brasil ()
Jamie Vardy Fleetwood 🔀Leicester 💰£1m Campeão em 2016 com o time do Leicester, Vardy acumula 111 gols em 219 jogos da Premier League, além de ter sido o recorde de valor de transferência da League One em 2012.
Mistar Gawang Podcast ()
Absurd banget. Bangun tidur, ngecek livescore, Leicester golin 3 tp vardy blank, DCL Double hattrick. Nangis Saling keselnya ampe tidur lagi. Eh bangun lagi. Baru sadar klo tadi cuma mimpi. Liat Wilson dapet 1 gol + 1 assist. Langsung inget @FplRangers ......
𝘼𝙢𝙞𝙧 🎸 ()
Top 10 PL Players This Season: 1. Kane 2. Son 3. Calvert-Lewin 4. Salah 5. Wilson 6. Bruno 7. Grealish 8. Vardy 9. Bamford 10. Zouma
FFStuff ()
#SkyFF Bruno To Vardy on Monday? 4 for 2 (5-2 if he is your only captain choice Monday), Bruno back in on the 17th for shu then LEE
D.B. solicitors* ()
@AskPaddyPower can I get odds on Jamie Vardy to score a pen in the second half? #Lumpage
Adam ()
AJ is the biggest detective since Coleen Rooney caught Rebekah Vardy #ImACeleb #imacelebrity
George ()
Started his career as a striker and benched Kane and Vardy btw
#FPL pessimistic potato ()
Gameweek 10 Zaha🔴🟢Jota Kane🔴🟢Vardy (-4) Update: team is still pap Last minute hit for Vardy largely because I can't bear the thought of seeing all you smug bastards at *shudders*..."Vardy Party" (I hate myself) without me Best of luck amigos x
Always Cheating FPL ()
It seems clear — especially in the lead-up to GW10 — that the huge prices for top FPL assets really has made the game less "template" this season. It was never easy to fit in Kane, KDB, Salah, Vardy, Bruno et al but now it's impossible — and the game is better for it.
FPL Statistics ()
Top 10k captaincy stats: Vardy Salah Calvert-Lewin Fernandes Kane De Bruyne Mané Son Jota Big spread this GW. #FPL
ParktheBus ()
(-4) for this week. Mane —> KDB Werner —> Vardy (c) No bench cover forced my hand with Mane. Doubts on him starting 🙈 Martinez Chillwell Semedo Dallas KDB (vc) Bruno Son Ziyech Vardy(c) Watkins Bamford Mitchell Burke Lamptey Starting OR Best of luck all !
Horus Falcon ()
Jamie vardy gets her husband Rebekah (love these male pregnancys)
#FPL Connect ()
Locked and loaded for #GW10 🤩 Kane (😰 with a heavy heart) and Semedo out PVA and Vardy (C) in -4 Do think Vardy outscores him in the next 5/6 GWs and then Kane will come back in ✅ OR 460k Best of luck guys 🍻
Gianni Butticè ()
Wow - this is pressure! Bruno vs Vardy vs Salah??? Salah is the only one I own but I do think I would go for Mo over the other just.
Matt FPL ()
Pick somebody who you think highly of to pick your captain, if they are happy to do so, give them 3 choices! Mine are, Bruno,Vardy and Salah, I choose @GianniButtice dont let me down brother!
- ()
So anyway it looks like Vardy will get the captaincy this weekend although Salah has potential for a return against Brighton, DCL to bag a few as well what do you think?
Football on BT Sport ()
Vardy sends Leicester through! 🔥 A 95th-minute equaliser takes the Foxes into the knockout stages 👏 #UEL
Jack ()
Biggest Bargin? Vardy cost 1 Million, and became one of the greatest strikers in premier league history, Bruno will be forgotten about in 10 years. Vardys Legacy will last forever.
Planet #FPL (James) ()
🎰 It Has To Pay 🌍🎧📡 Planet #SkyFF s2 ep15 On this weeks Sky Fantasy Pod Differential moves working out, a creaking template, weekend captaincy, KDB v Salah, Bruno v Kane, Grealish v Vardy, gains we know of, back 5s & the Palace escape ⤵️
LCGraphix ()
Jamie Vardy Illustration from the game against Arsenal! #lcfc @LCFC #vardy
Jamie Carragher ()
MNF analysis of @LFC defending without VVD! Liverpool played against Jamie Vardy one of the quickest strikers in #PremierLeague did they defend deeper? NO!