Alaphilippe está en tendencia en Twitter - Los tweets más populares | Spain
CHUTE DE JULIAN ALAPHILIPPE 🚨🚨 Le champion du monde est au sol après avoir touché une moto !!!! Le Français semble gravement touché, il ne parvient pas à se relever #TourDesFlandres Suivez la course en direct :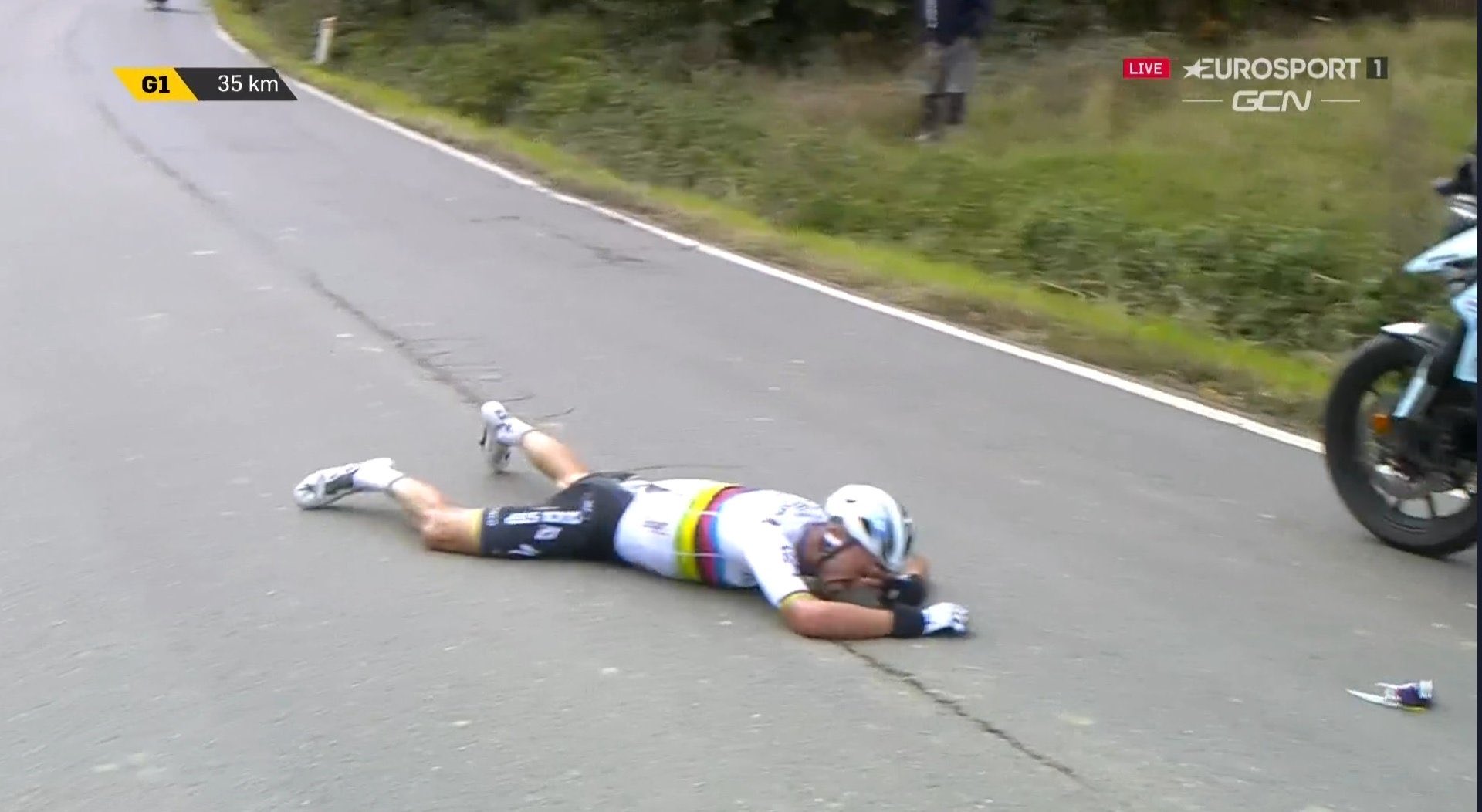 Alaphilippe on Twitter
Spaider ()
@anderrr_7 a ver el motorista va pegado al la línea y en una fila de 3 motoristas osea el metido de alaphilippe si no arrolla a ese arrolla al siguiente ahshshshshshsh es lo k tiene no mirar por donde vas
Pasión Ciclismo 🚴🏻 ()
Increíble que haya gente en nuestros comentarios que culpen a WvA y a MvdP de la caída de Alaphilippe.
Le Soir ()
Remco Evenepoel furieux contre le motard percuté par Alaphilippe
Sudpresse ()
Remco Evenepoel furieux contre le motard percuté par Alaphilippe
Loetje ()
@EvenepoelRemco Ik snap je reactie Remco, maar dit voorval is ook inherent aan de fietswijze van je kunt dit niemand
Devdiscourse ()
Cycling-Van der Poel wins Tour of Flanders as Alaphilippe crashes out
Juan Carlos Molero ()
Vaya carrera nos regalaron estos dos, junto a Alaphilippe ✌️👏
Oracolo ()
@Alaphilippe_ Ik vind het ergens wel hilarisch dat twee VAR-mannen eerst 20 keer naar een herhaling koekeloeren om vervolgens een scheidsrechter alsnog 5 keer naar die herhaling te laten turen en dan een beslissing te nemen die de kijker na 1 herhaling genomen heeft.
Gabi ()
Brutal la rivalidad, más que la carrera en sí. Una pena lo de Alaphilippe porque estaba rompiendo el marcaje. Nos quedan más como estas, o eso espero, porque el nivel de los tres es estratosférico.
Ébène Sport ()
Info - Cyclisme - T. des Flandres - Tour des Flandres : Julian Alaphilippe chute après avoir percuté une moto -
Team Active / ทีมแอ๊คถีบ ()
น่าจะเป็นเกมที่หลายคนเฝ้ารอจะได้เห็น และใน Tour of Flanders #RVV20 ก็เกิดขึ้นเมื่อกลายเป็นการดวลเดี่ยวของ Mathieu van der Poel(Alpecin-Fenix) และ Wout Van Aert(Jumbo-Visma) ที่ MvdP หนีหลุดกลุ่มมากับ Julian Alaphilippe(DQT) ก่อนที่ WVA ตามเข้ากลุ่มได้ แต่ Alaphilippe โชคไม่ดี
Jonas G ()
@Cycling_Memes1 Literally anyone above the age of five when they ride a bike: *looks ahead* Alaphilippe when he rides a bike:
Charles-O. Bourgeot ()
On avait tout imaginé sur ce Tour des Flandres. Tout sauf Alaphilippe renversé par une moto alors qu'il était en tête. Dégoûté. #flanders2020
Clint W ()
If you thought the musette crash of Muhlberger was peak 2020, the moto crash of Alaphilippe just trumped what a year :- #RvV20 #Couchpeleton
PieterJanPeeters ()
@Topske @sporza_koers Moto stond aan de kant maar Alaphilippe was verstrooid , of mist ervaring in #RVV20
Batmax ⭐⭐ ()
Julian Alaphilippe mis à terre par une moto ! Quel putain de scandale
Tomatito93💢 ()
@CarlosCR_ En este caso ha sido la empanada de Alaphilippe por hablar por el pinganillo lo que se ha cebado con Alaphilippe.
Henk ()
@NOSwielrennen Wat een ongeloofelijke domme commentaren geven jullie @NOSwielrennen, wat zal die motard zich schamen, wat doen die motoren Die filmen oa. de koers heren of geven een wiel aan! Alaphilippe moet gewoon opletten.
WielerFlits.nl ()
Alaphilippe verlaat Ronde na botsing met motor
NOS Sport ()
Het moment waarop een einde komt aan de Ronde van Vlaanderen van De wereldkampioen is klaar voor vandaag. Meer Ronde van Vlaanderen →
Mickaël Pinta ()
Les chutes des leaders de la Deceuninck-Quick Step depuis la reprise des courses : Fabio Jakobsen => coma sur le Tour de Pologne Remco Evenepoel => Passe par dessus un pont sur le Tour de Lombardie Julian Alaphilippe => Se casse la clavicule sur le Tour des Flandres. #RVV20
Julio Picón López 🏴󠁧󠁢󠁥󠁮󠁧󠁿🇪🇸🇪🇺 ()
La maldición del maillot arcoíris. Después de ganarlo Alaphilippe, cagadas en sprints y ahora en el Tour de Flandes se ha comido una moto
Eric Ansems ()
Julian Alaphilippe rijdt in eindfase @RondeVlaanderen tegen jurylid 1 aan. Wat doet die man daar !!?
Ggg mmm ()
@PierreAmmiche pour toi Pierrot on le saura jamais Mais il aurai été candidat à victoire alaphilippe ?

Thitixx ()
@bet365 is it possible to get refunds on bets on Tour of Flanders? I back him against Bettiol, and felt down at 35k hit by a motorbike which is really unfortunate. Thanks

Senne De Smedt ()
@EvenepoelRemco Sorry, ma tis duidelijk de schuld van Alaphilippe. De motor vertraagt aan de kant van de weg. Ruimte genoeg om de motor te passeren.
Aitor Ayerza ()
Deceuninck estaba corriendo de puto culo y ahora con esta caída de Alaphilippe que estaba hablando por el pinganillo y ni ha visto la moto se les va la carrera, por tontos, se podían poner con 3/7 y ahora con 0/2
Jos Thys ()
@ArnauVerstraete @julianalaphil Met alle respect en sympathie voor Alaphilippe (doodjammer ook voor de koers dat hij op die manier uitvalt), maar ik denk niet dat de motard hier schuld
France tv sport ()
CHUTE DE JULIAN ALAPHILIPPE 🚨🚨 Le champion du monde est au sol après avoir touché une moto !!!! Le Français semble gravement touché, il ne parvient pas à se relever #TourDesFlandres Suivez la course en direct :
Daniel Lloyd ()
Van der Poel, Alaphilippe, Pedersen, etc, all getting themselves positioned to the front of the peloton to go. Gotta love this race. #RondeVanVlaanderen