#Bottas está en tendencia en Twitter - Los tweets más populares | Spain
🏁 END OF QUALIFYING 🏁 TOP 10 Bottas Hamilton Hulkenberg 👏👏👏 Verstappen Ricciardo Stroll Gasly Leclerc Albon Norris #F170 🇬🇧 #F1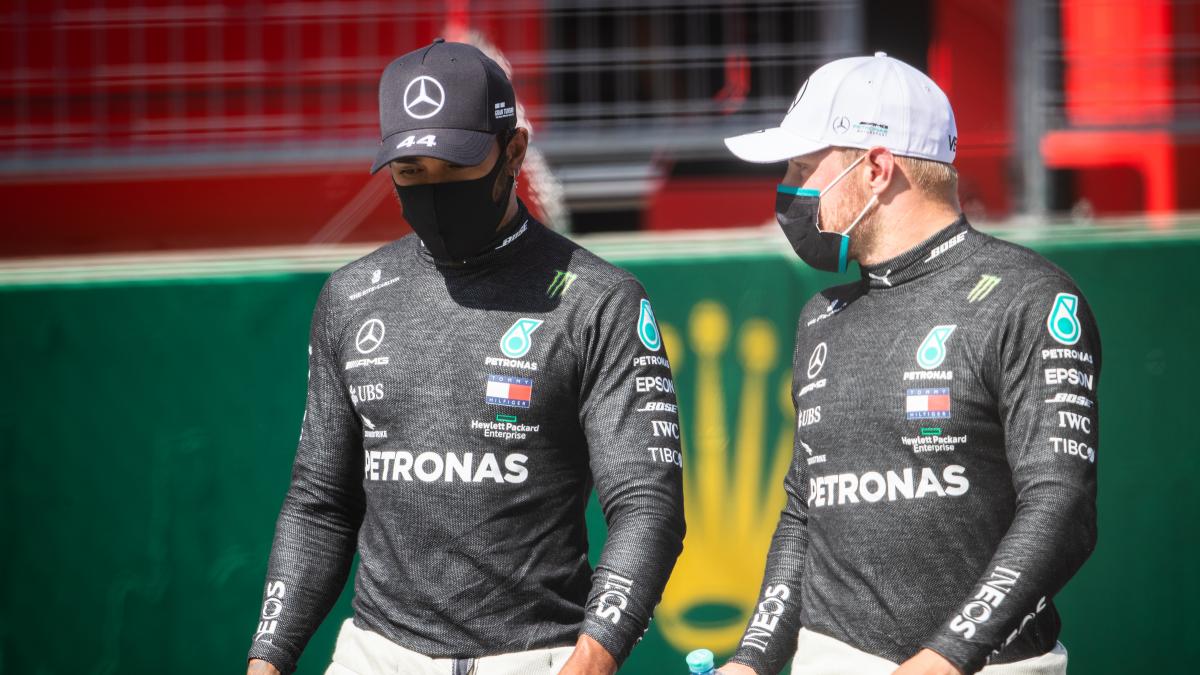 #Bottas on Twitter

Formula 1 ()
🗣 "Clearly we were not the fastest car, and then you cannot optimise the strategy #F170 🇬🇧 #F1
Felipe Meira ()
Com pneus mais novos, Hamilton voltou em P4, passou Charles Leclerc (Ferrari) e foi para cima de Bottas, tirando uma média de 1 segundo por volta da volta 42 até a volta 49, quando efetivou a ultrapassagem.
Felipe Meira ()
Lewis ficaria na pista até a volta 42, visto que o terceiro lugar ele já tinha, poderia pegar uma posição melhor caso tivesse algum SC, fato que não aconteceu, e essa estratégia acabou sendo melhor que a de Bottas
Felipe Meira ()
Max Verstappen estava com caminho livre para vencer, na parada a diferença era de 2,161. Bottas inicialmente conseguiu acompanhar o ritmo, mas era uma questão que Max estava administrando o ritmo, só um SC poderia impedir uma vitória de Max, coisa que não aconteceu.
Felipe Meira ()
Na volta seguinte, Max parou e colocou pneus médios, mas saiu atrás de Bottas, porém conseguiu recuperar a posição ainda na mesma volta, a estratégia era simples, abrir o suficiente para evitar um undercut, e pode parar novamente para colocar os duros
Infobae ()
Valtteri Bottas, el piloto que "sufre" en silencio la hegemonía de Lewis Hamilton: "Cuando me vence es como si me apuñalara" | Por Emmanuel Baldo
Yukiø Sεki F1 ™ 🏁 🇪🇸 (MASK F1😷) ()
Leclerc está llevando al cabestro del Ferrari a zonas donde no le tocaría estar. Verstappen gana carreras con un coche según el propio Max que está a 7 décimas si todo va bien del Mercedes. Y Bottas en el 2° es desolador.
Au Rupteur ()
Bottas a déclaré à Sky que la victoire était à portée et que la stratégie de Merco était sous-optimale. Réponse de son patron : #F170 #F1
Moonis ()
@Pelzeri_ May be because Since 2017 in some 80 odd races Bottas has 8 wins ( same machine as Hamilton) while Max also has 8 wins ( in arguably slower F1 car than Mercedes). He just does not capitalize on opportunities given to him .
Slyd0x ()
@Pelzeri_ I think Bottas is the most underrated driver currently in F1. He just needs a bit more luck
Judd Smith ()
@Pelzeri_ Bottas was shafted big time, he out drove Hamilton all weekend yet still lost points to him.
Jake Best ()
@Pelzeri_ Bottas is pushing arguably the greatest driver of all time every single weekend. The notion he's not good enough is absurd, he's merely up against an all time great, every single weekend
A m e l i a 🧡 ()
yes, mercedes messed up strategy BUT at that pitstop, verstappen and bottas came out at the same time, both on new sets of tyres, and max got him in one corner the mercedes wasn't half a second faster yesterday. if it was, there would've been a bigger fight
F1 Australian Grand Prix ()
A race victory slipped through his grasp at #F170 😞 @ValtteriBottas felt he had been dealt a poor hand #F1
Harian Metro ()
#silverstone #f1 Lewis Hamilton membandingkan tayar Pirelli jenteranya seperti belon selepas dia serta rakan sepasukan di Mercedes, Valtteri Bottas mengalami masalah serius di Grand Prix (GP) Ulang Tahun ke-70 semalam.
SportsCenter ()
La #FotoDelDía se la lleva Max Verstappen, quien ganó el GP 70° Aniversario de la #F1xESPN, dando el golpe y terminando por delante de Hamilton (2°) y Bottas (3°), y cortó la racha del equipo de Mercedes en la temporada.
Motorsport LATAM ()
Bottas: ante Verstappen parecíamos estar dormidos en la estrategia >>
Totó Volff #LutoAnaLuiza ()
E o Bottas que reclamou da equipe hoje? Rasgar o contrato dele e colocar o Russell no lugar desse ingrato.
PauX ()
A esto me refiero cuando digo que Bottas estaba triste en el podio de @Atzimba debería ir a abrazarlo 😢
Ocon Deprê 😔🇫🇷🏴 ()
CHAMAR BOTTAS DE BROXA: 🥰🥰🥰 CHAMAR O OCON DE RUIM: 🥰🥰🥰 CHAMAR O ALBON DE LIMITADO: 😡😡😡
The Pocisk ()
A teraz bardziej szczegółowa nitka: 1) Max Verstappen jest obecnie na najwyższym topowym poziomie. Sam sobie kierowcą, strategiem i inżynierem, podobnie jak najwięksi tego sportu: Lewis czy Alonso. To była 9 wygrana Maxa (o 1 więcej Valtteriego Bottas) #kanapaf1 #F170GP
Anti Hamilton ()
Bottas ile sözleşme yenilendi fakat yanındaki pilotun kim olacağı hala merak konusu.
F1naGlobo ()
Após 1ª derrota da Mercedes em 2020, Hamilton critica pneus, e Bottas detona estratégia

Formula 1 ()
After a late pit stop, @LewisHamilton was FLYING in the closing laps 🚀 Flying past Leclerc and Bottas to take P2 on the podium 👀 #F170 🇬🇧 #F1
Mö ()
Im actually laughing at the fact it was easier for Hamilton to pass Bottas in a Mercedes than Leclerc in the shitbox ferrari

Formula 1 ()
BOTTAS: "Very frustrating starting from pole and finishing third. My strategy was far, far from ideal. I was trying but as soon as I started to push at the end the tyres fell apart" #F170 🇬🇧 #F1
Secteur F1 🏎🇫🇷 ()
Le tour de pole de Valtteri Bottas en caméra embarquée 👇 • 13e pole en F1 • 2e pole à Silverstone • 2e pole en 2020 #F1 #F170 🇬🇧
Radio ADN ()
Valtteri Bottas se quedó con la pole del Gran Premio 70° Aniversario de la F1

Formula 1 ()
🏁 END OF QUALIFYING 🏁 TOP 10 Bottas Hamilton Hulkenberg 👏👏👏 Verstappen Ricciardo Stroll Gasly Leclerc Albon Norris #F170 🇬🇧 #F1
Bex ()
Valterri Bottas stays at Mercedes for at least another year 💪🏻🏎️